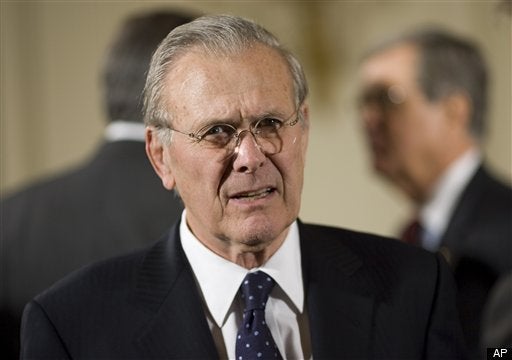 WASHINGTON -- An American Civil Liberties Union lawyer trying to revive a torture lawsuit against former Defense Secretary Donald H. Rumsfeld and three high-ranking Army officers made no headway in a hearing Thursday before a three-member panel of the U.S. Circuit Court of Appeals.
The biggest obstacle facing the ACLU: The full circuit court previously ruled in a similar case that Rumsfeld and others are immune from such suits because they were acting in their capacity as government officials.

Cecillia Wang, an attorney with the ACLU Immigrants' Rights Project, gamely argued that while the court was precluded by that precedent from actually finding in favor of her plaintiffs, it should still rule on the issue of whether their rights were violated.
Unlike an earlier case which involved non-citizens tortured at Guantanamo Bay, Cuba, this case, Ali v. Rumsfeld, was filed on behalf of nine Iraqi and Afghan men subjected to torture and abuse under Rumsfeld's command in Iraq and Afghanistan.
The suit was dismissed in March 2007 by U.S. District Court Judge Thomas A. Hogan, whose ruling nevertheless described the case as "lamentable" and "appalling." Hogan wrote that "the facts alleged in the complaint stand as an indictment of the humanity with which the United States treats its detainees."
Wang pleaded with the three-judge panel to take a stand. She said the court should determine that the defendants, in "setting a policy to encourage and condone torture, and tolerating torture" had clearly violated the Constitution. She lambasted the defendants for "claiming that there are no limits to the executive branch's power."
But the panel's leader, Chief Judge David B. Sentelle, was having none of it. Sentelle repeatedly scolded Wang for asking the court to issue what he termed an "advisory ruling," which he said "is totally out of step with two centuries of Supreme Court jurisprudence."
"You're conceding you can't prevail in the law of this court," said Senior Circuit Judge Harry T. Edwards. "Let's say we say you're right, do you prevail? If we do what you ask, can your clients prevail?"
"If we decide 'OK, there is a right,' but we can't do anything about it, then why have we ruled?" Sentelle asked. "Aren't we answering a moot question?"
Circuit Judge Karen LeCraft Henderson remained mum.
In case there was any doubt that his mind was already made up, Sentelle told the Justice Department lawyer representing the defendants that he didn't need to bother making oral arguments.
After the hearing, Wang told HuffPost she knew it was a long-shot going in. But, she said, "the government to this day is still arguing that it should have a blank check when it comes to its conduct to non citizens outside the U.S.
"It's vitally important that the federal courts now clearly hold that the Constitution does prohibit the U.S. government from approving torture. There is a dire need for the courts to develop the law, to say what the Constitutional limits are."
Outside the courthouse, about two dozen members of the group Witness Against Torture, more than half of them clad in orange jumpsuits and black hoods, marched back and forth on the sidewalk.
*************************