GAINESVILLE, Fla. ― About five hours before his companion allegedly fired a bullet toward several protesters, and a day before police charged him with attempted homicide, Colton Fears, in an interview with HuffPost, laid out the grievances that had brought him to town. "Basically, I'm just fed up with the fact that I'm cis-gendered, I'm a white male, and I lean right, towards the Republican side," said Fears, 28, wearing a pin of the 3rd SS Panzer Division Totenkopf of the Waffen-SS. "And I get demonized if I don't accept certain things."
According to the Anti-Defamation League, Colton Fears is the "least active" of the three Texas men charged in Thursday's shooting, which happened after Richard Spencer's speech at the University of Florida. Fears' brother, William, 30, and Tyler Tenbrink, 28, were also charged. It was Tenbrink who allegedly jumped out of a silver Jeep after an argument with protesters and produced a handgun. "I'm going to fucking kill you," Tenbrink reportedly yelled at the protesters, while the Fears brothers encouraged him to shoot.
Tenbrink popped off a single round that missed his targets and hit a building behind them, then got back in the Jeep and fled. One of the victims reported the Jeep's vehicle tag number to police. Officers from three different law enforcement units caught up with the trio later that evening on Interstate 75 and took them into custody.
Even before their arrest, the trio were known quantities ― Tenbrink and William Fears in particular. They are fairly representative specimens of the sort of flotsam that drifts through the the so-called "alt-right" and, increasingly, trails in the wake of any white nationalist chieftain, even one as snooty as Spencer. They are, in short, surly groupies for whiteness. Here's what we know about them.
Tyler Tenbrink
Tenbrink, the man who fired the gun, is a white supremacist from Richmond, Texas. He told the Washington Post that he came to Spencer's Gainesville speech because he received threats from the "radical left" after he was spotted at the Unite The Right rally in Charlottesville, Virginia. But Tenbrink had been active in the white nationalist scene long before the August gathering.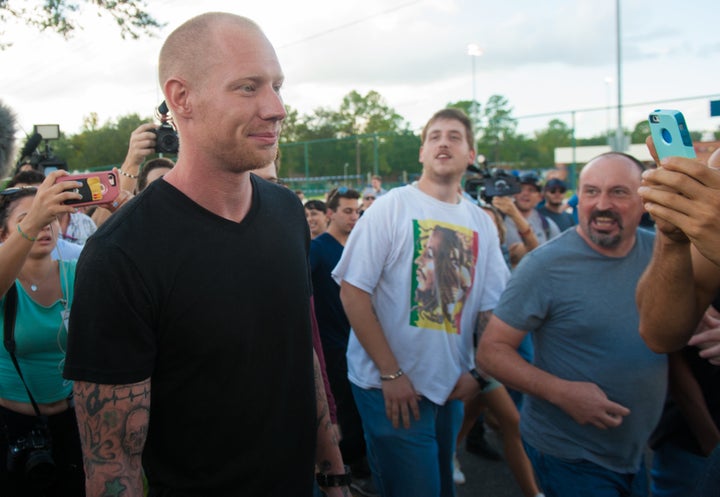 In June, Tenbrink participated in a white supremacist rally at the Texas State Capitol building in Austin, according to the ADL. The ADL also identified Tenbrink at another Richard Spencer speech at Texas A&M University last December, a white supremacist protest in front of the Houston ADL offices last October, a private event organized by the neo-Nazi Aryan Renaissance Society last September, and a white supremacist protest in front of the Houston NAACP office last August.
Tenbrink told the Post that all he cares about are the "14 words," a reference to the popular white supremacist slogan: "We must secure the existence of our people and a future for white children."
Tenbrink pled guilty to a felony assault charge in Texas in 2014. That means he now faces additional charges of possession of a firearm by a convicted felon, the Gainesville Police Department wrote in a statement.
William Fears
William Fears, from Pasadena, Texas, claims he didn't even know about the alt-right until Hillary Clinton condemned the movement in a campaign speech last August, at which point his radicalization journey began. By December, he was turning up at Spencer's speaking events, including one at Texas A&M where Fears described himself as "mainly an Internet troll."
But Fears was more than a troll. In 2009, he pleaded guilty to aggravated kidnapping after he abducted an 18-year-old female University of Texas at Tyler student at knifepoint and "wounded her several times." He has also been convicted of criminal trespassing and possession of a controlled substance. It was while he was incarcerated, he told the Post, that he had become racially aware.
"I don't think any race experiences racism in the modern world the way that white people do in a jail," he said. "In jail, whites come last."
In May, Fears, who now works in construction, crashed a May Day rally with other neo-Nazis and reportedly assaulted a man. In June, he antagonized members of the Oath Keepers, a far-right militia movement, at a rally in Houston until one of them put him in a chokehold. In August, he showed up in Charlottesville to brawl in a helmet, gas mask and goggles, waving a white nationalist flag and shouting, "Shoot! Fire the first shot of the race war!" In September, he and other neo-Nazis tried to provoke anarchists at a Houston book fair to violence.
"Nazi is like the N-word for white people," says Fears. "And I just embrace it."
Colton Fears
Before coming to Spencer's Gainesville speech, Colton Fears participated in the Charlottesville rally and an April counter-protest of a Houston Socialist Movement event as part of a group of white supremacists, which included neo-Nazis and members of the alt-right, the ADL said.
After the Charlottesville rally, Fears posted a 13-minute-long statement on YouTube. He congratulated himself for attending the event, lamented the mainstream media's attack on Southern heritage, and complained bitterly about being doxxed. He made no mention of Heather Heyer, the 32-year-old protester who was killed at the rally.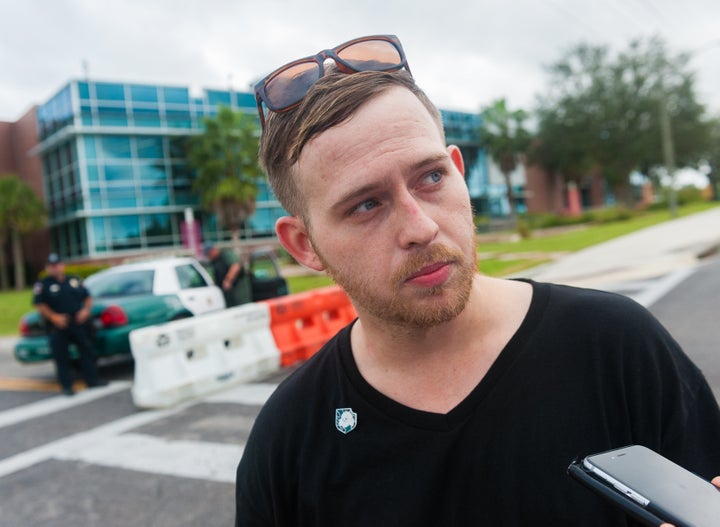 In his interview with HuffPost, Fears tried to distance himself a little from the scene around him. He said of Richard Spencer, "I agree with like 75 percent of his ― he's not ― he's kind of a scam artist, in my opinion." Asked if he identified as alt-right, he said: "I try and deny identity politics. That's why I'm not wearing a white polo and all that stuff." But he also served up a word salad of white grievance: "Like, OK, for one thing, say, you know, gay marriage, that's cool, whatever, you know, except — that's fine, I'm cool with it — well, then, what's after that? The next step? This whole transgender movement, right? Well, if you don't accept that, you're a bigot, this and that. Well, that all goes hand in hand with being a white person."
Asked about the pin he was wearing during the interview, Fears said "it's basically just like an SS thing." Explaining the significance of the pin would require an extensive conversation about World War II, he said. "And it's my heritage, I'm German."
Popular in the Community