The stories told at the Town Hall on long term care at the Sacred Hearts Academy auditorium in Honolulu the evening of Monday February 29 were stories of quiet, unsung heroism. Those who give care, and those who receive care, asked the same question: why are legislators not acting with urgency on a challenge that has been likened to a "silver tsunami?"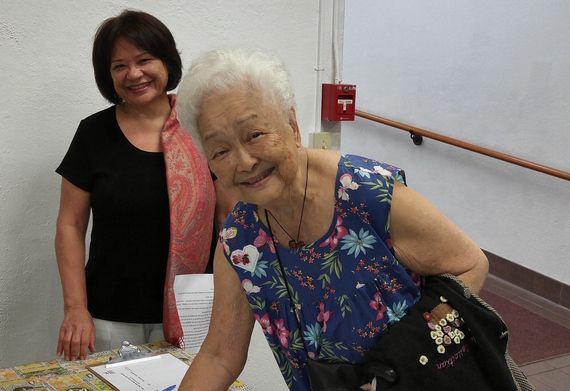 Moya Gray (left) was one of the panelists who described the tough adjustments she had to make to care for loved ones at home.
Nearly 200 people gathered to listen to Senator Roz Baker, lead sponsor of SB2478, the bill proposing public long term care assistance, just hours after the Ways and Means Committee had deferred it indefinitely. The companion House Bill 1885 is alive--but without a hearing date scheduled yet, appears headed for the same fate.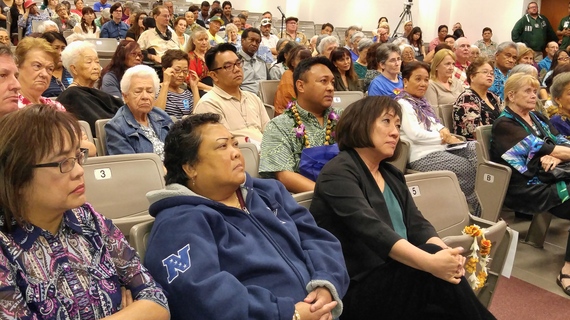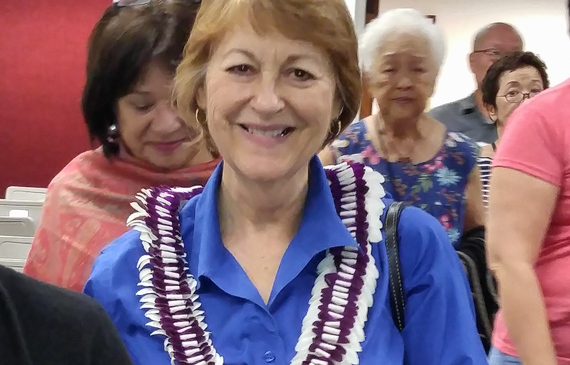 Town Hall attendees were eager to hear Senator Roz Baker describe how SB2478/HB1885 could help them meet the challenges of care-giving at home.
Voters want to know why legislators will not act
Instead of dwelling on the setback, Senator Baker urged the audience to move forward so that legislators feel "wave upon wave of public sentiment" that cannot be resisted.
Moderator Dr. Clementina Ceria-Ulep, Chair of the Department of Nursing at the University of Hawai'i, Mānoa, and a staunch advocate for the bill, focused on what has been accomplished.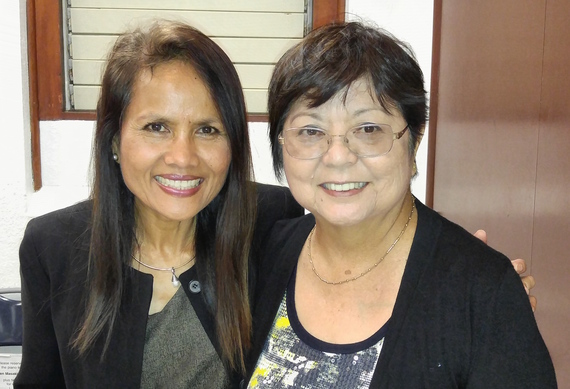 Professor Clementina Ceria-Ulep (left), with panelist Karen Ginoza who looked back on years of caring for her parents, her sister and now her brother.
"Look at how many of us are here today to send a message to legislators that they have to act. Look at the 1000-plus people who signed the petition urging legislators to make long term care a priority. Look at the letter signed by more than 20 faith leaders telling legislators to act now," she said.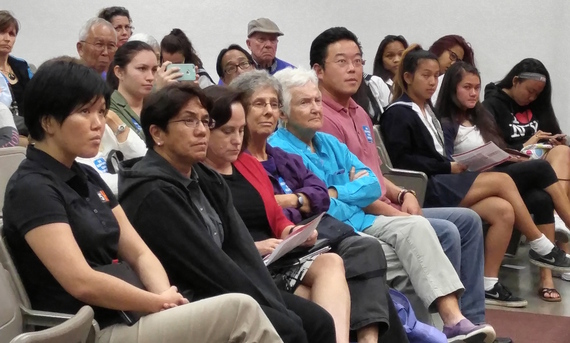 Panelist Karen Ginoza described how both she and her brother returned home to care for her ailing parents and sister. Now she worries about the day she becomes her brother's care-giver--and about her own future, as she ages. How will she cope?
Moya Gray said she had to give up her legal career to care for her husband after a fall from a bicycle made him a quadriplegic. To this was added the care of her mother whom she moved into her home after a major stroke, and who spent the last few months of her life with round-the-clock nursing. "We gave up two jobs. At the height of our careers we lost significant earning opportunity as well as the ability to contribute, not just to our own retirement savings, but also as taxpayers. We scaled back, and have managed so far. But many are not so lucky. And we wonder what the future holds," she said. "Public long term care assistance is long overdue."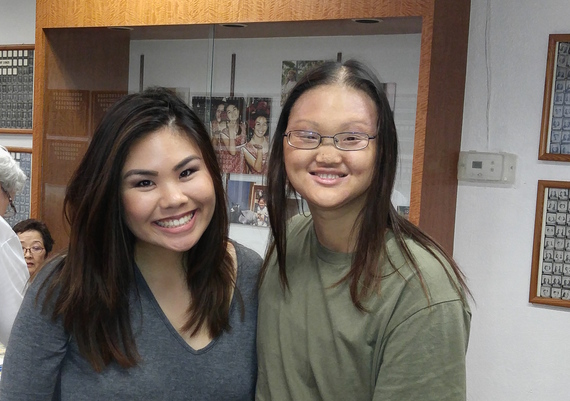 Calee Goya (left) came to understand the financial picture behind long term care. She, Judy Ng (right) and Erin Ah Sue (not in picture) are Hogan Entrepreneurs from Chaminade University who understand the importance of the issue.
From Millennials to Baby Boomers: Long Term Care Matters to All
This is not just a baby boomer's problem. Ginoza mentioned running into young Ola Brown, one of the volunteer basketball coaches she had worked with, and wondering why he was back in Honolulu, and not in Alaska where he was studying.
"I came back to help my grandpa and grandma, " he explained. He had been raised by them, and his single dad. Now, with his grandfather in a wheelchair, he needed to be home to help them cope. So college is on hold for a while. A number of the MBA students at Chaminade University have run into similar situations too, reports Dr. Scott Schroeder, Dean of the Business School.
Brodie Lockard, described how a fall while practicing on the trampoline in college had left him paralyzed. As chair of the Hawaii chapter of 350.org, and as a member of the board of Common Cause in Hawaii, he is actively involved in advocating for a number of issues important to the community. But he cannot do any of it without the help of home care aides. Finding steady, reliable caregivers, and paying enough to attract the kind of help he needs is becoming increasingly difficult.

"What will it take to get this legislation passed?" he asked.
Cyndie Oneha, who runs her own personal caregiving business echoed the call for the bill,saying it would help address the needs of her clients and help make caregiving a profession people would want to pursue. The bill's provision of $70 a day for up to 365 days could be applied to the purchase of assistive devices, or to hire someone to help with care when needed.
Marianist Bro. Allen Pacquing spoke about growing up in Kalihi and how his family had faced care-giving challenges that weren't confined to seniors. He wondered if only seniors could receive the care assistance if the bill became law. Senator Baker explained that anyone who needed help with two or more activities of daily living,
or suffers from some cognitive impairment that requires them to be supervised, would qualify for long term care assistance, regardless of age.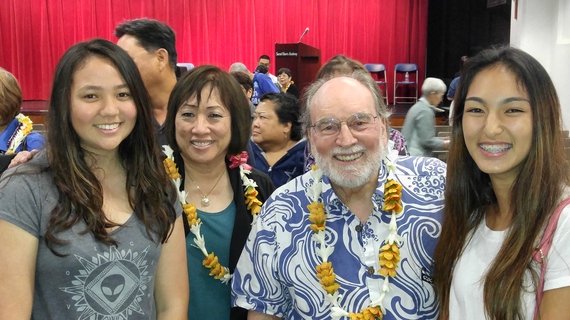 Former US Congresswoman, Colleen Hanabusa (second from left), and former Governor Neil Abercrombie drew on both their personal and legislative experience to express support for getting the law passed.
Former US Congresswoman, Colleen Hanabusa, commending Sen. Baker for her leadership on this issue, spoke about the experience of watching her parents look after both her grandfathers for years. She talked about the different dimensions of caring for loved ones who may not be the easiest recipients of care. The dynamics of difficult family relationships add to the day-to-day physical and financial burdens of care. "Long term care assistance is something the community needs. I see so many familiar faces here who have been fighting this fight for a long time. We need to make this happen soon."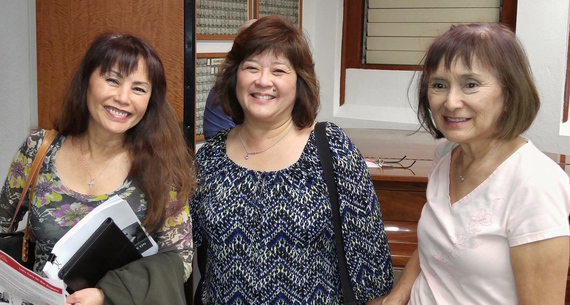 Three friends who came, having experienced caring for loved ones at home.

Long Term Care: Something we might all need some day
Speaking towards the end of the meeting, former Governor Neil Abercrombie emphasized that there is no dodging this issue. He reminded the audience, that getting a long term care law passed was not just a task for a super-hero legislator-- even if Senator Baker might seem like one! Getting a law like this passed is community work. It calls for collaboration, and teamwork, and voices raised till they are heard. Long term care is an issue that is intensely personal that requires the support of good public policy.
Benefits to the economy
Helping seniors to grow old with dignity in their own homes prevents damage to the economy from professionals leaving the workforce, or college students dropping out to provide unpaid care to loved ones. It ensures better health and less stress for the caregiver and the person for whom they care. Referring to the challenge of lifting weights, something Abercrombie has done for years, he said it could not compare to "the much greater difficulty of lifting a human being who needed to be helped, without causing them pain."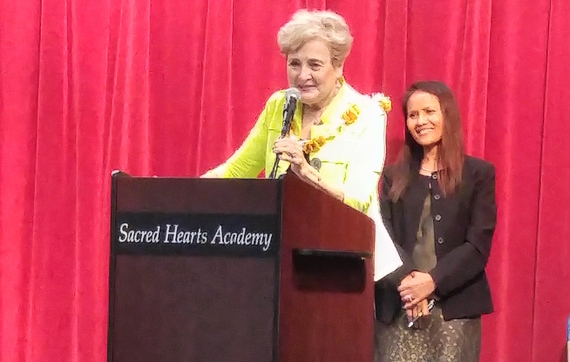 Head of School, Betty White had good reason to be proud of the Sacred Hearts Academy students who attended the talk. Juniors Makana Wilson and Leeona Domingo also served as sound crew for the event. The school's beautiful campus was a welcoming venue for the community.

All Fired Up and Ready to Go!
During the Q and A, Sacred Hearts Academy senior, Aileen Jornacion, from Waipahu, left her seat in the very first row to go to the microphone and announce that she really likes working with old people - drawing laughter from the many seniors in the audience. She went on to ask how many jobs there would be for people like her who want to make it a career. She was assured by Senator Baker and Dr. Ceria-Ulep that, given current demographic trends, she would have no trouble finding work!

The need keeps growing. Advocates have asked for public long term care assistance for several years now. It is clear that the people leaving the Town Hall this week were determined to spread the word, get more involved and let their legislators know that they will be held accountable at the ballot box if they fail to act. Thanks to Olelo Community Media many more will be able to connect to the event and the issue when the program is aired.
Calling all HuffPost superfans!
Sign up for membership to become a founding member and help shape HuffPost's next chapter