The Dîner en Blanc Paris is by now a fabled event, started 24 years ago when François Pasquier wished to have dinner with his friends upon returning to Paris after living abroad. So many wanted to come that he asked them to meet in the Bois du Boulogne and to dress in white so they could recognize each other. From there, the dinner became an annual flash-mob affair growing to as large as 14,000 attendees, always set in public with a backdrop of the most legendary Parisian monuments. The location is kept a secret until minutes before the dinner begins. This was my third year in attendance, and it never gets less exciting.
Unlike the other Dîner en Blanc events that now take place in cities across the world which have a public signup process, invitations to the Paris dinner can still only be attained through old-fashioned connections. Still, exclusivity remains only one of the elements of the dinner. More than anything it is an evening about spontaneity and camaraderie amongst friends, about beauty and joie de vivre.
Of all my years attending, this year's dinners marked a palpable shift into modernity: the younger generation had a stronger presence, live rock bands and DJs reflected an embrace of a new and different Dîner en Blanc. Tradition and decorum still reigned however, along with the tacit understanding that secrecy is the only way to maintain this event for future generations. And as always, there was a respect for the city that is Paris, for the architecture and spirit that enable such an event to take place and for the potential of the Dîner en Blanc to continually inspire more around the world to meet simply for the joy of being together.

To read more about my past experiences at the Dîner en Blanc, check out my photographs on Untapped Cities from this year's events at Notre Dame, Versailles, last year's event at the Cour Carée du Louvre and the year prior in front of the I.M Pei Pyramid at the Louvre. Keep your eye out for an officially sanctioned documentary about Le Dîner en Blanc Paris which I had the fortune to be a part of as they followed my preparations for the dinner. I hope to see you at one of the upcoming Dîner en Blanc events around the world!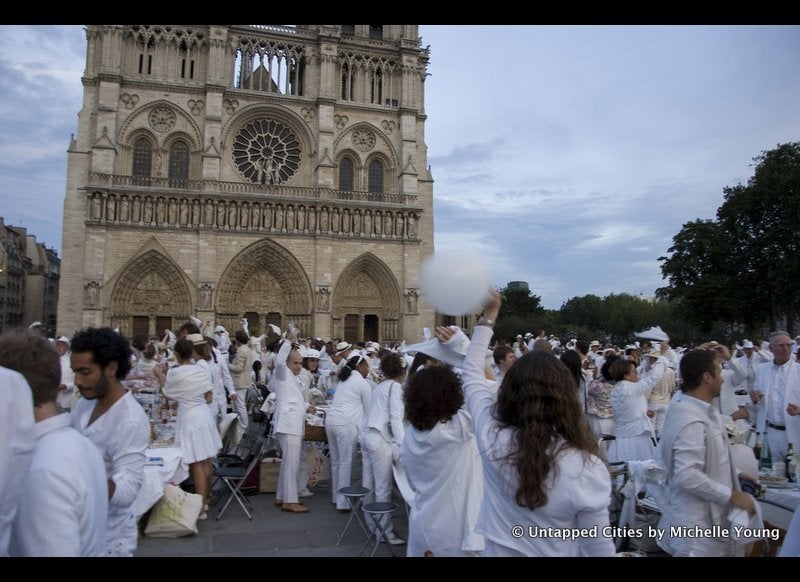 Paris Diner en Blanc 2012: Versailles, Notre Dame, Place des Vosges
Related