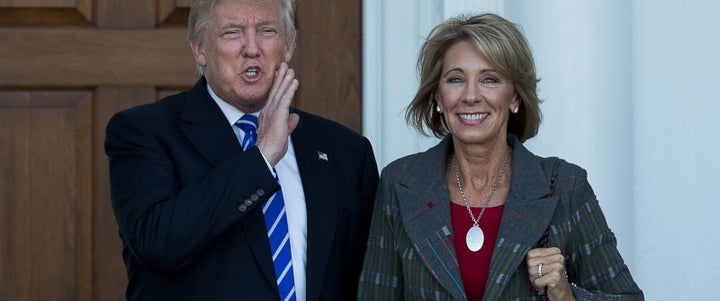 When Donald Trump took the oath of office on January 20, he became the first billionaire to be President of the United States. Since his election last November, Trump has pulled together a cabinet that is strikingly like him.
Betsy DeVos, the newly-confirmed Secretary of Education, comes from a billionaire family with an estimated net worth of $1.25 billion.
Secretary of Commerce, Wilbur Ross, another billionaire.
Rex Tillerson, the new Secretary of State, while not a billionaire, made $90 million at his post as CEO of Exxon-Mobil in just the last three years.
Trump's cabinet is not the only place billionaires are shaping public policy. Often behind the scenes, billionaires use their family foundations and personal giving to influence policy. Sometimes their money supports research, sometimes it supports ballot measure campaigns, and other times it goes directly to politicians who have pledged to adopt a certain policy stance.
"All told, Forbes estimates the net worth of Trump's cabinet at a staggering $4.5 billion."
John Arnold is one of those billionaires. He got his start as an energy trader at Enron. When Enron collapsed, Arnold left with an eight-million-dollar golden parachute and became a hedge fund manager on Wall Street. His millions became billions and he retired from Wall Street as one of the youngest billionaires in the country.
Since, he's spent over $50 million of his own fortune attacking the retirement security of firefighters, nurses, teachers, and other public employees all over the country.
In Phoenix in 2014, Arnold gave $1.04 million to an effort to move city workers out of pensions and into riskier 401(k)-style accounts. Voters soundly rejected the measure at the ballot that November.
With grants dating back to 2012, Arnold has given almost $10 million to Pew Charitable Trusts. Pew then sends its researchers and lobbyists into states like Alabama and South Carolina, advocating for the elimination of pensions.
This year, a group called the Retirement Security Initiative (RSI) disclosed its hiring of a Nebraska lobbyist at $10,000 a month. After a failed attempt to convert Lincoln, Nebraska firefighters and police officers to a 401(k) last year, RSI is now asking the state to force Lincoln and Omaha to abandon defined benefit pensions. RSI is a new grantee of the Arnold Foundation, receiving somewhere between one and four and a half million dollars.
Arnold is not alone in this behind the scenes, dark-money policymaking. In Illinois, a group of wealthy families are raising tens of millions to support Governor Rauner's anti-worker agenda. The donors don't support increases in the minimum wage, they don't believe the wealthy should pay their fair share in taxes, and they support attacks on the ability of workers to bargain collectively. Arnold has chipped in $5 million to these efforts.
Back in Michigan, the DeVos Family Foundation named eliminating pensions for firefighters, teachers, and other public employees as its number one policy priority for Michigan in 2017. Now that Betsy DeVos is confirmed, she will have to leave it to others in her well-off family to finish the fight to end pensions for Michigan teachers, whose average pension is just barely $21,000 per year.
"With the stroke of a pen, Donald Trump is working to unhinge the future of retirement security for millions."
DeVos and Arnold use their wealth not only to attack pensions, but also to undermine public schools across the U.S. Both foundations give to groups like Students First and American Federation for Children, groups that promote school privatization and the de-professionalization of the teaching profession.
According to the Wall Street Journal, President Trump has signed an executive action to "upend the retirement-account advisory process" and block a fiduciary rule that forces brokers to give retirement advice that is in the best interest of their clients. With the stroke of a pen, Donald Trump is working to unhinge the future of retirement security for millions.
As Americans across the country struggle with stagnating wages, increasing costs of education, and dire prospects for a secure retirement, they should ask themselves if the billionaires taking over our government in Washington and behind the scenes in the states are really serving their best interests. When it comes to Betsy DeVos and John Arnold, the answer is no.
Bailey Childers is the executive director of the National Public Pension Coalition.
Popular in the Community