Since quitting my job and moving to New York City two years ago, I'm constantly inspired by the ambitious and go-getter mentality of this concrete jungle. So inspired, that I created a docu series called, "Maker's Lane," to share the courageous stories of creative entrepreneurs I admired. Since then, I've had the pleasure of connecting with so many innovative hustlers each ferociously pursuing their dreams.
Recently, I connected with Andrew Tan -- Founder of new fashion site, "Peso." It feels like walking into a store and going straight to the sale section in the back (I'm a lazy shopper) because Peso only showcases deals and promo codes. I was so fascinated by Peso's platform that I reached out to the founder to learn about how he navigated the startup scene in New York City and how he developed Peso.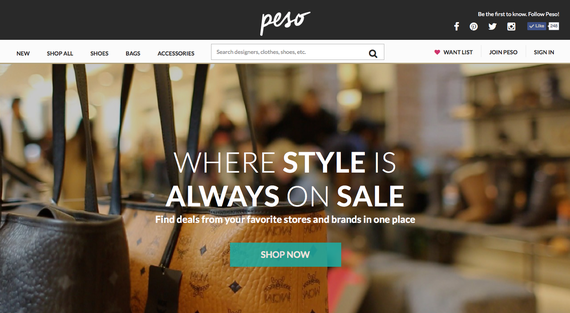 1) What were you doing before you started Peso?
Before deciding to start Peso, I was doing sales and business development in digital ad tech for over 9 years. The last 3 companies I worked for were startups in various stages of growth so I got to see a lot of variety -- from bootstrapped and profitable all the way to heavy Series B funding and on a hiring spree. Most recently I was the Director of Sales and Biz Dev at a mobile advertising firm called MdotM where I specialized in driving performance focused user acquisition for my clients.
2) How would you describe the start up culture in New York City?
I think the startup culture in New York is thriving right now. Having mostly worked for Silicon Valley companies while being based out of New York, I got to see how both Silicon Valley and New York have their different approaches to funding and business growth. The thing I find exciting about New York is that at it's core it is a city filled with high pace energy, which is great to feed off of when you are running out of steam in the early days as an entrepreneur.
3) Have you always wanted to be an entrepreneur?
I think somewhere inside I always thought I would own my own business. I was one of the first kids in High School to get a CD burner (I know dated reference!) and I started selling CD's to make some extra lunch money. In college, I got a little more risky and would buy and sell car parts from all over the country, always focusing on what people needed and where there was under developed supply chains.
It wasn't until I was about 24 that I realized that I could actually chase my dream in a larger way. The key to that was working for my first small startup and being mentored by other extremely talented individuals who were running the business and were under the age of 30. That was extremely inspiring to me and showed me that age is just a number, pulling the trigger and chasing the dream is the real hard part that sets entrepreneurs apart.
4) When did you start thinking about Peso?
Peso has been an idea in my head for the last couple of years now but I felt that the timing was right this year seeing as fashion in e-commerce is now the fastest growing category in e-commerce -- driving over $52B in revenue last year alone.
5) Where did the idea of Peso come from?
The concept for Peso stemmed from seeing my fiancé constantly shop online for deals and how inefficient it was for her to finally make a purchase. One particular shopping session she was looking for a dress to get for a wedding we were attending the next month. As usual, she opened up about 8 different tabs with all her favorite stores and about 2 hours later she found a dress she wanted from Urban Outfitters. Next up, she Googled "Urban Outfitters promo code" and got taken to a few coupon sites -- most of the codes did not work and one finally did. We sat there looking at each other and had that "Eureka" moment and said someone needs to solve this!
Very simply put, Peso is solving the way women find fashion deals online in one simple platform.
6) How is Peso different from other fashion e-commerce platforms?
While there are other fashion aggregators out there none of them were created to specifically address the sale and promo code space. We feel that this is a huge market opportunity and one riddled with inefficient buying behavior for the consumers. Additionally, as fashion continues to grow, the options become endless and increases the confusion and difficulty for the fashion deal hunter. We are here to bring all of that in one place making it simple and time efficient.
7) How would you describe online shopping behavior? What do folks want and how is Peso changing the online shopping experience?

From the users we have talked to as well as interviewing our close friends, it has become pretty clear that no matter what people are looking for online they prioritize time efficiency, shipping, price and quality service. They all have become accustomed to free shipping and returns and want their items at the best price from a reputable company. The time efficiency part is what we are hoping to bring to the equation as that is a part that many have said is not solved for them yet.
8) What have some of the challenges and triumphs been? What's next for Peso?
One of our biggest pieces of feedback was that people wanted to be able to find what they were looking for faster since we carry over 250,000 products on any given day. Since we bring in items from 21 different retailers it became a big challenge to figure out how to correctly categorize and subcategorize our products. We successfully found a solution and I am proud to say that the feature is now working well.
In terms of triumphs, I believe our biggest one is the fact that our consumers see value in our site. Hundreds of users a month come to the site and spend over 10 minutes on our site discovering new deals, clicking on items and going on to buy them. That is really why we built the product -- to ensure that we are adding value to the everyday fashion shopper's online experience and it feels good to see the data reflect that.
9) As a Peso creator, what are some trends you've noticed with fashion e-commerce (in regards to shopping habits, not products)? What trends do you predict in the future?
I believe the future of fashion e-commerce lies in efficiency coupled with personalization. When consumers shop online, technology has the ability to remember who each person is and tailor their experience to their exact tastes, while still introducing new products that will inspire them just like finding an amazing new piece at a brick and mortar store.
As Peso looks to the future we are already working to capture more efficiency for people and have plans to add a personalization layer in the next few months!
REAL LIFE. REAL NEWS. REAL VOICES.
Help us tell more of the stories that matter from voices that too often remain unheard.