"Visitors always ask, 'where's the turquoise?'" said Myrtle Cedar Face, the manager of a Pine Ridge Indian Reservation gift shop and online store. You won't find Navajo rugs or Pueblo pottery either in this small boutique -- part of a superb, but little-known, art museum, the Heritage Center of Red Cloud Indian School, on the school's pretty campus 4 miles north of Pine Ridge village.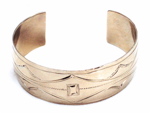 Instead, the shop sells exclusively Lakota-made crafts, including silver and copper jewelry, some inlaid with buffalo horn and agate (Jhon Goes in Center German-silver bracelet, left, $65); beaded leather moccasins with replaceable rawhide soles; traditional herbs and teas; and star quilts in various color combinations, including the popular red, black, yellow, and white medicine-wheel array ($75-$350, depending on size, materials, and techniques; see examples in the photo of the shop, below). Some items hark back to the pre-Contact Plains, including the store's bestsellers: jewelry made of dyed porcupine quills (bracelets, below right, $18 each). Books and CDs are also available.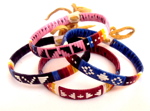 Because the shop is part of a nonprofit, its mark-up on items shown here and in the online catalog is small, so prices tend to be lower than those at stores in tourist areas or major museums; shipping is extra. Call (605) 867-8257 for details. Custom orders are welcome and take a few days to 3 weeks to fulfill; they're recommended for some items. "To buy moccasins, send an outline of your bare foot and the measurement of your arch, from the floor on the inside of your arch to the floor on the outside, right where you tie your laces at the base of your ankle," said Cedar Face. "If you want a certain size and color star quilt, give us a call. We can also mail or email photos of what's in stock."

One intriguing pre-Contact craft the shop offers is parfleche, AKA the Samsonite of the Plains. Back in the day, sturdy rawhide was shaped into hard-sided totes for transporting food, clothing, hunting implements, and other items. The shop's most authentic modern-day versions are boxes and cylinders crafted by Mike Marshall, an artisan who decorates the containers with old-style dyes made from natural materials. The Espinoza family's contemporary interpretations use lighter rawhide and modern paints; the family's powwow purse (left, $165) would be perfect with a little black dress for a night on the town.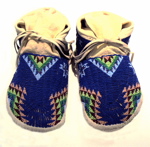 As in the range of parfleche available, past and present entwine throughout the collection in a vibrant demonstration of the way tradition can evolve while remaining true to its source. Medicine wheels, images of eagles, and other heritage iconography adorn rosaries and Christmas-tree ornaments. Ancient parfleche and quillwork designs are reinterpreted in beadwork, a craft that arose in the post-Contact era, when glass beads became available (beaded moccasins, right, $125 and up; baby mocs shown in additional photos at bottom, $35-$80; Melvin Miner beaded rattle, below, $70).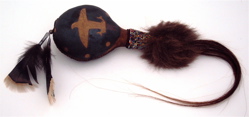 You can partake of this cultural adventure from the comfort of your home, or fly to South Dakota to experience it in person. Leaving the Rapid City airport, you have two choices. One is the scenic route, a 2-hour drive directly to the reservation. Gas up before you go, as stations are few and far between. Take Route 79 south to Route 40, stopping after 45 miles for a view of the forbidding moonscape of the Badlands, with rocky ridges and spires extending to the horizon. Route 40 becomes Route 41 here; 35 miles later, turn left onto Route 18 and drive 10 miles (passing through Oglala village, where you'll find gas) to Red Cloud Indian School, on the right side of the road.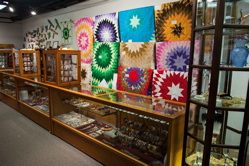 The other option is the super-scenic route -- a 5-hour drive. Leaving Rapid City, take Route 44 southeast 65 miles through the Badlands to the town of Interior, where there's a gas station. About 29 miles after Interior, turn right onto Route 2 toward Potato Creek, Kyle, and Sharps Corner. As you travel south, the landscape softens into undulating prairie, flat-topped bluffs, and pine trees sprouting at wild angles from long pale cliffs. At Sharps Corner, turn left onto Route 27 toward Porcupine and Wounded Knee, where a mass grave near a brown hilltop church is the resting place of Lakota massacred here in 1890, just a few generations ago, and just a few miles from safety in their destination, Pine Ridge. Turn left after the church to continue on Route 27; 9 miles later, you'll hit Route 18. Turn right to drive about 11 miles (passing through Pine Ridge village, where you'll find gas) to Red Cloud Indian School, on the left side of the road.
More articles for sale are shown below; call for prices. Photographs of crafts are by gift shop assistant Carmen Fourd; shop photo is by Dan Videtich. In a future post, I'll write about the Heritage Center's splendid art collection.
Related