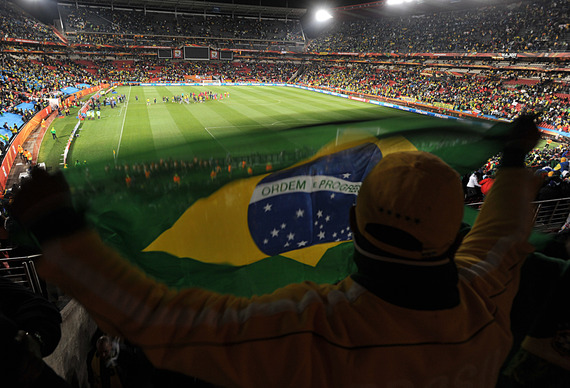 In 2010, plugged-in soccer fans flocked to Twitter for real-time coverage and curated marketing around the World Cup in South Africa. Between live-action tweeting, soccer-oriented advertisements and celebrity involvement, Twitter was undoubtedly the go-to platform for all things World Cup. It paid off: during the 2010 event, Twitter tracked over 6 million World Cup-related terms on the site. Plus, during the final match between Spain and the Netherlands, Twitter users sent more than 2,000 tweets per second, giving new meaning to Twitter's "real-time" definition.

For brands on Twitter this year, the World Cup is not only an exciting sporting event to watch, but also a chance to connect with fans and expand reach. Over 3 billion sports fans are slated to engage in real-time conversation on the social network this year, so for brands, this immense opportunity should not be ignored.
However, Twitter is not the only social platform vying for a chance to shine during the 2014 World Cup in Brazil. An all-out battle is progressing between both Twitter and Facebook as the social networking sites gear up to become the essential World Cup experts for games, statistics and, yes, marketing. In line with its recent efforts to feature more news-related content, Facebook has created a #WorldCup trending page, where the latest goals, matches and stories are featured. Plus, as the social network with the highest number of active users, Facebook already has the attention--and dedication--of billions of football fans around the world.
Luckily for big brands everywhere, both Facebook and Twitter present unique and varied opportunities to engage with potential customers around the world's most watched sporting event. But how can you know which one is ideal for your brand? Here is my breakdown on where to start with Twitter vs. Facebook strategy, and how brands can leverage both to rally users around the 2014 World Cup.
1. Does real-time really matter to you?

While Facebook has worked hard to adopt Twitter's trending, real-time style, Twitter truly has mastered time-sensitive content. Tweets often get lost in the shuffle incredibly quickly with Twitter's constantly updating feed, so real-time posting is an effective way to really use Twitter to your brand's advantage.
Take Budweiser, for instance. Aside from being one of the official sponsors of the 2014 World Cup, the beer giant has paralleled its sports-loving brand with all things World Cup. To take advantage of Twitter's real-time opportunity, Budweiser has rallied around individual matches, and has even reported on unique plays and particular wins. Budweiser has equated its name with World Cup wins, and has become a trusted partner to watch the World Cup with, gaining even more social traction in the process.
Budweiser's strategy is a perfect one for Twitter, as it centers on and takes advantage of Twitter's constantly updating interface for more targeted, real-time marketing opportunities. Decide whether your brand wants to make the real-time commitment, and choose your social media site accordingly. If you're ready to become the second screen of choice during the World Cup, Twitter is the spot for you.
2. Interested in collecting your content?

Hashtags have been Twitter territory for years. During the World Cup, hashtags are hugely effective in uniting exchanges around famous players, important matches and even brand campaigns. Just search #WorldCup2014, and you'll find thousands of conversations carefully collected under the same hashtag.
While Facebook has recently introduced the hashtagging concept on its platform, Twitter's bite-sized content and quick, pointed updates work perfectly with the efficiency of hashtags. Athletic apparel company Puma knows this well. While the brand is naturally rallying around the World Cup's matches, Puma has created its own hashtag -- #StartBelieving -- specifically for the event, adding its own brand perspective to the blast of World Cup content flowing through Twitter already. Best part? Thousands of people have taken to the powerful phrase, inserting it into their own Twitter conversations and increasing the reach and attention of the Puma name.
With the influx of content on Twitter during the World Cup, hashtags are a great way to stand out from the crowd. If you're looking to pair short and sweet content with a catchy phrase, hashtagging on Twitter is the way to go.
3. How visual is your campaign?

While Twitter may be optimal for quick, real-time updates and back-and-forth conversations, Facebook is king when it comes to running visual campaigns and asking for meaningful engagement. With a layout centered around large images and without a character limit on posts, thoughtful idea-sharing is entirely possible on Facebook.
Have you caught Beats By Dre's powerful "Before the Big Game" video advertisement? The video, which boasts over 10 million views on YouTube, showcases the variety of routines and emotions experienced as soccer stars and fans from around the world prepare for the big game. An emotional watch already, Beats By Dre has pushed the video on its Facebook page, using visuals collected from the video to supplement the campaign, accelerate reach and foster conversation around pre-game emotions. The company's 7.1 million followers have certainly listened, with thousands liking, commenting and sharing each image.
The more visual your campaign, the better Facebook works for your marketing efforts. Ask for stories and insight from your followers, and work on creating an experience around the World Cup that goes further than the games. Your Facebook followers will appreciate you for it.
While its hard to say whether Facebook or Twitter will be victorious after the World Cup, there's no question that your brand can come out on top. Determine the details of your World Cup marketing strategy, and ask yourself the important questions to define where your strategy is headed. Whether it's Facebook and Twitter that you choose, prioritizing quality engagement with your followers around the World Cup is a great place to start.
Calling all HuffPost superfans!
Sign up for membership to become a founding member and help shape HuffPost's next chapter