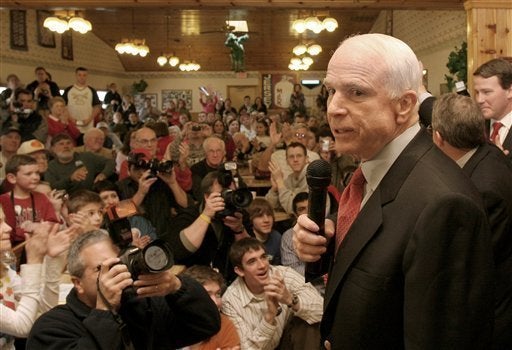 John Weaver, the "informal campaign advisor" to John McCain, has issued a statement to MSNBC this morning that he is not the source of yesterday's story in the New York Times which alleges a romantic link between the Presidential candidate and lobbyist Vicki Iseman. Additionally, Weaver insists that everything he told the Times in interviews was on the record, and that he kept the McCain campaign in the loop about everything he told the newspaper.
SCARBOROUGH: John Weaver has called in to MSNBC. I'm going to be interested to get Chris and Pat Buchanan's response to this. Weaver has told us this: he is not the source of the New York Times story. He was contacted by the New York Times and everything he told the New York Times, he told them on the record. Weaver also says that every response he gave to the New York Times about John McCain and this situation, he immediately passed along to Senator McCain and his presidential campaign.
Weaver is garnering attention today because he is one of the few named sources in the story, and in two paragraphs toward the end of the story, his quotes appear to lend credence to the allegation that McCain had an affair with Iseman:
"Our political messaging during that time period centered around taking on the special interests and placing the nation's interests before either personal or special interest," Mr. Weaver continued. "Ms. Iseman's involvement in the campaign, it was felt by us, could undermine that effort."

Mr. Weaver added that the brief conversation was only about "her conduct and what she allegedly had told people, which made its way back to us." He declined to elaborate.
Weaver was likely prompted to call MSNBC after Tucker Carlson went on the air to discuss his role in the story. Carlson captured Weaver in an extremely negative light, "complicated person, who briefly became a Democrat...someone who has frankly, betrayed John McCain." Carlson went on to characterize Weaver as "a pretty sinister figure."
CARLSON: John Weaver was for many years one of Senator McCain's closest confidants. He was his political director in 2000. He's a complicated person. He's someone who briefly became a democrat after the 2000 race, but maintains his ties with John McCain, and he's frankly someone -- that is not a picture of John Weaver, by the way - he's someone who's frankly betrayed John McCain by his quotes in the paper. McCain's staff is not like your ordinary senate staff. There are people on that staff like Mark Salter, his collaborators on his books, maybe his closest aide of all, who literally have devoted their lives to him. There is a mindset on his staff of total dedication. I was just traveling with the McCain campaign. About a third of the people there are not getting paid. They were people who were laid off when the McCain campaign ran out of money, and they came back for free. There is a total dedication to the candidate, to the senator on that campaign. And for this story to run with all these unnamed former aides is, I think, devastating to them. And the widespread belief - and I don't know if it's true, and I'm not endorsing it - but having talked to some McCain people today, is that this all comes from John Weaver, who is seen by many as a pretty sinister figure.
Please note: Carlson's reporting is no better sourced than the original New York Times article.
At the time Carlson was on the air, casting aspersions on Weaver, however, an article entitled "Parsing Weaver" was running on The New Republic's website. In that article, Weaver is reported to have said that "he strongly supports and admires McCain and bears him no animus," and that "his only concern about Iseman was that she allegedly had been bragging around town about her influence with McCain...and nothing more."
Steve Schmidt, McCain's senior campaign advisor, backed up Weaver on MSNBC this morning, insisting that no one in the McCain camp believes that Weaver was behind the piece. Carlson continued to insist afterwards that Weaver had "hurt the campaign."
UPDATE: John Weaver has offered a fuller statement to the Washington Post, which has been picked up by Chris Cillizza's "The Fix" blog. Critically, Weaver maintains that a paper trail exists, documenting his responses to the Times' questions and the subsequent disclosure of same to the McCain campaign:
The New York Times asked for a formal interview and I said no and asked for written questions. The Times knew of my meeting with Ms. Iseman, from sources they didn't identify to me, and asked me about that meeting. I did not inform Senator McCain that I asked for a meeting with Ms. Iseman.

Her comments, which had gotten back to some of us, that she had strong ties to the Commerce Committee and his staff were wrong and harmful and I so informed her and asked her to stop with these comments and to not be involved in the campaign. Nothing more and nothing less.

I responded to the Times on the record about a meeting they already knew about. The campaign received a copy of my response to the Times the same day, which was in late December.

From the day I first approached John about running for President in 1997 and through today, I have always wanted John to be president. The country needs him at this perilous time. From the moment I left the campaign until today, not one day -- not one --has gone by that I haven't reactively or pro-actively talked with the campaign leadership, with state leadership about how the campaign and how to win. To suggest anything else is wrong, a lie and meant to do nothing but harm.
Calling all HuffPost superfans!
Sign up for membership to become a founding member and help shape HuffPost's next chapter