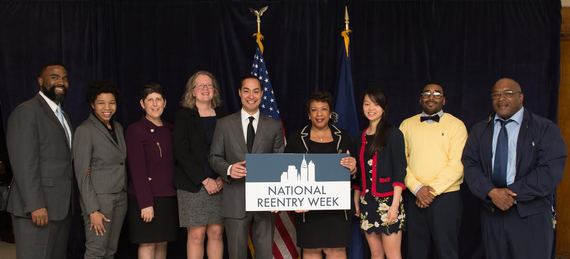 In the last year of his presidency, Barack Obama has become serious about criminal justice reform. The Department of Justice declared April 24-30 as the first ever National Reentry Week. US Attorney General Loretta Lynch and Secretary of Housing and Urban Development (HUD) Julian Castro kicked off the week at the Philadelphia Housing Authority's Raymond Rosen Manor on April 25.
Lynch talked emotionally about the barriers to reentry for released prisoners. She said, "Too often, Americans who have paid their debt to society leave prison only to find that they continue to be punished for past mistakes. They might discover that they are ineligible for student loans, putting an education out of reach. They might struggle to get a driver's license, making employment difficult to find and sustain. Landlords might deny them housing because of their criminal records - an unfortunately common practice. They might even find that they are not allowed to vote based on misguided state laws that prevent returning citizens from taking part in civic life. My friend Bryan Stevenson often says, "All of us are more than the worst thing we have ever done." But too often, the way that our society treats Americans who have come into contact with the criminal justice system sends the opposite message - and turns too many terms of incarceration into what is effectively a life sentence."
The cabinet officials were ostensibly there to announce $1.75 million grant from HUD to Public Housing Authorities (PHAs) and nonprofit legal service organizations across the country to address the challenges of young people with criminal records when trying to find work and a place to call home. Secretary Castro explained that the Juvenile Reentry Program (JRAP) will help those aged 24 or younger that live in public housing or would be if not for their criminal involvement. The grant will be used to expunge, seal or correct juvenile or adult records and mitigate the collateral consequences of conviction.
This reporter was initially surprised that two US cabinet officials traveled to Philadelphia to announce such a small grant. The Philadelphia Housing Authority, for example, received $100,000 with $25,000 earmarked for Community Legal Services of Philadelphia. But the director of litigation services for Community Legal Services of Philadelphia, Sharon Dietrich, who was at the event with many excited members of her staff, corrected me. She said, "We are a non-profit so any grant money is appreciated. More importantly, our work is being recognized as essential. We are no longer in the backwater."
In an interview after the event, Castro expressed hope foundations and others will contribute money to this effort. He stressed the importance of this first step. The HUD secretary said, "The dollars are important. Clearing the way is important. What's most important is that individuals believe that they can do it. The individuals when they are able to make the connection to Community Legal Services gain a sense of self-worth and get housing and a place to work. That boost to self-esteem will help propel them to get their lives on the right track."
Buried in the Attorney General's speech was a lifeline to returning prisoners. She announced, "I am asking each state to work with us to allow citizens returning from federal prisons to exchange their federal BOP inmate ID card - and their authenticated release documentation - for a state-issued ID. Or, alternatively, states could accept BOP identification cards and release papers as supporting documentation towards obtaining a state-issued ID."
A proper state issued is essential for applying for a job, opening a bank account, driving to a job interview, applying for welfare and social security benefits, traveling on planes, buses, and trains, renting an apartment, entering a courthouse for a required hearing, and voting. Prisoners were either never issued proper identification or lose their id and supporting papers such as birth certificates and social security cards for a variety of reasons. They can be misplaced when family members move away or are forced to downsize due to the incarceration of the wage earner. If a prisoner is arrested and then detained until trial, it is often the landlord or bank that throws it out when the apartment or home is evacuated or foreclosed. Others have been in prison so long that their ids have lapsed or they no longer live in or near the state that initially issued them.
Proving you are you without an id can be an exercise in frustration and can be burdensome in terms of cost and time. Lynch's common sense proposal asking the state governments to facilitate an id for released prisoners would remove one obstacle to reentry. Let's hope the nation's governors understand the imperative and implement her plan.
Calling all HuffPost superfans!
Sign up for membership to become a founding member and help shape HuffPost's next chapter