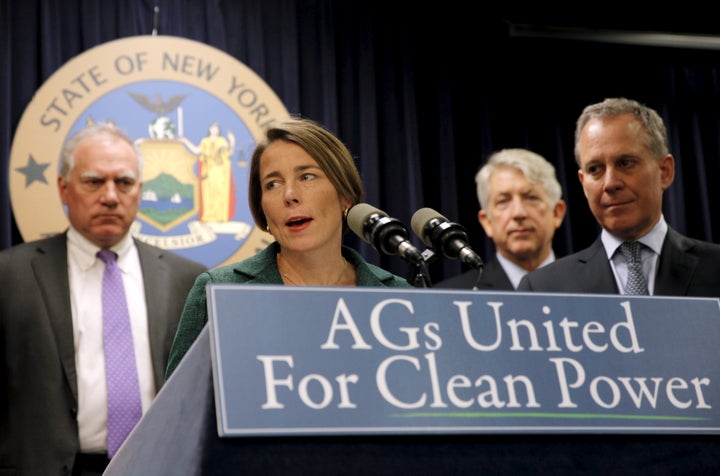 A coalition of state attorneys general announced Tuesday that they will be working together to investigate corporations who may have misled the public about climate change.
Massachusetts Attorney General Maura Healey said her office would formally join previously announced investigations in New York and California into ExxonMobil. The announcement comes following InsideClimate News and the Los Angeles Times reporting that found Exxon's scientific experts knew about the dangers of burning fossil fuels, but the company worked publicly to undermine climate science.
Other AGs said they would also get involved in investigations and enforcement actions against the fossil fuel industry, without specifically citing the Exxon example.
"Certain industries may not have told the whole story," Healey said at a press conference with six other attorneys general on Tuesday. "Companies that deceived investors and consumers about the dangers of climate change should be, must be held accountable."
Claude Walker, the Attorney General for the U.S. Virgin Islands, also said his office is investigating another, unnamed company over similar allegations.
Suzanne McCarron, ExxonMobil's vice president for public and government affairs, put out a statement Tuesday afternoon calling the AGs' effort "politically motivated and based on discredited reporting funded by activist organizations."
"We are actively assessing all legal options," she said.
New York Attorney General Eric Schneiderman has already subpoenaed Exxon for internal documents related to climate change. Schneiderman, who is leading the new multistate coordination, said they will find "creative ways to enforce laws being violated by the fossil fuel industry and their allies."
Vermont Attorney General William Sorrell, Virginia Attorney General Mark Herring, Maryland Attorney General Brian Frosh and Connecticut Attorney General George Jepsen were also at Tuesday's presser.
While the AGs were vague on what exactly they have planned, they are "committed to pursuing an all-levers approach" to determining whether corporations committed fraud or otherwise acted illegally in misleading the public or investors, Schneiderman said. "You have to tell the truth," he said. "You can't make misrepresentations of the kind we've seen here."
"What we want from ExxonMobil and Peabody and ALEC is very simple. We want them to tell the truth," said Frosh, the Maryland AG, referring to the American Legislative Exchange Council, a group of conservative lawmakers and businesspeople. "We want them to tell the truth so we can get down to the business of fighting climate change."
Former vice president-turned-climate activist Al Gore was also on hand for the event, which he said marks "a real turning point in the effort to hold to account those commercial interests that have been, according to the best available evidence, deceiving the American people, communicating in a fraudulent way."
McCarron said the allegations were "an attempt to limit free speech and are the antithesis of scientific inquiry" that "could stifle the search for solutions to the real risks from climate change."
"ExxonMobil recognizes the risks posed by climate change, and we believe that everyone should be engaged in meaningful action to reduce greenhouse gas emissions," she said.
The attorneys general also joined other AGs in filing a brief in the D.C. Circuit Court in support of the Environmental Protection Agency's Clean Power Plan, which seeks to limit greenhouse gas emissions from power plants. The Supreme Court issued a stay on those rules last month, at the behest of state and industry challengers.
This article has been updated with comment from ExxonMobil.
Popular in the Community