WASHINGTON -- Last month, a group of state attorneys general flew to Maui for the annual meeting of the Conference of Western Attorneys General. For several days, the top law enforcement officers -- who are often referred to as "aspiring governors" because of their tendency to run for and win higher elected office -- attended panels and swapped legal expertise on issues facing their states. They also mixed with executives, lawyers and lobbyists at a Waldorf Astoria resort that boasts tropical gardens, a swim-up bar and a grand view of Wailea Beach.
At the opening night Grand Luau, shirtless men carried in a skinned pig that had been roasted for hours in an underground oven called an imu. Performers in traditional regalia danced the hula. CWAG members could then retire to scenic rooms they -- but not private-sector attendees -- could stay in for a discounted rate of $279 a night. The cheapest room at the hotel usually goes for about twice that amount. The Waldorf treated its guests -- not all of the AGs stayed there -- to a tropical lei, Hawaiian punch and complimentary yoga.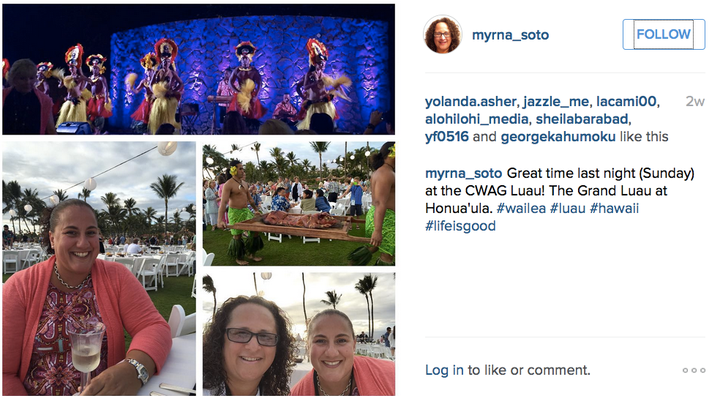 The annual gathering -- which last year brought AGs to the famed resort town of Park City, Utah -- highlights the close ties between AGs and the companies that seek to influence them. CWAG sponsors listed on the conference website range from the somewhat obscure -- such as HomeServe USA, LifeLock and Herbalife, all of which have faced state AG inquiries within the last five years -- to world-famous, including Viagra-maker Pfizer, which reached a $35 million settlement with 41 states last year over alleged improper drug marketing. (The company did not admit to any wrongdoing or liability.) Pfizer and Comcast, top sponsors listed on the website, sent staff to the event. Verizon, the parent company of The Huffington Post, is also listed as a sponsor.
The schedule for the conference includes attorneys general of 18 states, as well as the Northern Mariana Islands and Washington, D.C. CWAG's legal director, Chris Coppin, said he was not aware of any cancellations.
The New York Times reported last year that lobbyists and lawyers use "personal appeals at lavish corporate-sponsored conferences and other means" to push officials to drop investigations and reach favorable settlements.
"I have been associated with CWAG for almost 30 years, and I have never seen such conduct as described," Coppin said.
This year, the conference's social program included several optional activities that supplement the all-day panels -- including personal training sessions, swimming excursions with turtles, Henna tattoos, a beach party, and a farm tour organized by agribusiness giant Monsanto. (No AGs took the tour, a Monsanto spokesperson said.)
At the conference, Hawaii Attorney General Doug Chin said, "Nearly every single person in this room came up to me and you thanked me for the weather, you thanked me for how great the hotel was." He added, "Some of you told me that this was your best family vacation ever. I've saved some of your marriages."
A woman on Instagram identifying as Kristin Strobel, a registered lobbyist for the Entertainment Software Association, tagged one photo #cwag #beach #waves #enjoylife. Strobel's social media accounts have since been set to private, and neither she nor her employer responded to requests for comment.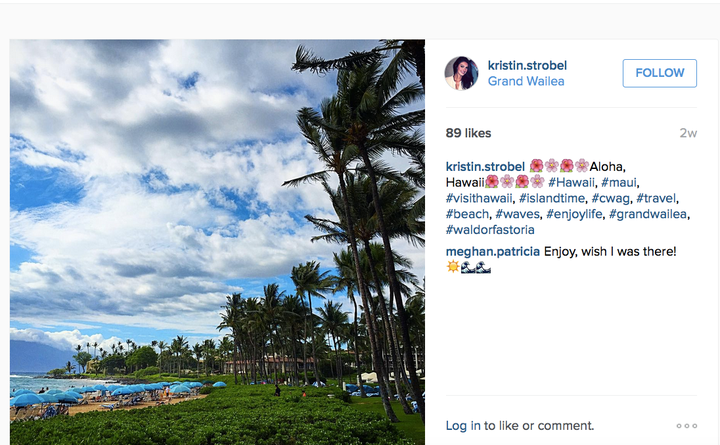 CWAG paid for some of the AGs to attend the conference.
Coppin told HuffPost that CWAG also "offered to pay the travel expenses of one staff member from each office." The Democratic Attorneys General Association, which also organizes events at resorts, covered certain travel expenses for some AGs.
CWAG receives funds from a number of sources, including book royalties, webinar fees and corporate sponsorship, and does not separate out revenues to be dedicated to certain purposes, Coppin said. Corporate sponsorship funds were "not necessarily" the source of travel funds for this conference, since other revenues such as registration fees, are sufficient to cover costs, Coppin added.
Coppin would not provide HuffPost with a list of who paid those registration fees. In a later email, he said, "CWAG does not limit attendance in any fashion nor do we ask questions about peoples' motives for attending, even if they may be a registered lobbyist."
AGs who attended the conference work on cases that directly involve companies CWAG lists as sponsors. CWAG lists 1-800 Contacts, a Utah-based contact lens retailer, as a "Premier Patron," a level of sponsorship for which CWAG generally requests $30,000, according to its website.
Utah Attorney General Sean Reyes, who was scheduled to speak at a human trafficking panel, is defending a state law that critics say was written to benefit the company. Reyes did not respond to requests for comment.
"1-800 Contacts maintains an open dialogue with many state attorneys general to keep abreast of laws [a]ffecting our business," said a spokesman for the company.
Florida Attorney General Pam Bondi was scheduled to moderate a panel on fighting prescription drug abuse. Last year, The New York Times reported she had a meeting scheduled with Herbalife, a nutritional drink company that has come under investigation by federal and state authorities. Florida did not open such an investigation. Herbalife is listed as a "benefactor patron" of CWAG. Neither party responded to requests for comment.
"I interacted with a number of individuals at this conference, among them were lobbyists," Idaho Attorney General Lawrence Wasden, who was chairman of CWAG at the time of the conference, told HuffPost. "These interactions were informal, no commitments other than another discussion at a later time were offered."
"Conference attendance has no impact on the work of my office," he added. "I consider it a part of my job to talk with people, including lobbyists, with whom I disagree."
Kristina Edmunson, a spokesperson for Oregon Attorney General Ellen Rosenblum, said the AG regularly turns down meetings with corporations the Oregon Justice Department is investigating or has pending litigation with. She said Rosenblum was approached by one company the Oregon Department of Justice was looking into at the CWAG conference, but "declined to meet with them."
Attorney General Chin told HuffPost that while major online travel companies have attended CWAG meetings, "my office still pursued them for failing to pay back taxes."
Corporations and AGs emphasized that they gathered in Maui to swap expertise. "Pfizer communicates with many state attorneys general across the nation on important issues of common interest," said MacKay Jimeson, a company spokesman. "These relationships have a positive impact on public health."
Anthony Johnstone, an associate professor of law at the University of Montana who served under two previous state attorneys general, said sponsored conferences like CWAG are an opportunity for AGs and their staff to learn more about the businesses they may be regulating, but the conferences also provide access to big business.
"Where a conference may cross over from an educational event to an opportunity for lobbying is not well defined," he said.
He added that ethics laws often look to what a reasonable person would think, or for appearances of impropriety.
"With attorneys general in particular," he said, "it's all about trust."