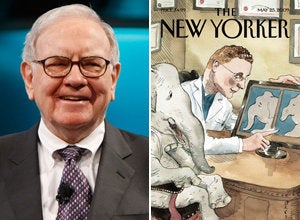 A New Yorker writer said he did not personally accept a $20,000 check from Warren Buffett's partner for an article he wrote about health care in McAllen, Texas.
Dr. Atul Gawande's "The Cost Conundrum," which appeared in the magazine last June, focused on cost variances in health care in McAllen, Texas.
"[Gawande] had an article last summer that was absolutely magnificent," Buffett said on CNBC's "Squawk Box" Monday morning. "My partner Charlie Munger sat down and wrote out a check for $20,000 to him and he's never met him, never had any correspondence with it, he just mailed it to the New Yorker and he said, `This article is so useful socially.' He says, `Just give this as a gift to the--to Dr. Gawande.'"
A rep for the New Yorker tells the Huffington Post that Gawande did not accept the money personally. Instead, he accepted it as a donation to the Brigham and Women's Hospital Center for Surgery and Public Health for an international health project they are working on in coordination with World Federation of Societies of Anesthesiology and the World Health Organization. The project aims to "distribute oxygen monitors in developing countries with inadequate surgical safety equipment."
Related
Popular in the Community