Sometimes parents just don't know when to let go, but it's rare when a judge needs to intervene.
That was the case for Aubrey Ireland, a 21-year-old music theater major at College-Conservatory of Music at the University of Cincinnati. She convinced a judge to grant her a restraining order against her parents, David and Julie Ireland.
According to the Cincinnati Enquirer, Ireland told the court that despite making the dean's list, her parents would routinely drive 600 miles from Kansas to Ohio to make unannounced visits to her at school. Then they accused her of illegal drug use, promiscuity and mental illness.
Her parents allegedly became so overbearing that they installed keylogging software on her computer and cell phone to keep track of her every move. She told the court, "I was a dog with a collar on."
According to the Cincinnati Enquirer, the school hired security guards to keep them out of their daughter's performances in school productions. When she cut off all contact with them, her parents responded by stopping payment on tuition checks.
Both the school and the court have sided with Ireland. The University of Cincinnati gave her a full scholarship for her senior year, and the judge issued a civil stalking order against her parents, ordering them to stay at least 500 feet away from her and have no contact with her until September 2013.
Ireland's story garnered plenty of buzz in the days after news broke that she had successfully obtained a restraining order. But in an interview with ABC News, Ireland said she's not exactly happy with the way things have played out.
"I never wanted this to happen, that's the last thing I wanted," she told ABC News. "But I wasn't in control of my life at all anymore. I knew that they were holding me back emotionally, mentally, and professionally and that it got to the point where that was basically my last option."
This isn't the first time Ireland has made headlines.
In 2009, the Kansas City Star interviewed the then-high school senior after she was accepted into the freshman class of the musical theater program at The University of Cincinnati. Ireland was one of 10 young women admitted; more than 700 had auditioned.

From the Star's report, it's clear that Ireland's parents have always been very involved in her life. Ireland took part in multiple extracurricular activities, including softball, basketball, soccer, volleyball and tennis, piano, dance and voice lessons.
"I thought she should get to try everything she wanted to," her mother told the newspaper at the time.
In 2007, researchers at Michigan State University surveyed more than 700 employers seeking to hire recent college graduates. According to NPR, they found that nearly one-third said parents had submitted resumes on their child's behalf. One-quarter said they heard from parents who encouraged the employer to hire their child for the position.
Five years later, "helicopter parenting" only seems to have gotten worse.
In June 2012, researchers at the College of Business and Economics at West Virginia University conducted a study of 340 students and found that many simply grow accustomed to parents' constant involvement. Nearly seven out of 10 students said it was "somewhat" or "very appropriate" to receive help from their parents in writing a resume or a cover letter. One-fifth of students thought it was fine to have their parents contact a prospective employer.
Editor's Note: This story has been updated.
Related
Before You Go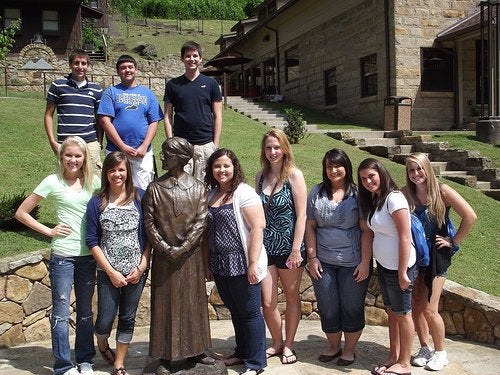 10 Colleges Where Graduates Have the Least Debt
Popular in the Community