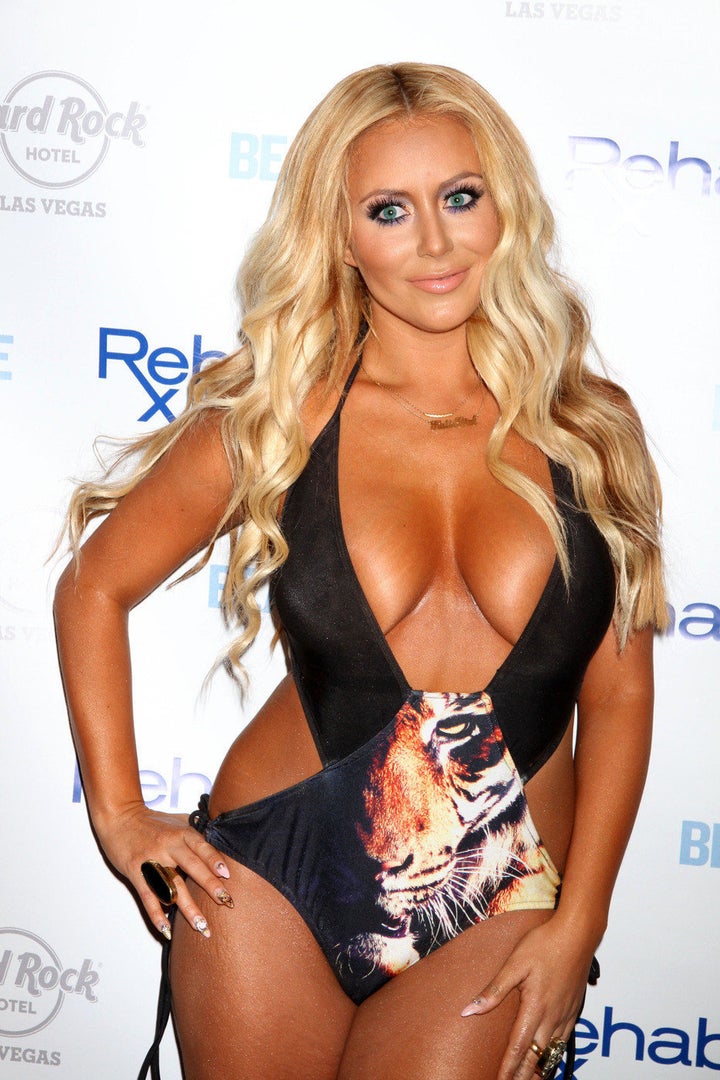 Aubrey O'Day is many things to many people. As a former Danity Kane singer and Celebrity Apprentice finalist, she has a knack for calling attention to herself with more than a flip of her shockingly red hair and piercing yet questionable turquoise eyes.
Never one to shy away from telling viewers exactly how she feels, what she thinks or what her long list of accomplishments are and will be at the mere age of 28, O'Day is to be commended for never avoiding conflict and is living proof that a young, beautiful woman need not apologize for a desire to rise above the ordinary and realize extraordinary success in a business that takes more than simply a thick skin, but often demands a full metal jacket.
Yet we cannot ignore that of late, Aubrey may be responsible for yet another setback for the millions suffering from mental illness and the ensuing battle to gain much deserved compassion and understanding for a range of conditions that while recognized as diagnosable by the mental health profession, still engender a great deal of stigma and misunderstanding.
During a recent jaunt to San Francisco, O'Day was accompanied by two well-behaved but highly controversial companions: her two pet dogs. She even went as far as tweeting a picture of them all together on the plane. Why is this newsworthy and what's the problem, as celebrities regularly travel with their pets in the lap of first class luxury?
The facts still remain rather elusive as neither Aubrey nor her representatives are willing to comment on her canine companions who were allegedly registered as "Emotional Support Animals" (EMA). What exactly is an EMA? According to the United States government, effective May 13, 2009, and under section 382.117(e),
Airlines can require passengers traveling with emotional support or psychiatric service animals to provide certain documentation. This information is not a medical certificate in the sense articulated in section 382.23, but airlines are entitled to obtain this documentation as a condition of permitting the emotional support or psychiatric service animal to travel in the cabin with the passenger.
Quite simply, these animals offer necessary assistance to those individuals who are living with and legitimately suffering from disorders that span the mental health continuum.
"Flying in style!" she tweeted, showing off a photo of her dogs Ginger and MaryAnn sitting on white leather seats during their hours of travel luxury. "Mary is gonna get all the bitches in first class!" O'Day continued to tweet as she traveled, seemingly unaffected by any mood disorders or anything more serious.
And herein lies the rub. With celebrity comes responsibility as well as opportunity, and Aubrey O'Day has never been one to shy away from controversy or self-disclosure. So why hasn't she made a public statement regarding the exact nature of her "condition" and why is she tweeting photos of her EMAs dressed up looking far more ready for the red carpet than poised to take on the role of true support and companionship during what one would imagine should have been a difficult emotional journey for the performer?
According to a 2008 study by the National Institute of Mental Health (NIMH):
An estimated 26.2 percent of Americans ages 18 and older, or about one in four adults, suffer from a diagnosable mental disorder in a given year. When applied to the 2004 U.S. Census, residential population estimate for ages 18 and older, this figure translates to approximately 57.7 million people.
Real people suffering from real illnesses while an "almost" Celebrity Apprentice tweets from 30,000 feet about how much her four-legged "celebutantes" deserve to be spoiled.
We all deserve to enjoy our success and luxury, while not a birthright, need not come with any apology or explanation. But if O'Day expects to demand the respect she has publicly stated she deserves, it is time for her to take herself seriously, step up to the proverbial plate and decide exactly where she is going and if she is willing to take responsibility for a mistake or embrace an opportunity to truly make a difference in her world and the world of millions of others that would benefit from her choice to join the collective voice in the name of benevolence and understanding for those living with mental illness each and every day.
REAL LIFE. REAL NEWS. REAL VOICES.
Help us tell more of the stories that matter from voices that too often remain unheard.