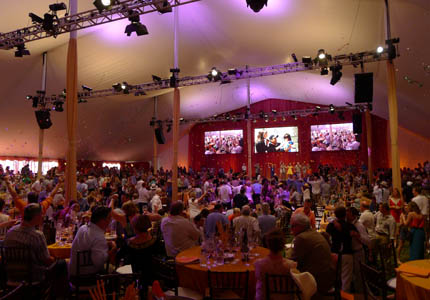 The 33rd annual Auction Napa Valley wrapped up at Meadowood Napa Valley last weekend, where an astounding $16.9 million were raised, surpassing the 2005 record of $10.2 million. Proceeds benefit healthcare and child development programs in Napa Valley.
The event kicked off on Thursday with vintner-hosted dinner parties. On Friday, the Napa Valley Barrel Auction, featuring samples from 100 barrels, raised $1.7 million -- another Auction Napa Valley record. A live auction took place on Saturday, for bidding on 45 mega lots, raising $11.1 million. The highest-raising lot, though, was the Auction's annual fund-a-need lot. Lot 46, entitled "Marvels to Miracles," is donation-only -- meaning auction-goers received nothing tangible in return for their bids -- and drew in an unprecedented $3.7 million for children's mental and physical health and education. The live auction also included a raffle for a 2014 Audi R8 Spyder.
For those who could not make it to the event, an e-auction opened online on May 26 for bidding on 170 lots and raised an additional $430,000.
This year's auction chairs, Garen and Shari Staglin, wish to thank all the bidders for their generosity.
Meet us in Napa Valley June 7, 2014, for the 34th annual Auction Napa Valley to see if they can beat this year's record.
For more information and to view photos from the event, visit the GAYOT blog.