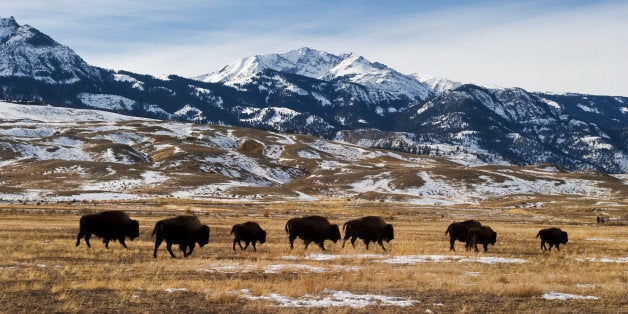 What author Wallace Stegner called America's "best idea," was simple, but unprecedented anywhere in the world: treasured landscapes should be preserved and protected from private interests for all the public to enjoy, in the form of national parks.
Artist George Catlin is credited with birthing the notion in the early 19th century. Struck by the beauty of the Dakotas, he wrote that Indian civilization, wildlife, and wilderness, "might be preserved... by some great protecting policy of government... in a magnificent park.... A nation's park." Decades later, Catlin's idea began to take hold. California protected Yosemite Valley, and the federal government created the world's first national park in Yellowstone.
In the early days, the private interests that threatened pristine landscapes were those of inexorable western expansion and development. Frederick Law Olmstead and other conservation leaders anxiously wanted Yosemite to avoid the fate of Niagara Falls, where every overlook was controlled by a private landowner who charged a fee for entry.
Later, dams, mining, logging, and even archeological thieves threatened natural areas. In part for that reason, throughout their history, the creation of national parks and monuments have not been without controversy, drawing protests from loggers, developers, miners, and even some politicians.
Yet it's impossible to imagine the American landscape or American life without our parks, seashores and monuments. More than 400 public areas in every single state draw hundreds of millions of visitors of all stripes each year to camp, hike, fish, and paddle. They provide valuable wildlife habitat, just as Padre Island National Seashore in Texas has helped save the Kemp's ridley sea turtle from extinction. They shelter our drinking water supplies, just as the Grand Canyon and other parks help keep the Colorado River clean for the tens of millions who drink from it in the Southwest.
A Grand Canyon topped by hotels, the Smoky Mountains ravaged by clearcuts, the Everglades dotted by oil rigs: all of it is unthinkable. Yet if some in Congress have their way, this nightmare won't be far from reality.
In the first 100 days of the 114th Congress, members have offered nine different bills and amendments to undermine the Antiquities Act, which sixteen presidents since Theodore Roosevelt have used to protect iconic landscapes as national monuments. They've proposed reduced funding and even the elimination of the Land and Water Conservation Fund, which provides funds for the creation of national parks, state parks, and other public lands. And in March, the U.S. Senate resolved in its version of the budget to sell or give away the bulk of our public lands -- from national forests, to wildlife refuges, to wilderness areas -- allowing them to be sold to the highest bidder.
To highlight the absurdity of proposals like these, our staff, along with Congressman Raul Grijalva, D-Ariz., the ranking member of the House Committee on Natural Resources, staged an auction of some of our prized national monuments. In this fun bit of theater, professional auctioneer Fred Reger sold off the Statue of Liberty, the Grand Canyon, and other treasured lands to loggers, miners, and developers.
As congressional leaders wrestle with their budget over the next several weeks, they need to abandon their plans to allow states to sell off valued public lands to the highest bidder. They need to reject other efforts to erode protections for our parks, forests, and open lands. If protecting our prized landscapes forever for the benefit of all is America's best idea, selling them off for the short-term economic gain of a few special interests is Congress's worst.
Calling all HuffPost superfans!
Sign up for membership to become a founding member and help shape HuffPost's next chapter