Audi is getting lots of credit for running a Super Bowl ad endorsing equal pay for women. It's a great message well worth spreading, considering that women still make just 80 cents for every dollar earned by men.
The hiccup is that Audi doesn't seem to employ very many women.
Just 22 percent of the automaker's U.S. employees are female, the company told The Huffington Post in an email. At higher levels, the numbers are worse: Just 12 percent of senior management is female. There are only two women on its 14-person U.S. executive team. And the company's global management board consists entirely of men: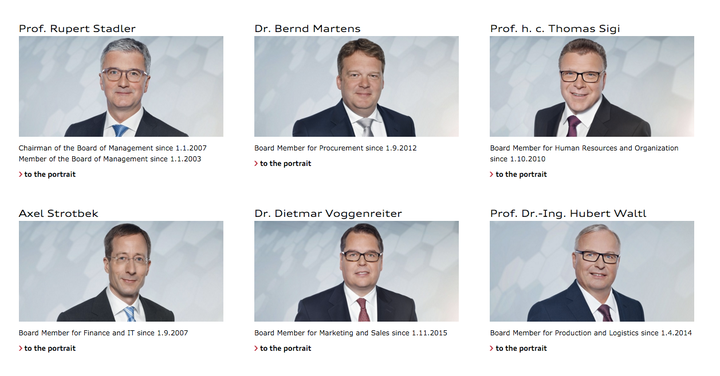 In the Super Bowl ad, a father watches his young daughter compete in a go-kart race and wonders if or how he should explain to her that women are still paid less than men. At the end of the spot, this text appears: "Audi of America is committed to equal pay for equal work. Progress is for everyone."
The contradiction here is an important reminder that equal pay is just one component of gender equality at work. If you pay women equally ― as Audi assured HuffPost that it does ― but only employ a handful of them, the idea of "equality" loses some of its potency.
Further, if you pay women at lower levels the same as men, but don't promote them to the top jobs that earn the most, that "equality" is missing something, too.
Audi told HuffPost it's working hard to hire more women. "The company has pledged to put aggressive hiring and development strategies in place to increase the number of women in their workforce, at all levels, and will work aggressively towards that goal," Audi said in a statement.
The automaker also said it recently started an internship program in which half of the interns must be female, and it touted its support of third-party programs meant to foster leadership.
It's doubtful any of that is going to move the needle for the company. HuffPost asked for more details on Audi's plan, but the company didn't provide them. Bringing in more women at the lowest rungs is helpful ― and also the easiest part of any corporate effort ― but the key for Audi will be to figure out ways to retain and promote women once they land at the company.
A huge roadblock on the path to equality is that women are more likely than men to step off career paths early on ― to care for children typically. Women dropping out of the workforce is a key piece of the pay gap.
It's unclear what Audi is doing about that.
Related
Popular in the Community