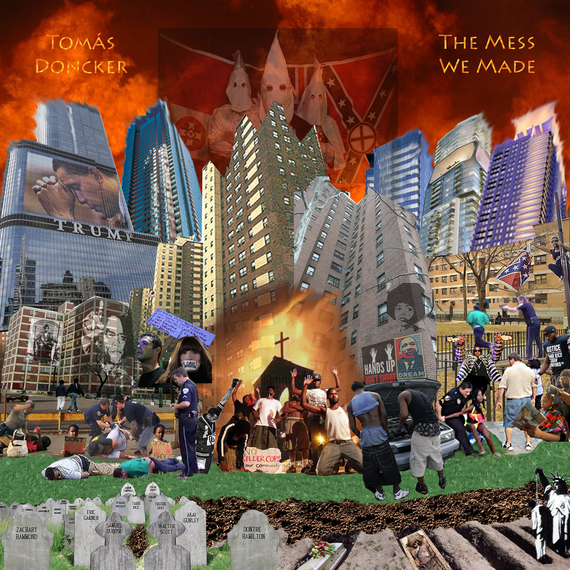 Tomás Doncker's new album "The Mess We Made" could be piped over a sound speaker at a rally and would be right at home. If you're looking for what would happen with a voice that sounds like smooth jazz paired with an older gentleman truly amped up to say something to a world gone awry, you are in the right place. This whole album feels like meeting the silver fox voiced Tomás Doncker at a Farmer's Market as he tells people how it is.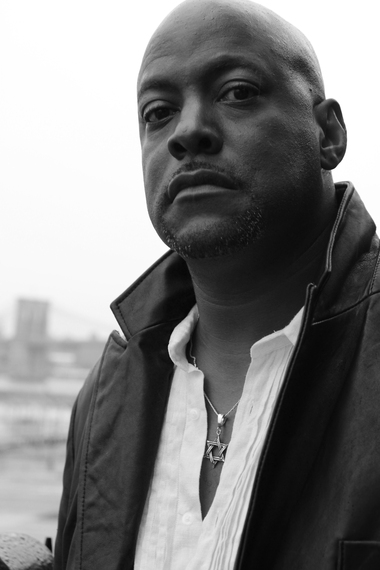 I wanted to love this album because of its lofty goal: artist Tomás Doncker is politically charged; Doncker announced that he wrote the second track, "Church Is Burning Down" in direct response to the Charleston Massacre. And, as someone who has gone to China to plays live in large rallies, the bar is set high for a political soul track. But while you can easily feel his excitement to be doing something over such terrible tragedy and a great social injustice, the actual song itself feels a bit repetitive and dated. Likewise, his following track, "The Revolution," feels like an older man who is angry at the youth on his porch - yes, at one point, he even repeats "take the hoodie off and pull your pants up". In similar fashion, "Some Ol Dolls" is catchy but not exactly something you would crank up: where would you listen to this, one wonders: is it a movie song? A commercial? A block party jam? "Can't you see I'm running / in the human race?" Doncker asks the listener, but while it's an ear catching lyric, this paired with a short banjo sample are the biggest highlights of an unfortunately forgettable track.
Doncker uses phrases of an older generation to address the listener, like "Gotta get my mind right," used in the titular track "The Mess We Made." He croons further and gets upset because he "couldn't put down his damn smart phone," which seems like a typical man in his fifties concern.
A bit of fresh air in his seventh inning stretch- his cover of U2's "Still Haven't Found What I'm Looking For" - feels like a wedding band covering the hits. It's fine if you're into a gathering for mid fifties adults; if you're in a waiting room, you may ask "Hey, who is this?" - but most young listeners will skip through this rendition. Which is a bit of a shame: Doncker's voice has the refinement of years spent on a road, and that makes this cover compelling.
You start to wonder, the further in you go, whether Doncker is one torch song away from a one man sit in. Two tracks are too simplistic in the lyrics, leaving nothing to the imagination. "How did we get in? How did we get in this?" He repeats in the lyrics of "Blood and Concrete" over a mix that feels somewhat dated, like a 90s Nickelodeon tv show background. "Time Will Tell" is another one that feels preachy: "Time is running out, and time will tell," Doncker offers.
Far and away his best track is the quiet, soothing "Don't Let Go." "Don't Let Go" feels reminiscent of Sam Smith with its crooning and guitar vibe. But, as Doncker hits the next half of the song, with lyrics telling you that he lost his job and is now homeless, it starts to feel like a stranger that leans too close to you on a train and offers you his life story. If he had let the track continue to find its own way without getting heavy handed, it could have been much more moving of a shared moment.
If Doncker can find a political rally to play at, outdoors on a soundstage, this is his optimal audience. As is, Doncker feels a touch dated and preachy albeit with a beautifully aged, throaty singing voice that could, if paired with a more evolved lyrics wherein Doncker trusts the audience, soon strike gold. Will he get there? As Doncker says himself, "Time Will Tell."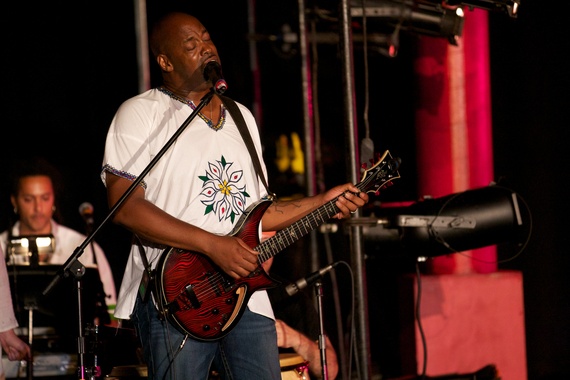 REAL LIFE. REAL NEWS. REAL VOICES.
Help us tell more of the stories that matter from voices that too often remain unheard.