Throughout life, Halloween takes on a different meaning depending on your age. As a child, it's about dressing up as your favorite princess or superhero, trick-or-treating with your parents, and getting to eat as much candy as you can hold in a basket the shape of a pumpkin (or are allowed to eat). When middle school rolls around, the costume selection becomes a little more varied, but suddenly you are hemming the princess dress to well above knee length. You and your friends attend a chaperoned a Halloween party, and then instead of asking strangers for candy with your parents, you go with friends. A gossip/giggle session follows, during which you discuss if your crush noticed how much skin you were showing. In high school, Mean Girls taught us that Halloween is quite literally, "the one day a year when a girl can dress up like a total slut and no other girls can say anything else about it." College is more of the same, except a little more daring. As a recent post-grad, I have a new found sense of self in regard to who I want to be this Halloween. Full disclosure, this has been a gradual change of heart that began during my senior year of college, where I decided to dress as a dementor from Harry Potter. Yeah, I ripped the slits of my black hooded-cape poncho dress, showing a little more leg than the average dementor would, but so what.
Anyways, if you don't want to be a "basic" this Halloween, read on. If you are a loyal customer to Yandy.com, Rickys, or Fredericks of Hollywood, this might not be for you.
After all, this holiday is more than about shedding all your layers at the onset of winter. You have a chance to be whomever it is you admire, to wear whatever you want, dye your hair, and maybe even glue some Lady Gaga eyelashes onto your eyelids!
Here is a compilation of the most iconic movie costumes from my very own number one gal, Audrey Hepburn. In narrowing down outfits that could be taken and re-imagined from any of her 31 films, I have settled on four. One costume per movie, except Breakfast at Tiffany's merits two.
The many plusses to these costumes are that you can still wear them as separate pieces after Halloween, and some articles can probably already be found hiding in the back of your drawers.
Dressing as Audrey from Funny Face is perhaps the easiest of them all. You need a tight black turtleneck, skinny black jeans or leggings, black socks, and black flats/penny loafers. Hair must be worn up in a ponytail, with a side part. And, most importantly, this costume requires a bit of acting, and a lot of dramatic arm movements.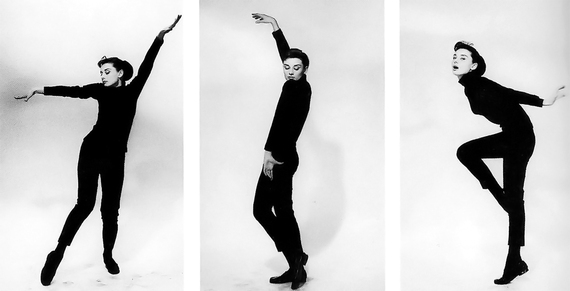 The classic Holly Golightly in Breakfast at Tiffany's has more than one look, so let's skip the classic long black Givenchy dress and pearls. Holly's sleepwear, which we see early on in the movie, is a fun and effortless mod look. All you need is a long white sleep shirt, à la Tom Cruise from Risky Business. The two most important components of this outfit are the earplug tassels, and the blue eye mask.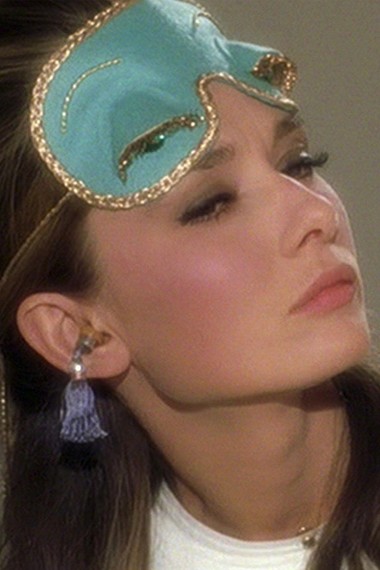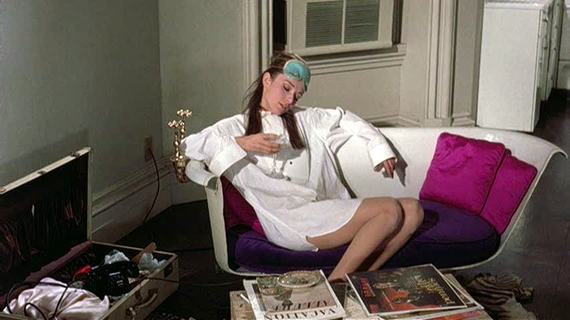 If you're looking to add an accessory to this look, think about a stuffed orange cat.
The second Breakfast at Tiffany's costume comes from a scene with George Peppard from the five and dime. This costume requires only a cat mask and an orange coat.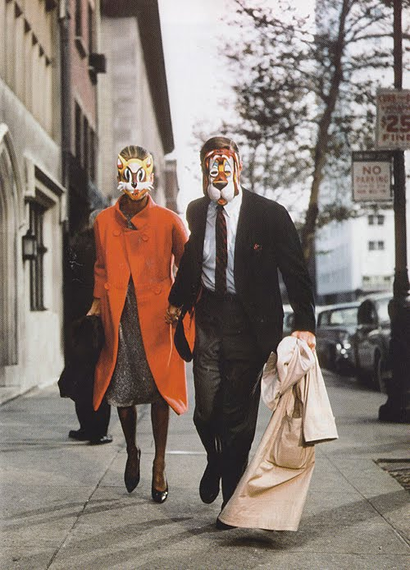 The trickiest costume of them all is from My Fair Lady, but don't let the long lace dress and black stripes scare you. This is your chance at following through with a D-I-Y project, or to explore all that Etsy has to offer (which is a lot)!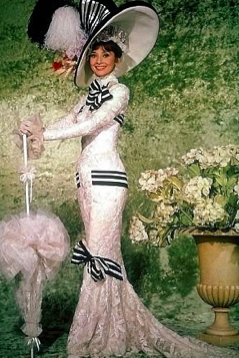 For the Roman Holiday costume, think of Princess Ann's look while she's playing hookey from her royal duties. This costume involves a short-sleeved white button down shirt, with the sleeves cuffed. The shirt goes tucked into a calf-length skirt with pleating that cinches at the waist with a belt. To complete the look, wear a black and white striped scarf tied tightly around your neck, with gladiator shoes.