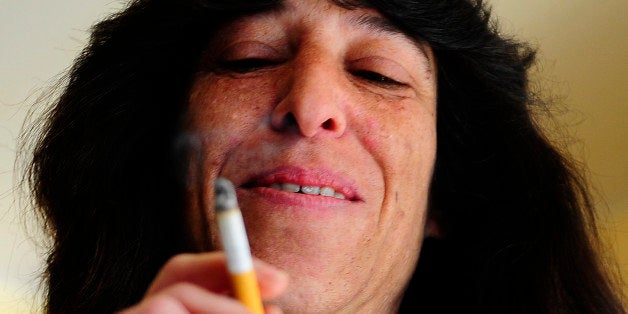 And in a final act of protest against the three-term mayor, one stubborn smoker lit a real, non-electronic cigarette inside City Hall, The New York Daily News reports.
"This is a final image in your reign that couldn't be more antithetical to the legacy you desperately want depicted," Audrey Silk, a smoking rights advocate who heads up the Citizens Lobbying Against Smoker Harassment (C.L.A.S.H.), puffed at Bloomberg after lighting up. "I return the respect."
Bloomberg, who's overseen sweeping anti-tobacco policies during his twelve years as mayor, thanked Silk before she and a fellow smoker were escorted out of the room by security. The pair's lit cigarettes were confiscated.
"OK, thank you," he said. "We just don't permit smoking in the public buildings, so I appreciate your comments."
E-cigarettes turn nicotine into a vapor that users then inhale. Although it's unclear what the effect of the vapor has on the health of e-cigarette users, the New York City Council decided this month not to take any chances.
"Although the long-term effects of electronic cigarette devices require further study, the FDA has found that some devices contain toxins and carcinogens and has expressed concerns about their safety," read the legislation, ratified by Bloomberg on Monday, adding e-cigarettes to 2011's Smoke Free Air Act. That bill banned real cigarettes from public parks, beaches, and pedestrian plazas.
Correction: A previous version of this article incorrectly stated that electronic cigarettes vaporize tobacco. Electronic cigarettes vaporize nicotine.
REAL LIFE. REAL NEWS. REAL VOICES.
Help us tell more of the stories that matter from voices that too often remain unheard.