"I cannot believe the ERA was never passed. That blows my mind. Equal rights for absolutely everyone, except women? That is just not acceptable." ~A very smart international businesswoman, Age 55
"I didn't realize that our rights as women weren't explicitly covered in the 14th amendment." ~Another very smart businesswoman, Age 36
I expected the above responses from my daughters' generation.* Not from my own. But this is what I received after I sent out my personal action email as Ambassador for the ERA Coalition in support of Women's Equality Day (August 26th) -- finally pushing to pass the Equal Rights Amendment after almost 100 years.
I now feel even more impassioned and more compelled to spread the word and the message is clear -- the time is now -- #ERAnow.

Here's the deal -- the ERA was written in 1923 and approved by Congress. It was sent to states in 1972 with a 10 year deadline for ratification. However, by 1982 supporters had only managed to sign on 35 of the 38 states needed to add the amendment to the Constitution. So, it never happened.
Therefore, 92 years after the ERA was written, this simply worded sentence is still NOT in the United States Constitution:

Equality of rights under the law shall not be denied or abridged by the United States or by any state on account of sex.

Opponents claim that the 14th Amendment covers us. However, even Supreme Court Justice Antonin Scalia has publicly stated that the 14th Amendment was never intended to protect women, only to protect race. Federal and state law cannot protect citizens who are not protected under the Constitution, and courts still show confusion on the issue of women's rights.

Laws can be repealed. Judicial attitudes can shift. Our democracy rests on the principle of "liberty and justice for all." We need the ERA to ensure that this concept applies equally to women.
Women and men all over our country are standing with the ERA Coalition (http://www.eracoalition.org/) in demanding our representatives to vote for #ERAnow.
And so now that you know what's up, there are the simple ways you can help us raise awareness and affect change in support of the ERA:
1. SHOW YOUR SUPPORT: Take a photo of yourself striking the iconic Rosie the Riveter pose (see below for examples).
2. SPREAD THE WORD: Share your photo on social media along with the hashtag #ERAnow. You can use the following caption:
Support the Equal Rights Amendment. Share your pic & tell your reps to vote for #ERAnow! bit.ly/ERArep
3. TAKE ACTION: Visit the ERA Coalition's website at http://bit.ly/ERArep to let your representative know where you stand on this issue.
In order to make the biggest possible impact, we asked everyone to share their posts this morning. We launched this campaign at 8 A.M. (EST), and will continue to share all of your posts and content throughout the day.
The movement for gender equality grows stronger every day, but the need for an Equal Rights Amendment is just as great as it was when it was introduced. If you know a woman, if you love a woman, if you are a woman -- please consider lending your voice to the cause and spreading the word on social media.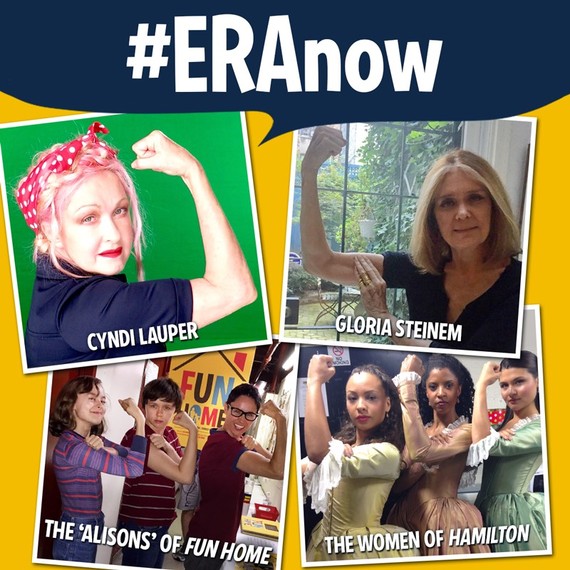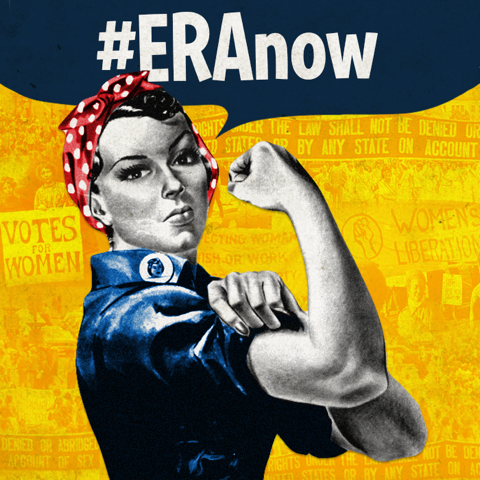 *In all fairness to my daughters and a few from their generation -- they founded the Woman's Equality Club at their high school, Eleanor Roosevelt High School (NYC), only four years ago -- a first at the high school bearing Eleanor's name! The irony. (Shout out to ELRO grads Rocky, Sonia and Coco -- and to Sam and Laila -- who are all dedicated to keeping up the good fight in the longest revolution in history!)
Calling all HuffPost superfans!
Sign up for membership to become a founding member and help shape HuffPost's next chapter