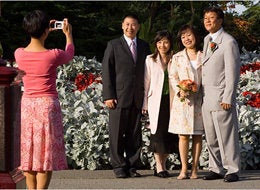 Chinese people find the 8's highly desirable for cellphone numbers, license plates, prices (and this reporter's byline).
In Beijing, officials expect more weddings than usual on Aug. 8, according to the official Xinhua News Agency. The Municipal Civil Affairs Bureau has provided an online booking service since June 20 for couples wanting to marry on Friday, giving them until Tuesday to sign up.
But this bump extends beyond China. The Knot, a wedding media and service company, says the number of weddings registered on its Web sites (theknot.com and weddingchannel.com) for 08/08/08 are four times that of other Fridays in August -- 22,000 vs. 5,000.
Related