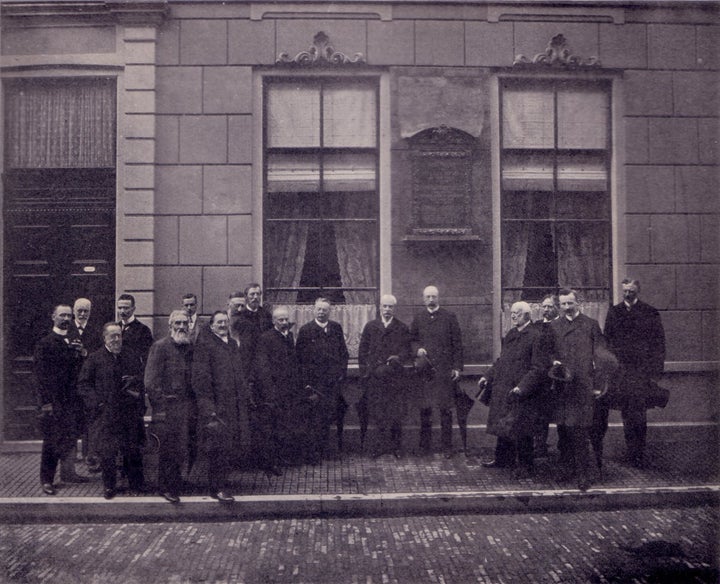 By Amy Zimmer, DNAinfo News Editor
The club — which had been men-only for 80 years before tapping Condoleezza Rice, the former secretary of state, and South Carolina businesswoman Darla Moore — however, was not alone in barring women.
The Holland Society, which is based on West 44th Street and seeks to collect and preserve information respecting the early history and settlement of New Netherland by the Dutch, states clearly on it website that membership is open to "males who are a descendant of an ancestor who lived in New Netherland before or during 1675."
Other clubs, however, are less than clear about their membership rules.
"Having no Y chromosome of my own, I am limited to only one or two visits per year to the historic Angler's Club of New York," the blogger behind "Manhattan Unusual: Flyfishing NYC Style," posted in April about the 105-year-old fishing club next to Fraunces Tavern on Broad Street in Lower Manhattan.
"Women may visit, and women may be employed, but as far as I know women cannot be card-carrying members," she wrote.
But officials from the club, which has a private 65-seat dining room and claimed to have 600 members in 2011, told DNAinfo.com New York it did not want to disclose information when asked about the makeup of its membership on Monday.
"I'm not comfortable speaking to the press about private matters like that," said Chris Matteson, the club's director.
The New York Racquet and Tennis Club — arguably the most famous New York City club that is still male-only — was closed until September and not responding to inquiries, a phone message said.
Women can attend special events at the Park Avenue and East 53rd Street institution — founded in 1876 — as long as they're accompanied by a male member, according to a Village Voice article from 2010.
Women, however, are not allowed to use the club's pool, where male-only skinny-dipping was reported to be a popular after-work activity.
The same rule — allowing women inside if they're accompanied by a man who is a member — applies to the Brook Club, at East 54th Street near Park Avenue, which keeps its membership rolls closely guarded, the Voice said.
A man answering the club's phone said "No comment" when DNAinfo.com New York asked about membership rules, and he promptly hung up.
It prohibited private clubs from discriminating on the basis of sex, race or religion if they had more than 400 members, they served meals on a regular basis and they accepted payment from non-members for business or trade transactions, the Voice said.
So, some private clubs in the city are still allowed to bar women.
"It's been 12 years since Augusta first came under political fire for not having any women members, so it's taken more than a decade and a change in leadership there for them to come into the 21st century," Ossorio said.
She noted that one of Augusta's biggest sponsors, IBM, is now headed by a female CEO, Ginni Rometty, and that many clubs would benefit from inviting and encouraging female members.
"I wouldn't be surprised if we see a turning point," Ossorio said of the city's remaining male-only clubs, especially given the economic times and that some clubs are suffering from dwindling membership and revenue.
"They probably will have their hand forced at some point," Ossorio said. "It's going to become a bottom line issue. They're going to need to open their doors and try to invite and recruit women."
Popular in the Community