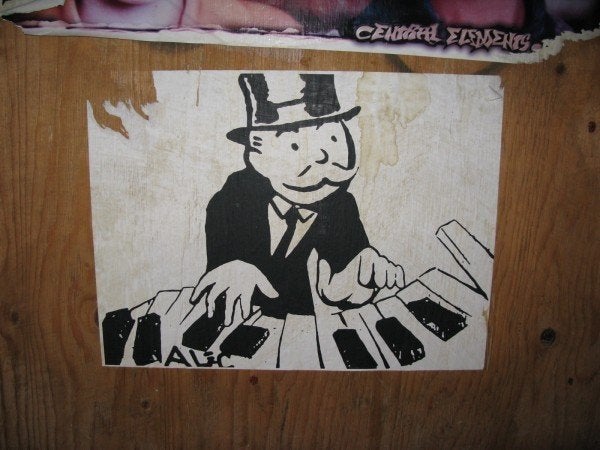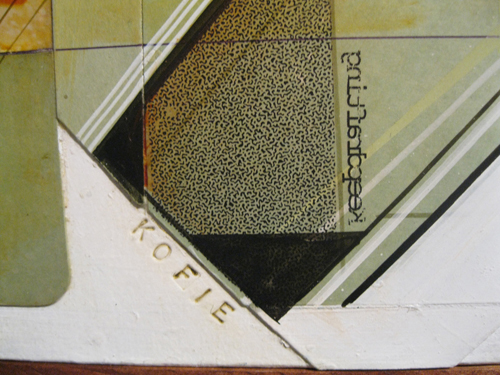 Detail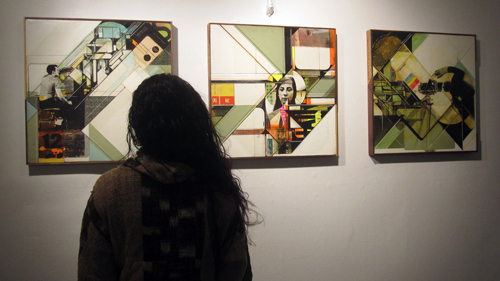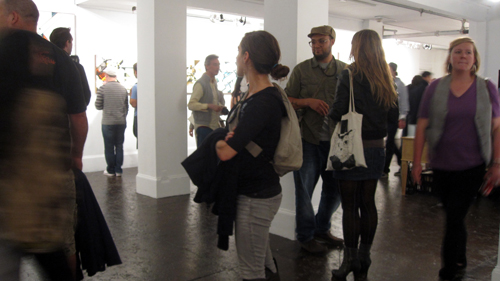 Kofie at opening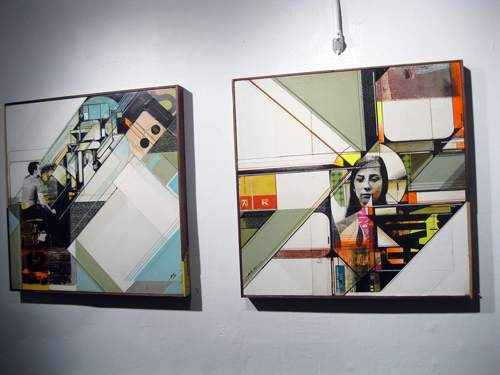 A key player in the Urban Art movement of Los Angeles, Augustine Kofie, opened his solo show at White Walls gallery in San Francisco this past Saturday evening. I went up to the bay area specifically to document the event and lay eyes on his new body of work. During this extremely well attended night, I often saw people leaning in closely to absorb the collection of vintage drafting items, old letters, and historic images suspended and framed in the futuristic architectural geometry of his art. One of the remarkable elements of Kofie's style is his attention to detail and the layering and construction/deconstruction that is a part of his landscape. Kofie also included an installation in the show of a draftsmen's/artists workplace to give viewers a window into the process and creation of the work in the gallery. I asked White Walls owner/curator Justin Giarla a few questions about the show.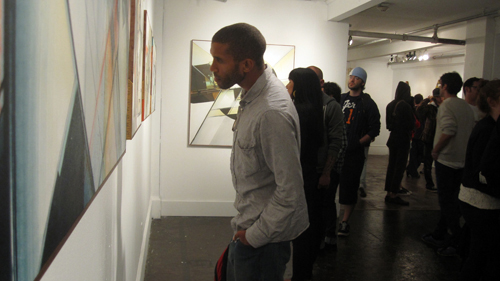 When did you first get introduced to Kofies' work?
I was first introduced to Kofie's work around 5 years ago but I really responded well to it in February of last year when he was in the group show,"Never a Dull Moment," that we had here at White Walls.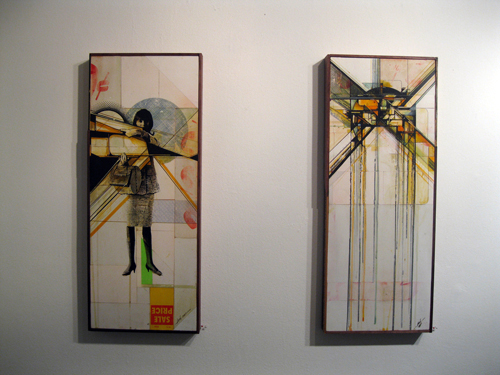 Kofie's style is very unique to the Urban Art scene, as it reflects upon a period of yesteryear, and echoes something somewhat vintage, but his approach is categorized as very contemporary street art. In what way is Kofie's work inspirational to the Urban Art scene that makes him unique to this movement.
Well, I think Kofie's work is extremely unique in the context of Urban Contemporary or Street Art as you don't see anyone else of his standing in the community doing art like him. It's very original in that setting and thus definitely sets him apart from his peers. I think his work shows people you can be a street artist in a completely new and fresh way. I actually think Kofie is a Modernist/Futurist painter first and street artist second... it's all fine art but he shows you a way of doing it differently and really breaking rules and standards of what a street artist is. His work is extremely mature and well thought out and that inspires me.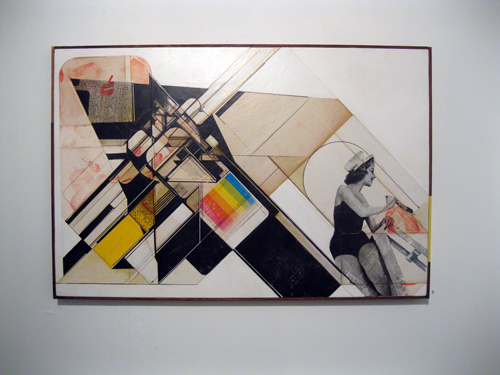 Can you discuss his work comparatively to other artists that you have shown at White Walls?
I would compare Kofie to other artists I represent like I would compare a professional athlete and a concert pianist: they are both the best in what they do, but they are in different fields. All of the artists I represent are all very different from each other but they are the best at what they do. The only comparison you can make is that they are street artists, but again... anyone who puts up art in the streets is a street artist. A lot of the artists I show are originators in their style -- Shepard Fairey, Blek Le Rat, HUSH, ABOVE, etc. And Kofie is no different -- he's the original at what he does.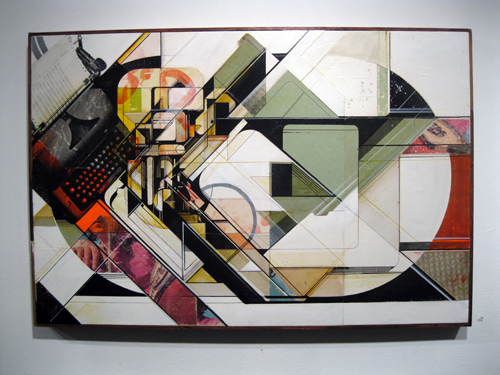 What is the connection to Kofie's work as a street artist and his interest in architecture and drafting as you see it?
That's a really good question because I actually don't see any connection at all with the two. The wonderful thing about street art is its artistic freedom and that any artist doing any medium or genre can be a street artist -- just do it in the streets and you're a street artist. The cool thing about a traditional graffiti artist or spray can artist is that typically their gallery work is completely different or altered enough that it's not the same style. Often enough the gallery work is very different because the venue is different. I think trying to find a connection in Kofie's work would be forcing it and it should be left up to the viewer to come up with their own interpretation of the idea.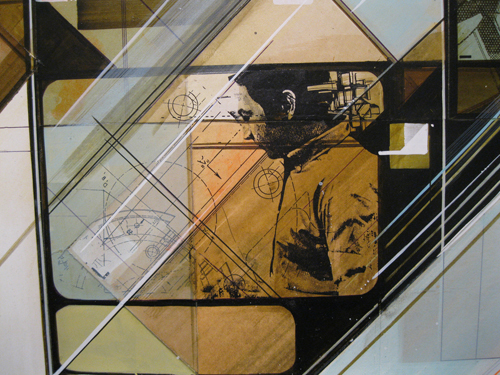 Detail
In the show at White Walls, did you have a specific focus in mind considering this is the first solo show of Kofie in San Francisco?

When we talked about his solo here at White Walls, I told Kofie I wanted him to focus more on quality than quantity and that I wanted masterpieces, and he delivered. I also told him I wanted color and he delivered again. I really felt that this was his biggest show yet in his career and that it was important to make a big statement and to put his soul into this show, and he has.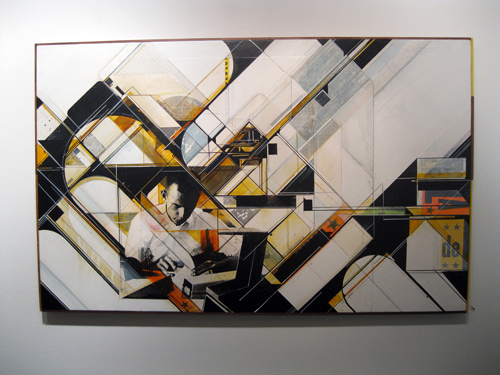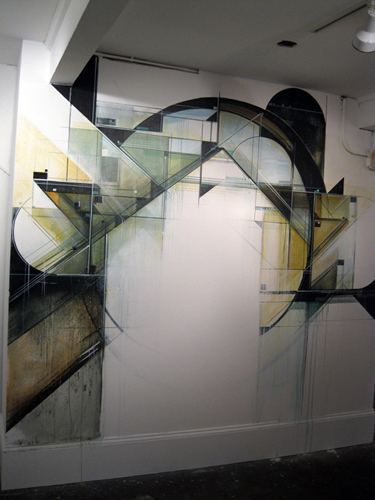 Mural piece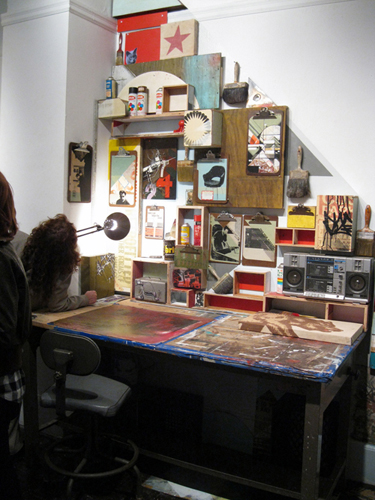 Installation
Calling all HuffPost superfans!
Sign up for membership to become a founding member and help shape HuffPost's next chapter