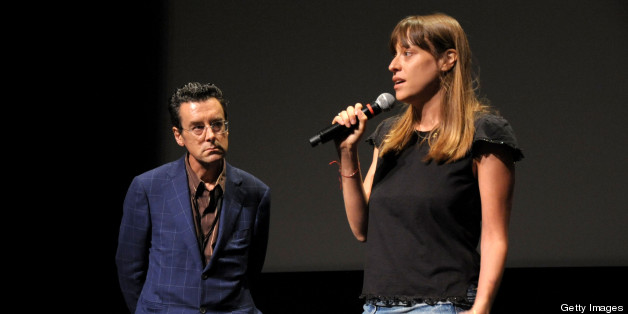 Augustine, an accomplished feature film debut by French director/screenwriter Alice Winocour, explores the disturbing treatment process and fraught relationship between neurologist Jean-Martin Charcot (Vincent Lindon), and a 19-year-old patient, Augustine (Soko), who is suffering from "hysteria," marked by violent seizures and partial paralysis. These and other corporal manifestations underscore the theory that the body is sometimes forced "to speak" when deeply unhappy, exploited, or traumatized patients cannot because the intensity of the affects associated with their abuse is too overwhelming. Charcot (1825-1893) practiced as though these states applied to women only, fueled by brain lesions and maladies of the uterus and ovaries.
Shortly after diagnosing Augustine with "ovarian hysteria," Charcot becomes Paris's best known and most fashionable neurologist, whose experiments in hypnosis are displayed for physicians during "grand rounds." The theatrical demonstrations, having drawn public attention through columns in the lay press written by the likes of Guy Maupassant, disintegrate into sexually exploitative side shows, which not only do not "cure," but further harm the all-female patient population of the Pitié-Salpêtrière Hospital, whose histories are steeped in trauma. Despite being married to a beautiful, wealthy, clever wife, Constance (Chiara Mastroianni, skillfully playing against type), who is eager to boost his career, Charcot becomes infatuated with Augustine, an illiterate, former kitchen maid and confined in-patient, who has exceptional susceptibility for deep hypnosis and re-experiencing violent convulsions that titillate Charcot and his peers.
Constance senses Charcot's desire for the baby-faced, Augustine, early on. Close-ups of Mastroianni with her all-knowing gaze, substitute for the neurologist's entirely absent observing ego. She also has a part to play in an emerging Oedipal triangle. His wife is powerful, emanating from a higher social class with all its patrilineal implications -- better to be feared and avoided -- while the young, kitchen maid poses no competitive threat and can be desired and dominated, enabling Charcot to take full credit for his burgeoning reputation as Europe's most gifted neurologist.
Augustine is a fascinating, very disturbing look at the early underpinnings of psychoanalysis and the brutal history of the exploitation of psychiatric patients, especially poor, young women. Charcot's interventions with Augustine run the gamut -- from gentle, sensuous spoon-feedings to physical torture using a device of his own invention, known as the ovary compressor.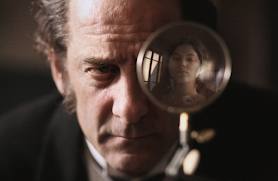 Jean-Martin Charcot (Vincent Lindon) visually scrutinizes his patient, Augustine (Soko), with a magnifying glass, but refuses to listen to her. Photo courtesy of Music Box Films.
Sigmund Freud (1856-1939), a protégé of Charcot, traveled to Paris in 1885 eager to master the techniques involved in hypnotism. But the "talking cure," would not come into being until 1886, during Freud's work with Anna O. (who coined the term). So, Augustine's accusations that Charcot never listens to her are nothing if not wildly prescient signs pointing all along to the cure that eluded him.
Winocour's nuanced, clever script resonates with contemporary relevance, illustrates a profound shift in the power dynamics between clinician and patient (bringing to life the ubiquitous yet often misunderstood concepts of transference and countertransference) and pays homage to the remarkable, unsung women of Belle Epoch Paris during some of its darkest hours.
Augustine (2012) opened in Los Angeles and in NYC at the Film Forum on May 17, 2013.
REAL LIFE. REAL NEWS. REAL VOICES.
Help us tell more of the stories that matter from voices that too often remain unheard.