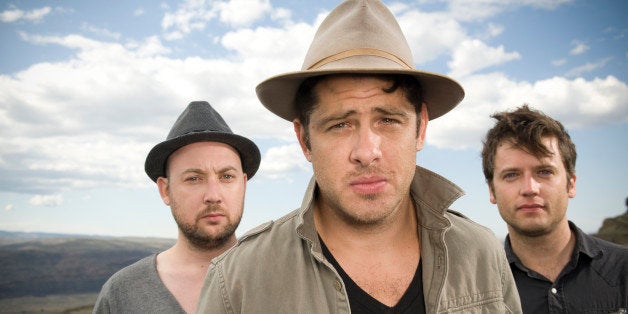 There's a lot of incorrect information out there about Augustines. For instance, the three-man group did not move from Brooklyn to Seattle, despite what Wikipedia says. (The move was a widely-cited typo in an interview.) No, the group isn't called We Are Augustines, though it was back in 2011 when their first album, "Rise Ye Sunken Ships," debuted. But back then, it was almost a different band.
After a revamp, the guys -- Billy McCarthy, Eric Sanderson and Rob Allen -- released their self-titled album on Feb. 3 via Votiv/Caroline International. They're selling out venues in New York and overseas, but are not widely known in the U.S. Perhaps that's because they defy dude-like expectations: Augustines only recently starting standing during shows -- at a show in Brighton, England, the audience got so big that fans couldn't see when the band sat down to play acoustically -- and they're not on Top-40 radio stations or racking up viral video hits. But with earnest lyrics, striking religious imagery and eager riffs, the band is hard to ignore.
Augustines just began a U.S. tour, but before it got underway, HuffPost Entertainment caught up with Eric Sanderson, the band's co-founder/multi-instrumentalist, as he sat in an airport, bound for New York. "Anyone who's seen us in the past will see a much more confident and much more upbeat show," he said over the phone. While the band toured with "Rise Ye Sunken Ships," it booked close to 100 festivals in Europe.
Having accomplished a huge goal, the band had to reevaluate the next steps upon returning home, Sanderson said. "We had to look at our lives and say okay, well where are we now? I realized the struggle [to succeed as a musician] had been such a large part of my identity. My attitude was like, 'If I just get a shot, I can prove to you how good I am,'" he said. "Then I had to sit on my couch and think, 'Holy shit. I've made it. I've gotten to the point where I always wanted to be. So now what do I do?'"
The new album, "Augustines," reflects that sense of finding oneself on a rambling journey. There's that cliched soul-searching and reflection within music, but here it happened in earnest. Even the new album's fifth track, "Walkabout," pairs seemingly sappy lyrics such as, "I prayed, black birds never want what they got/ lifted my arms up high/ whispered of lost highway somehow," with McCarthy's epic outcry that fans will remember from the band's first single, "Chapel Song." It's kind of hard not to feel the violin-induced, heart-soaring that critics mock when writing about Mumford & Sons songs.
"I know it's not sexy rock 'n' roll," Sanderson said when asked about the band's religious symbolism. It's hard to ignore: the band's name, "Chapel Song" and constant references to priests and spirituality litter their discography. "I know that myself and the other guys in the band, we're all soul searchers. We're constantly questioning what life is about," he said. "How do you get this many people on the planet to all live together? What is life?"
These are heavy questions most self-conscious musicians wouldn't dare say aloud in an interview. But Sanderson asked them with ease, as if he, McCarthy and Allen have had these conversations over and over, unafraid that they might never find the answers.
At the end of his interview with HuffPost, Sanderson spoke about the recent deaths in his life with no mention of his stepfather. "They didn't die from some traumatic event," he said. "They just died because their time on this planet had come to an end. They lived a full life, a happy life, but what is death? It's incredible. It's baffling. I think it's only natural that it comes across in the music."
REAL LIFE. REAL NEWS. REAL VOICES.
Help us tell more of the stories that matter from voices that too often remain unheard.
BEFORE YOU GO