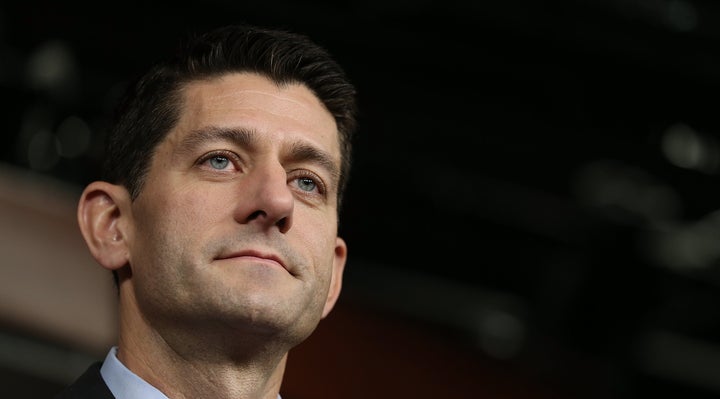 WASHINGTON -- An unusual coalition of House Democrats and Republicans on Friday urged Speaker Paul Ryan (R-Wis.) to schedule a war authorization debate in response to the news that President Barack Obama is deploying U.S. troops in Syria.
"Among the issues that require urgent attention by the U.S. House of Representatives is the question of the extent of involvement by the U.S. military in the war against the Islamic State in Iraq and Syria," reads a letter to Ryan. "It is critical that the House schedule and debate an Authorization for the Use of Military Force (AUMF) as quickly as possible."
The letter is signed by 35 lawmakers, some of whom are stalwart progressives and others who are members of the conservative Freedom Caucus. Reps. Jim McGovern (D-Mass.), Tom Cole (R-Okla.), Barbara Lee (D-Calif.), Walter Jones (R-N.C.), Peter Welch (D-Vt.) and John Lewis (D-Ga.) are leading the push on the issue.
Obama announced last week that he's sending about 50 U.S. special operations forces to Syria to help local forces fight Islamic State militants, or ISIS. The decision means that for the first time, American troops will be stationed in Syria after a year of U.S.-led airstrikes. The president has been relying on a sweeping 2001 AUMF as his legal justification for taking military action without congressional sign-off, and some lawmakers say it's time to pass a new AUMF that puts specific parameters on the duration and scope of the fight against the Islamic State. The Constitution requires Congress to declare wars, after all, not the president.
The problem is that many lawmakers don't want anything to do with a war authorization vote, for fear that if something goes wrong, their fingerprints will be on it. That leaves the U.S. engaged in a military campaign with no end in sight. Since August 2014, the U.S. has spent nearly $5 billion, participated in roughly 8,000 airstrikes and sent 3,550 military personnel to Iraq as part of the effort.
"Congress can no longer ask our brave service men and women to continue to serve in harm's way while we fail in carrying out our constitutional responsibility in the area of war and peace," reads the letter. "We strongly urge you, Mr. Speaker, to bring an AUMF to the floor of the House as quickly as possible."
Ryan spokeswoman AshLee Strong wouldn't say if the speaker is willing to prioritize an AUMF debate.
"Members need to be briefed on the specifics of the new actions taken by the administration before making any further decisions," said Strong.
Other lawmakers on the letter include Reps. Justin Amash (R-Mich.), Michael Burgess (R-Texas), David Cicilline (D-R.I.), John Conyers (D-Mich), Joe Crowley (D-N.Y.), John Culberson (R-Texas), Peter DeFazio (D-Ore.), John Duncan (R-Tenn.), John Garamendi (D-Calif.), Paul Gosar (R-Ariz.), Janice Hahn (D-Calif.), Richard Hanna (R-N.Y.), Joe Kennedy (D-Mass.), Daniel Kildee (D-Mich.), Raul Labrador (R-Idaho), Thomas Massie (R-Ky.), Mick Mulvaney (R-S.C.), Beto O'Rourke (D-Texas), Chellie Pingree (D-Maine), Bill Posey (R-Fla.), Charles Rangel (D-N.Y.), Dana Rohrabacher (R-Calif.), Matt Salmon (R-Ariz.), Mark Sanford (R-S.C.), Jan Schakowsky (D-Ill.), Louise Slaughter (D-N.Y.), Ed Whitfield (R-Ky.), Ted Yoho (R-Fla.) and Ryan Zinke (R-Mont.).
This story has been updated with a comment from Ryan spokeswoman AshLee Strong.
PHOTO GALLERY
War In Syria
REAL LIFE. REAL NEWS. REAL VOICES.
Help us tell more of the stories that matter from voices that too often remain unheard.