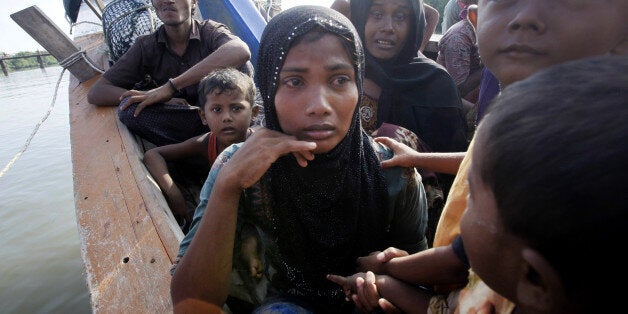 YANGON, Myanmar -- The Lady has done it. Myanmar's Aung San Suu Kyi has trounced her opponents in a historic election that saw millions of people exercise their right to vote for the first time.
Throngs of people -- wrapped in red party headbands and shirts emblazoned with the words "We have won" -- have camped outside the headquarters of Suu Kyi's National League for Democracy (NLD) in Yangon since Sunday to watch results being announced on giant LED screens. The crowd, engulfing a major street and blocking incoming traffic, erupted into cheers every time the party won another seat. The opposition party has so far swept an overwhelming majority of all declared seats.
But while Sunday's election was an emotional and pivotal moment for Myanmar -- a country ruled by a clutch of ruthless military despots for the better part of a century -- it is only one small step along a very rocky path to democracy. And after the euphoria subsides, Suu Kyi has tough challenges to resolve.
The first question of course is whether the military will respect the results and cede power to the opposition. Unease remains palpable among many of Suu Kyi's supporters, who still remember the 1990 election, Myanmar's last free poll, won by the NLD and later annulled by the humiliated generals. For two more decades, the junta clung to power by muzzling journalists, jailing critics and violently crushing dissent. Suu Kyi spent nearly 15 years under house arrest. In 2010, a rigged election gave way to a pseudo-civilian government led by former generals that pushed through a string of economic and social reforms.
Suu Kyi has urged supporters to celebrate "with dignity" to avoid provoking the army.
If Suu Kyi's ascent is perceived as too threatening, there is greater risk that the military will continue to exploit anti-Muslim hostility in order to destabilize the post-election climate.
But the military has come well prepared. It spent nearly two decades carefully crafting an undemocratic constitution that guarantees them 25 percent of all seats in Parliament and a stranglehold over politics. The military will remain outside of civilian scrutiny and may handpick the leaders of key government agencies, including the powerful defense, border and home affairs ministers who control the police force and oversee ethnic regions.
Presidential candidates are required to have military experience and cannot have foreign family members. Both these conditions were blatantly drafted to scupper Suu Kyi, a civilian whose two sons have British citizenship. At least 75 percent of Parliament must vote in favor of constitutional reform, giving the men in green an effective veto over the process. In this context, it is unlikely that the army will stage another coup -- at least in the immediate future -- but it will remain a dangerous political force.
The election will be followed by months of political uncertainty and bargaining surrounding the make-up of the next government. If Suu Kyi -- as seems all but certain -- secures an outright majority in Parliament, she is expected to form a government of "national reconciliation" fusing members of the military, the ruling Union Solidarity and Development Party (USDP) and smaller ethnic-based parties with the NLD.
Questions around the identity of the next president will continue to plague Myanmar's political leaders until early next year. Suu Kyi has boldly claimed that she will be "above the president" in any case. But the key date to look out for is 31 March 2016, when the military-backed USDP will be required to hand over the reins of power. Until March, it is too early to declare Myanmar's election a success.
This will be the first time in Myanmar's history when there will be no Muslims whatsoever in Parliament.
Another serious worry is the prospect of religious unrest. The election campaign was overshadowed by the posturing of an ultra-nationalist Buddhist movement, known locally as Ma Ba Tha, which worked with the government to push through a package of discriminatory "race protection laws" restricting the rights of women and religious minorities. Ma Ba Tha openly backed the ruling USDP, repeatedly stoking communal tensions and accusing Suu Kyi's party of being "pro-Muslim." An investigation by Al Jazeera recently exposed financial ties between the government and Ma Ba Tha.
If Suu Kyi's ascent is perceived as too threatening, there is greater risk that the military will continue to exploit anti-Muslim hostility in order to destabilize the post-election climate. It is unclear how she might tackle these challenges or whether she is willing to publicly confront Ma Ba Tha.
Either way, this will be the first time in Myanmar's history when there will be no Muslims whatsoever in Parliament. The NLD cowered to pressure from Buddhist nationalists and refused to nominate any such candidates, while smaller Muslim parties have been overwhelmingly defeated. It will be revealing to see whether Suu Kyi's government of "national reconciliation" will also exclude Muslims (under Myanmar law members of cabinet do not necessarily have to be elected members of Parliament).
While hope has swept most of the country since Sunday, there is one marginalized group whose future looks even bleaker than before: the Rohingya. Nearly a million of the stateless Muslim minority -- dismissed as illegal Bangladeshi immigrants by the government -- were stripped of their right to vote earlier this year and face relentless state-backed persecution in Western Myanmar's Rakhine state. Tens of thousands have fled the region on boats since 2012, when they clashed with local Buddhists in several bouts of sectarian violence. Over 140,000 remain interred in concentration camp-like conditions, deprived of food, healthcare and basic sanitation. Despite her numerous pro-democracy accolades, Suu Kyi has refused to speak in their defense and recently warned foreign media not to "exaggerate" their plight.
Suu Kyi has refused to speak in defense of the Rohingya and recently warned foreign media not to 'exaggerate' their plight.
The Rohingya community will be further threatened by the rise of the Arakan National Party (ANP), which has secured the majority of all seats in the conflict-struck Rakhine state, including in Muslim-majority townships where most residents were disenfranchised. This is particularly worrying since the ANP campaigned on a nationalist anti-Rohingya ticket and senior leaders have openly called for the minority to be purged from the state. It will be left up to an NLD-led central government to promote communal reconciliation in Rakhine, a move that -- even if pursued -- could easily be thwarted by the military's monopoly on border security.
The military's lack of accountability will also obstruct Myanmar's ethnic peace process. Violence continues to rage across the country's diverse borderlands, where the army has escalated an offensive against armed ethnic groups that refused to sign a nationwide peace accord in October. Although Suu Kyi has promised to bring genuine federalism to Myanmar -- a crucial step to ending civil conflict, this cannot be achieved without the military's cooperation. And while forming a coalition government may help smooth Myanmar's transition, it could also make governing more difficult. Suu Kyi will have to rely on tactful diplomacy to negotiate her way to the political and social reforms her country so desperately needs.
Voter turnout on Sunday was an unprecedented 80 percent, with the people of Myanmar unanimously calling for change. Moving forward, Myanmar will need a leader who can navigate the country's complex political realities without sacrificing human rights. The people have placed their faith in Aung San Suu Kyi. Only time will tell if she is up to the task.
PHOTO GALLERY
Myanmar's Landmark Election
Calling all HuffPost superfans!
Sign up for membership to become a founding member and help shape HuffPost's next chapter