Myanmar's civil leader, Aung San Suu Kyi, has announced she will skip the upcoming United Nations General Assembly amid escalating tensions in crisis-torn Rakhine state. Some 400,000 Rohingya Muslims have fled the country in less than a month ― an exodus spurred by what the U.N. has deemed "a textbook example of ethnic cleansing."
Suu Kyi canceled her trip to tend to the crisis instead, according to a statement from her office. But the de facto leader and Nobel laureate has come under fire for her inaction and failure to condemn the violent, widespread and ongoing persecution of Rohingyas.
The Rohingya are a Muslim minority group from northern Rakhine state. They're classified as illegal immigrants rather than citizens, and have extremely limited rights in Buddhist-majority Myanmar. They have long been victims of state-sponsored discrimination and possible crimes against humanity, according to the U.N.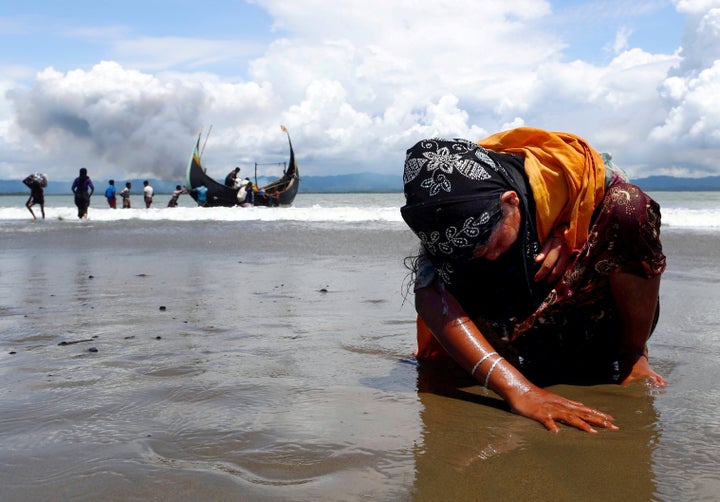 Rohingya militants attacked government security posts in late August, which sparked a massive military retaliation and a flow of refugees into neighboring Bangladesh. Human rights organizations have reported state-sponsored rape, arson, killings and brutality against Rohingyas in the following weeks.
As the General Assembly convened in New York this week, U.N. human rights chief Zeid Ra'ad al-Hussein called on Myanmar's government "to end its current cruel military operation, with accountability for all violations that have occurred, and to reverse the pattern of severe and widespread discrimination against the Rohingya population." 
And as urgent pleas for Suu Kyi to take action poured in from concerned parties around the world, she dismissed the alleged and documented atrocities against Rohingyas as "misinformation." 
Suu Kyi's latest comments are reminiscent of an interview she gave in April, when she said ethnic cleansing was "too strong a term" to describe the persecution of Muslims in Rakhine state.
But as U.N. Secretary-General António Guterres put it on Wednesday: "When one-third of the Rohingya population had to flee the country, could you find a better word to describe it?"
Hundreds of thousands of people have signed petitions to revoke the 1991 Nobel Peace Prize awarded to Suu Kyi, a former political prisoner and activist during Myanmar's decades-long military dictatorship. According to the Nobel Prize website, she received the award for "her non-violent struggle for democracy and human rights."
This story has been updated with a quote from António Guterres.
Calling all HuffPost superfans!
Sign up for membership to become a founding member and help shape HuffPost's next chapter