Imagine there were an ongoing humanitarian crisis — one approaching genocide — and a Nobel Peace Prize recipient repeatedly failed to condemn it. That would be absurd, right? If anyone's for peace, they're against ethnic cleansing... right?
You'd think so. Unfortunately, Aung San Suu Kyi hasn't lived up to her Nobel Peace Prize. After worldwide outrage over Suu Kyi's silence over the ongoing Rohingya exodus, she finally mentioned the crisis this Tuesday — only to deliver a misleading address worthy of a dictator or coward rather than a peace-prize winner.
As Suu Kyi spoke, more than 400,000 Rohingya Muslims had already fled a military "operation" that's been called a "textbook example of ethnic cleansing." Countless others have died, and many of the 400,000 who've escaped to Bangladesh are stateless, homeless, and without medical aid. Although Suu Kyi claimed that there haven't been further "clearing operations" since September 5, satellite images of burning villages flatly contradict that claim. (Human Rights Watch estimates that up to 62 villages were torched between August 25 and September 14.)
Anti-Muslim sentiment is nothing new in majority-Buddhist Myanmar. Indeed, the country's government has long denied citizenship to Rohingya, ahistorically arguing that they are illegal Bangladeshi immigrants. The current crisis began when such anti-Muslim sentiment turned murderous after an August 25 attack by the Arakan Rohingya Salvation Army (ARSA), which killed twelve security officers in Myanmar's northern Rakhine state.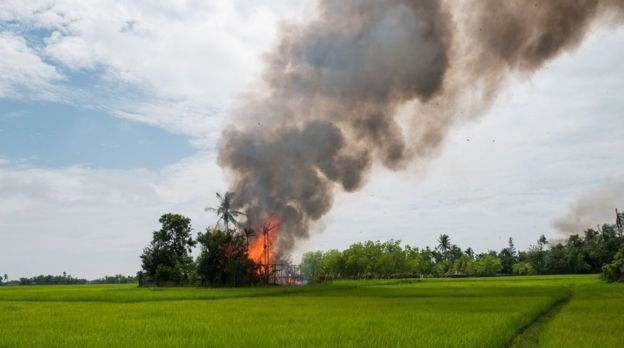 While Suu Kyi — now "state counselor" and Myanmar's de facto leader — condemned ARSA during her speech, she downplayed the military's own atrocities. In addition to her false claim that "clearing operations" stopped on September 5, she asserted that Muslims have similar access to government resources as non-Muslims, even though several reports have found that Muslims are disproportionately being denied access to healthcare and other lifesaving services.
Everyone acknowledges that Suu Kyi is in a tricky position. She may be Myanmar's top government official, but she holds a civilian post in a country that was only recently freed of military dictatorship. In addition to the risk of angering generals, Suu Kyi likely fears the perception of the democratic masses. Neither reason is a good excuse for silence in the face of ethnic cleansing.
In 1990, before her political ascendance, Suu Kyi pronounced that "[f]ear of losing power corrupts those who wield it." Time will tell whether power has corrupted State Counselor Suu Kyi.
Calling all HuffPost superfans!
Sign up for membership to become a founding member and help shape HuffPost's next chapter
BEFORE YOU GO