Days after police released the name of the officer who killed a woman in Ann Arbor, Michigan, protesters called for answers and the firing of Officer David Ried.
Ried discharged his firearm while responding to a domestic disturbance call last month, killing 40-year-old Aura Rosser after she "confronted" officers with a knife, police said. Her death prompted more than 100 college students and community members to gather at the Ann Arbor Justice Center Monday night.
From there, Ann Arbor to Ferguson -- a group against police violence -- marched to a city council meeting, according to co-organizer Kyera Singleton. Protestors filled the room and stated three demands for the city and police department: Fire Ried immediately, release more information about the shooting and donate funds to cover Rosser's burial.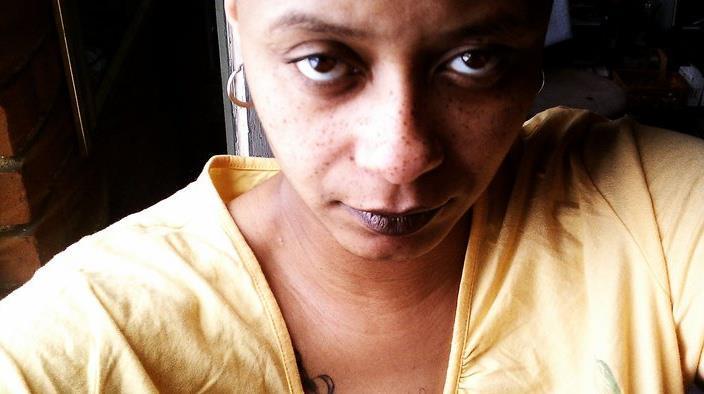 Aura Rosser was holding a knife when she was shot to death in November by an Ann Arbor, Michigan police officer.
Singleton, a University of Michigan graduate student, told HuffPost the group protested Monday as part of its goal to shed light on the widespread occurrence of "state violence and police brutality," including in the liberal and relatively peaceful university town of Ann Arbor.
"It's really important that we break the silence about who's a victim of police violence," Singleton said. "We can't be silent when it happens to a woman and then go out and march when it happens to a man. … These national movements often take place around the bodies of men, and then black women may get erased."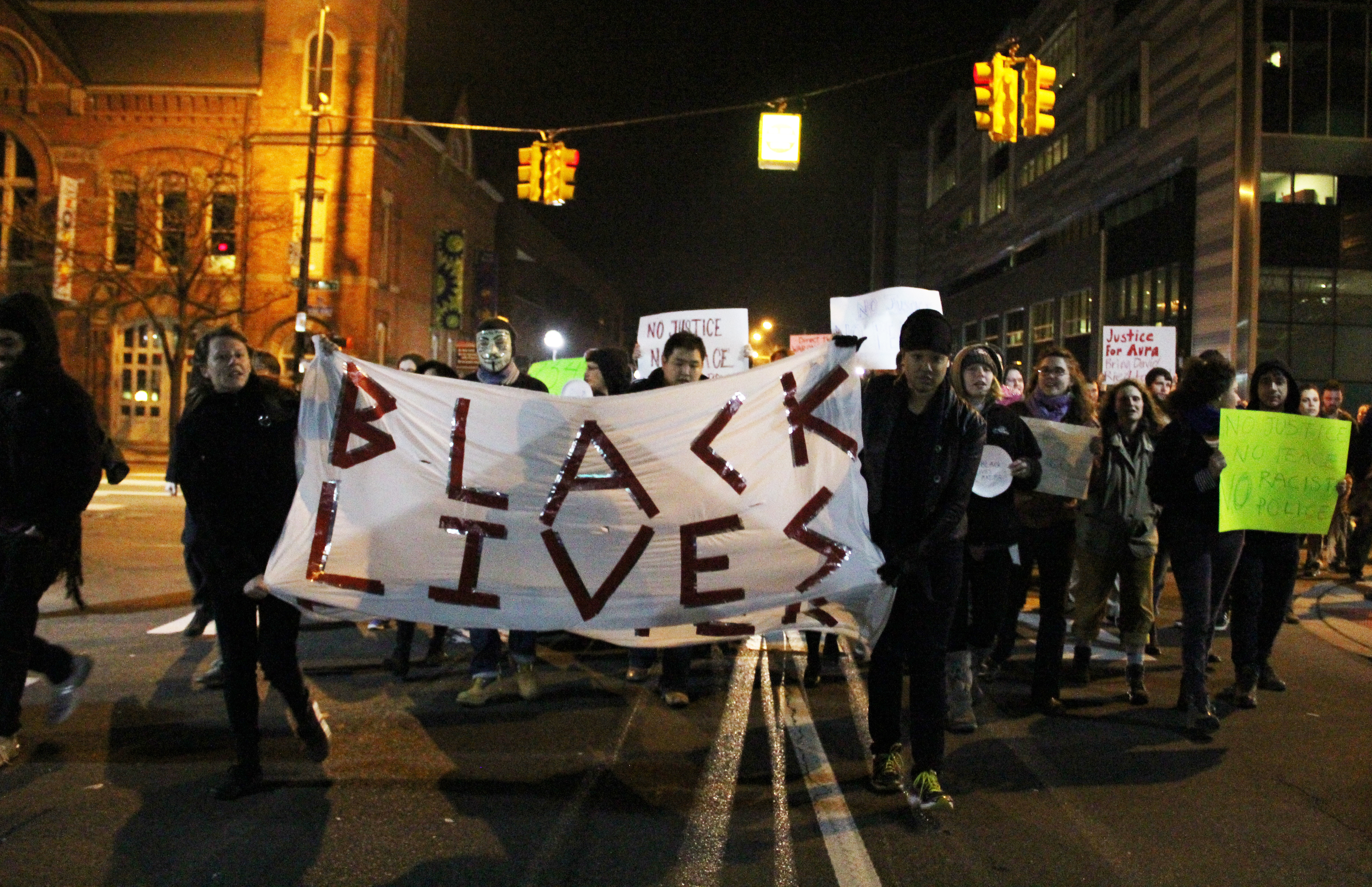 Monday's protest for Aura Rosser in Ann Arbor, Michigan. Photo by Alejo Stark.
The Ann Arbor Police Department released Ried's name for the first time Friday. It also identified Officer Mark Raab, the other officer at the scene. At 11:45 p.m. on Nov. 9, the two were dispatched to the residence of Victor Stephens, whom MLive identified as both the caller and Rosser's boyfriend. Armed with a knife, Rosser confronted the two officers before Ried shot her, police said. She was pronounced dead at the scene.
A Michigan State Police investigation into Rosser's shooting is still ongoing. MSP Detective 1st Lt. Sean Furlong told The Huffington Post Monday that officials are waiting on forensic lab reports and aim to have the report completed soon. Ried and Raab have been put on paid administrative leave pending the results of the MSP investigation.
Few details have been released about the shooting, but Stephens told MLive an argument with Rosser prompted his call. He also questioned why the encounter required lethal force.
MLive obtained records that detail a history of past police calls from Stephens' residence. According to the news site, the household called 911 eight times in 2014, primarily for incidents characterized as "family trouble." One time, police were called over reports of gunshots. In another incident, Rosser allegedly chased Stephens with a knife during a physical argument. At the time, Rosser denied to police that she had used a knife.
Rosser's death prompted some city council members to call for a look at police department policies related to use of force and consideration of outfitting officers with body cameras.
When the Michigan State Police investigation into the circumstances of Rosser's death is complete, a report will be sent to the Washtenaw County Prosecutor's office. Friday's statement from the Ann Arbor police said no further information will be released until the prosecutor's office has reviewed the report.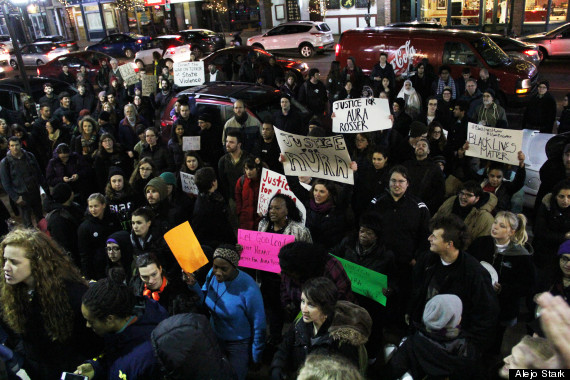 Protesters on Monday, Dec. 15 in Ann Arbor, Michigan. Photo by Alejo Stark.
Before You Go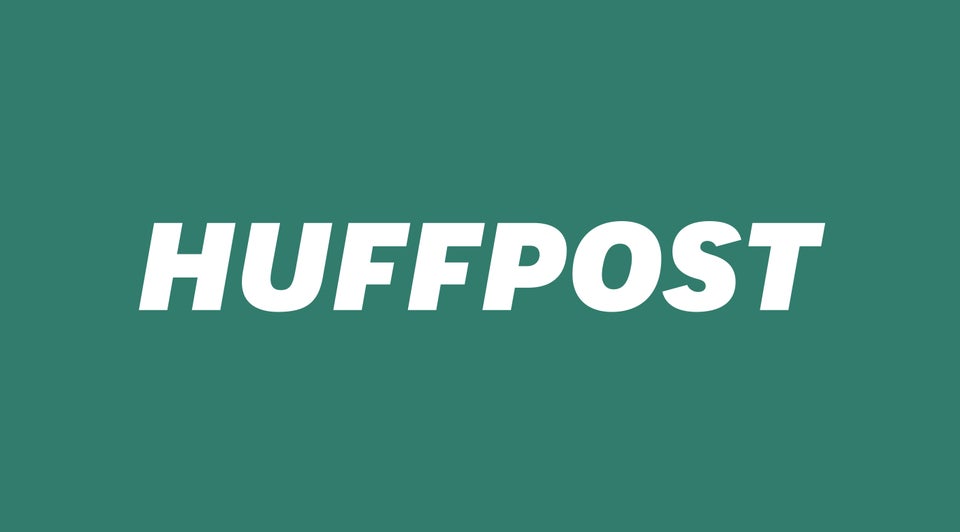 7 Times Black Male Comedians Warned Against Police Brutality Years Ago
Popular in the Community