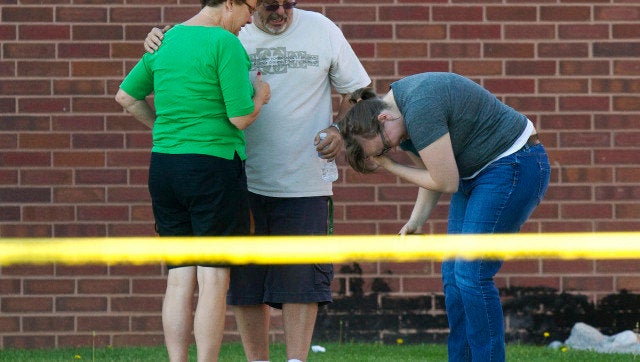 UPDATE: Rhonda Fields, the Colorado state representative who was organizing a prayer vigil Friday night in Aurora, has delayed the city's official vigil until 6 p.m. MT on Sunday. "I think it's best to postpone tonight's prayer vigil until we have an official list and can properly honor them," Fields tweeted at 3:08 p.m. MT. Fields' vigil is delayed, but others organized by religious groups appear to still be on.
The day after a shooting that left at least a dozen people dead and dozens others injured at an Aurora, Colorado movie theater early Friday morning, community members are planning to gather for a prayer service at 7 p.m. Friday.
Rhonda Fields, a Colorado state representative who lives in Aurora, announced the vigil late Friday morning on her website.
"I am horrified, shaken, and distressed over this enormous loss. It is time for us to collectively strategize to address preventative factors to ensure community safety and well-being," wrote Fields. "I will do everything possible to support the families, friends and community members whom have been impacted."
Fields has invited residents to gather at the Kaiser Permanente building at 14701 E. Exposition Avenue. The vigil was originally scheduled to happen at the Aurora Municipal Center. Several houses of worship and pastors have said they will join.
The service at the municipal center is not the only one planned in the region.
Denver First Church, located in Englewood, is also hosting a prayer vigil at the same time. The church is offering pastoral services to police officers assigned to the tragedy.
Denver Archbishop the Rev. Samuel Aquila will lead a Mass at 5 p.m. for victims, survivors and community members at Aurora's Queen of Peace Parish, 13120 E. Kentucky Ave. The Archdiocese of Denver has also offered counseling to victims and others affected by the shooting.
Calvary Chapel Aurora is also hosting a vigil at 6 p.m. at 18900 E. Hampden Ave.
This article has been updated to reflect additional religious services happening in the Aurora area

Related
Popular in the Community