 Until last week, the Town Center at Aurora seemed like a typical mall.
But the 37-year-old shopping center had problems even before July 20, when a gunman opened fire at a midnight screening of "The Dark Knight Rises" in the movie theater that sits adjacent to the mall in its parking lot.
In recent years, shoppers have fled the aging mall for fancier centers like nearby Cherry Creek. Management, seeking to weed out what it perceived as undesirable customers, set a curfew for minors and enforced a dress code for shoppers. In 2004, a mall leasing agent was caught on audio tape explaining that the mall wanted to attract more whites and "reduce negative aspects" like "young, black customer(s)."
"This is why we don't hang around aurora mall/Century 16," one resident tweeted hours after the shooting. "Aurora mall has always been ghetto, tho" said another.
In some ways, Town Center's history follows the same rise and stumble as many American malls. When it opened in 1975, J.C. Penney and Sears fed the shopping appetite of new middle class fleeing Denver for cul-de-sacs and spotless mailboxes. In 1998, Simon Property Group, the largest mall owner in America with 221 U.S. properties and an annual revenue of $4.3 billion in 2011, acquired the mall. Simon rechristened the structure in 2005, calling it Town Center, an appropriate name in Aurora; the sprawling suburb of 325,000 had built its own municipal campus across the highway from the mall in 2003 -- an attempt to manufacture a downtown.
When malls were first conceived, they were meant to be utopias. Early mall developer Victor Gruen called them "crystallization points for suburbia's community life." But these days, the rise of online shopping and a lingering economic crisis have sucked away malls' reverie. Many are abandoned, attracting crime and draining municipal budgets; others are losing shops. The average vacancy rate for regional malls is currently at 8.9 percent, according to Reis Inc., a real estate data and analysis firm. Once hovering around 5 or 6 percent in the mid 2000s, the rate nearly doubled over the course of the recession.
While Town Center hasn't suffered from fleeing stores, it has coped with crime before. Gang activity surfaced at the mall in the early 2000s and was one factor that led Simon to announce it planned to spruce up the center with a $100 million renovation. In 2005, during the renovations, a woman was shot and killed outside the Champs store. The city of Aurora contributed $15 million in tax incentives to the renovations.
At the time, the mall also faced accusations of racism. Before the shooting, a leasing agent was caught on audio tape by one of the mall's tenants saying the planned renovations were in part to attract more white people. After local television station 7NEWS aired the comments in August 2004, Simon suspended the agent, promising to hire more black staff and begin a parental patrol program that paid adults to supervise youth. Three months after the shooting in 2005, Simon also established a curfew for teens.
The movie theater, where the shooting occurred Friday, was built in 1998 by Century Theaters -- now a part of Cinemark -- in the southeast parking lot of the oval-shaped mall complex. Though unattached, the Century 16 theater has always been considered part of the mall. The theater sits on land registered to Simon Debartolo Group, the former name of Simon Property Group, according to the Arapahoe County assessor database. The theater is owned by Century Theatres.
In a written statement sent to The Huffington Post on Thursday, Simon said, "There is no connection between our operation of the mall and the terrible tragedy which occurred at the theater last Friday morning. Since 2004, we have invested nearly $60 million in Town Center at Aurora and have made it a great shopping venue for our tenants and customers."
Les Morris, a spokesman for Simon, refused to answer questions or confirm facts about the mall. Since the shooting, store employees have been told by management not to talk to press, according to a cashier at the mall boutique Luxie.
In a statement released on Friday, Cinemark said that it was "deeply saddened about this tragic incident."
Locally, there is a history of complaints about racial profiling at the mall. In 1990, the NAACP spoke out about the mall's security guards, provoking then owner Corporate Property Investors to retrain staff and hire more minority guards.
In wake of the scandal over the leasing agent's comments, residents hoped the mall's policies might change for good. Alvertis Simmons, 55, a community organizer in Aurora, flew to Simon's headquarters in Indianapolis that year to discuss how the mall could improve its relationship with minorities. He worked with the company to implement its parental patrol program.
But Simon never followed through on its promise to hire more black staff, according to Simmons, even though it hired a few contractors during the renovations. "They could do better," he said this week. "Aurora mall would have never changed their culture had they not been taped."
The leasing agent is no longer employed at Simon, the company said in its statement Thursday.
In 2006, the local chapter of the Association of Community Organizations for Reform Now (ACORN) conducted a survey of 1,000 mall shoppers on discrimination and identified about 50 minority youth who said they were were profiled by mall security, mostly because of their clothing. "There was no clear demarcation [in the dress code] of what was gang attire and what was urban culture," said Ben Hanna, 31, who worked as head organizer for ACORN at the time.
The Simon Property Group code of conduct -- posted on the websites and in the hallways of many of its malls -- does not mention "gang apparel" but requires shoppers to wear "appropriate" clothing. "Apparel that may provoke a disturbance or incite violence is prohibited," it states.
Cinemark never adopted any of the mall's policies such as the dress code or parental patrol, according to Simmons. Still, the theater's clientele was affected as they also patronized the mall, he said.
Freddie Hanns, 60, visits the mall almost every week and worked briefly as a contractor there during the renovations. Hanns, like Simmons, is black. "I think the mall has gotten better," he said. "It couldn't get any worse."
But Aurora's racial tensions have mounted in the past decade as downtown Denver gentrifies and minorities move to the suburbs, according to Jeremy Nemeth, chair and professor of urban planning at the University of Colorado Denver. In 2000, Aurora was 13.4 percent black, 19.8 percent Hispanic and 68.9 percent white. In 2010, it was 15.7 percent black, 28.7 Hispanic and 61.1 percent white.
Massacres like the one on July 20, however, are generally not caused by shifting demographics. Law enforcement officials call people like Aurora suspect James Holmes "active shooters," individuals who open fire in crowded areas and kill at random. Active shooter incidents are on the rise in shopping centers; besides the one in Aurora, there have been at least nine mall shooting sprees in the United States unrelated to gang or personal disputes since 2005.
"The mall is a victim of individuals who want to inflict as much carnage and get as much publicity as possible," said Malachy Cavanagh, a spokesman for the International Council of Shopping Centers. Like schools and churches, malls become targets because they draw large crowds and are publicly accessible, he said.
In Aurora and many other suburbs, malls are also among the few public places teens can congregate. "Libraries close early. Recreation centers, they don't have them in the vicinity. And it's hot, hot, hot," said Simmons. "All they got is the mall."
In the past decade, the Department of Homeland Security has partnered with the retail industry to develop training programs for dealing with active shooters, said Cavanagh.
One way to deal with recurring crime like gang violence is to make malls more restrictive, as Town Center attempted to do. Unlike true public spaces, privately owned malls for the most part can expel anyone who looks suspicious; they aren't obliged to give patrons a right to free speech. There are a few exceptions: In five states, one of which is Colorado, courts have established rulings requiring mall owners to permit certain political activities like protesting and collecting ballot signatures.
"Malls are repressive spaces," said Michael Sorkin, an architect and critic who has written on malls and public space. "They have distorted the nature of the way in which one is able to participate in the life of a city as a citizen."
This could make malls a target for violence on the part of those disenfranchised by consumer culture, Sorkin says.
Yet few mall policies could have helped catch James Holmes. The 24-year-old graduate student at the University of Colorado grew up in a white, upper middle class family in San Diego -- as close as it gets to one of Town Center's target customers.
"It doesn't matter if you have 100 parent patrols at the mall or at the movies," said Simmons. "That guy was going to do what he did."
Related
Before You Go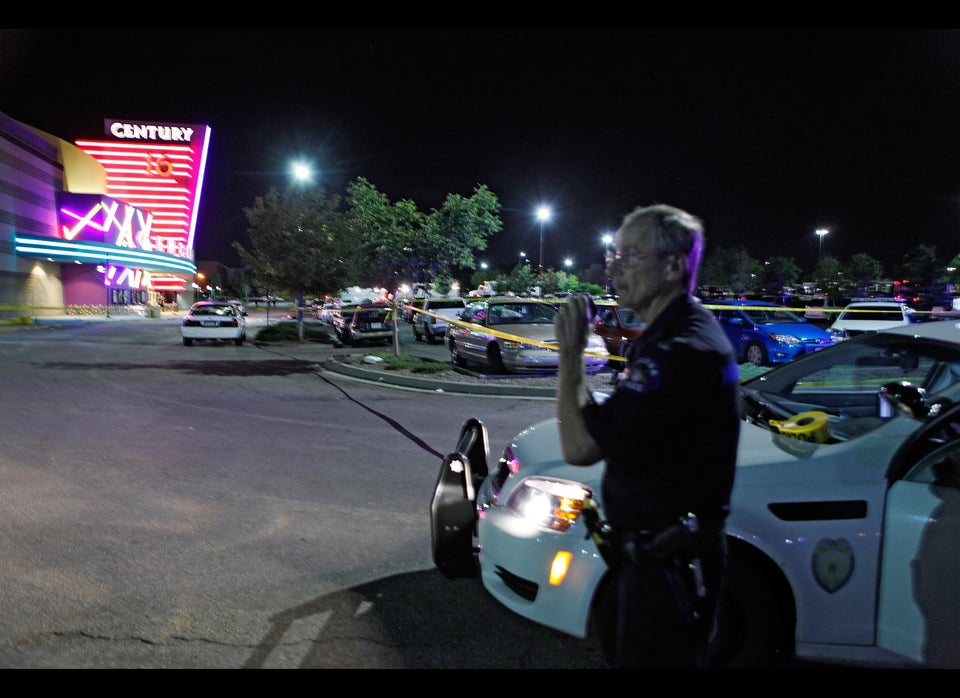 American Mall Shootings
Popular in the Community