In 2012, more than 1,200 miles from home, Bonnie Kate Zoghbi went to see the new "Batman" movie at a theater in Aurora, Colo. That night she was shot in the knee by a rifle and almost lost her life.
Two years later, her then-boyfriend and filmmaker Max Zoghbi -- who was there all through Bonnie Kate's recovery -- decided it was time to spend forever with the woman he loved. In an effort to heal a scar only love could mend, he decided to propose to her at a theater near their home in Baton Rouge, La.
Max didn't plan just any proposal, though; he went all out, using his skills as a filmmaker to catch it all on camera. Max then created a 20-minute film titled "Wildflower" -- posted to YouTube on Sept. 18 -- which tells the couple's heartwrenching love story -- from meeting, to dating, to breaking up, to facing death, and finally to saying "yes."
The video is well worth a watch, but since it is a bit long, here's our Cliff's Notes-version of Max and Bonnie Kate's beautiful story:
"Let me tell you about a girl, she is the stuff of movies and books," Max says at the beginning of the film. "The kind of girl that captivates your head and your heart without even knowing it. She is the one you compare all other girls to. She is my fiancée and her name is Bonnie Kate."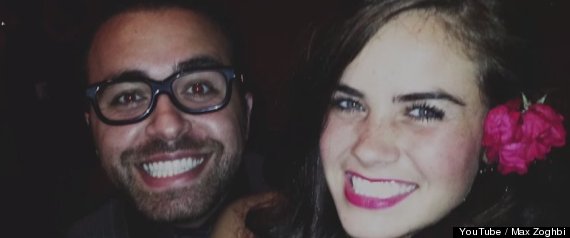 Through clever animation, Max first tells us he met Bonnie Kate at church when she was 16 and he was 21. She made a lasting impression on him and a few years later, he asked her out. They dated... for a bit at least:
"We dated for a few weeks before circumstance and a slightly too epic date scared her off," Max admits. "I was heartbroken like I couldn't even imagine. My best friends said I was crazy and told me to give it up. But I knew better. I knew she was the one. So I waited."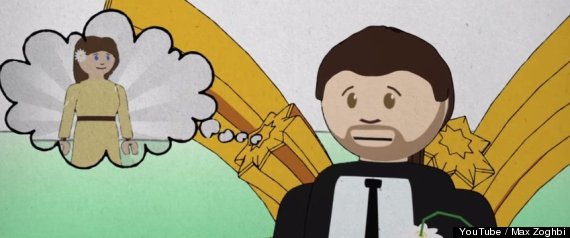 While Max was waiting, Bonnie Kate moved to Haiti for a mission trip. She returned home early, though, after getting violently sick from a tropical virus. Looking to have some fun after being sick for so long, she decided to take a road trip with her friend Elizabeth from Seattle back home to Baton Rouge. On July 20, 2012, Bonnie and Elizabeth stopped in a small town in Colorado to see "The Dark Knight Rises." The town was Aurora and that night would change her life:
"I received a phone call," Max says in the video. "Bonnie Kate was shot. An AR-15 rifle bullet sailed across the theater completely destroying her left knee -- but her life was spared."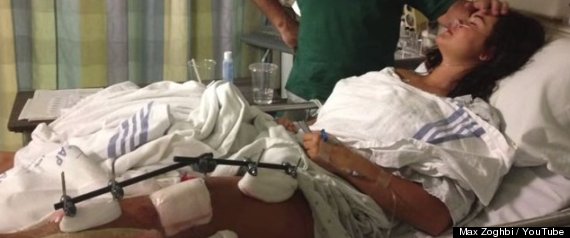 Everyday since the shooting Bonnie Kate has been in pain, Max explains in the video, but through perseverance and faith she learned to walk again. He then reminds us that during this time, he was patiently waiting, offering friendship when she needed it most.
"Even when it looks like waiting for years or months you wait," Max says. "You lay your need for more than friendship down and you serve and you wait ... you search for ways to make her smile. And you wait." Sure enough, the lovebirds started dating again.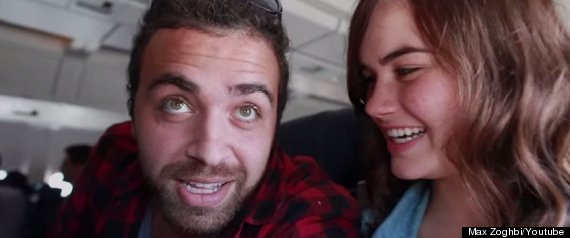 When it finally came time to propose, Max decided there was no better place to start their life-long adventure together than a movie theater. "I had to, in some way, shine light on the darkness,'' Max told TODAY.com. "I wanted to bring attention to this to show that something small and good can come out of something big and bad."
With the help of Bonnie Kate's family and friends, Max got to work creating a fake movie trailer that would play during a real trip to the theater. On Jan. 10, 2014, the big night arrived. Max and Bonnie Kate went to the Cinemark Perkins Rowe theater in Baton Rouge where Max secretly recorded Bonnie Kate's reaction the entire time.
At the end of the faux trailer, Max took Bonnie Kate outside where her friends and family were eagerly waiting.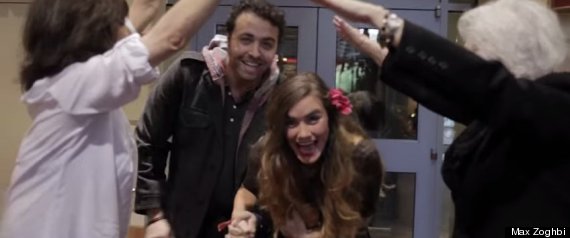 After a few more epic surprises, Max took his love to the same barn where the two shared their first kiss, where he asked Bonnie Kate to be his girlfriend and where her grandmother was proposed to by her grandpa -- and that's where he officially proposed.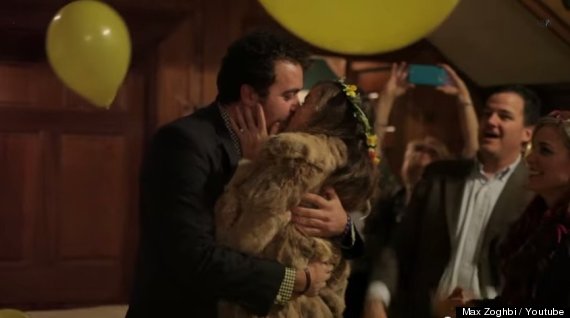 We know this video is long, but if you have a spare 20 minutes, it's absolutely worth watching to see the power of love in the face of tragedy. Plus, there's a surprising emotional twist at the end -- something that goes beyond the magical proposal.
And if you're wondering why the film is titled "Wildflower," here's what Max had to say about that in the video's description:
"Wildflower. That is what comes to mind when I consider my bride Bonnie Kate. Much like a wildflower, she is the strongest and bravest person I know with unmatched, unintentional beauty and fragility both inside and out."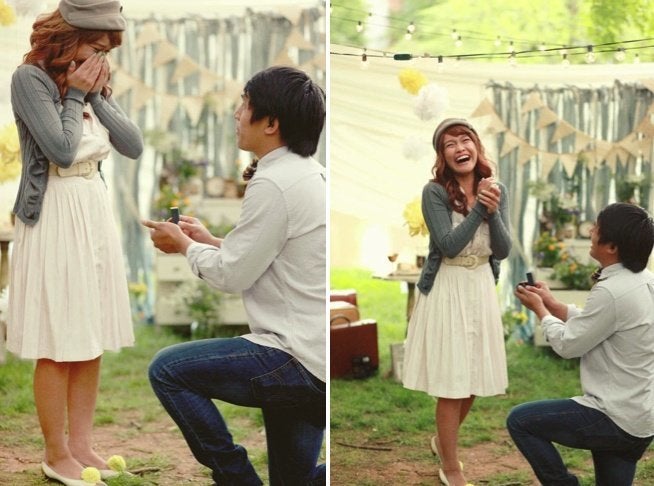 Emotional Proposal Photos