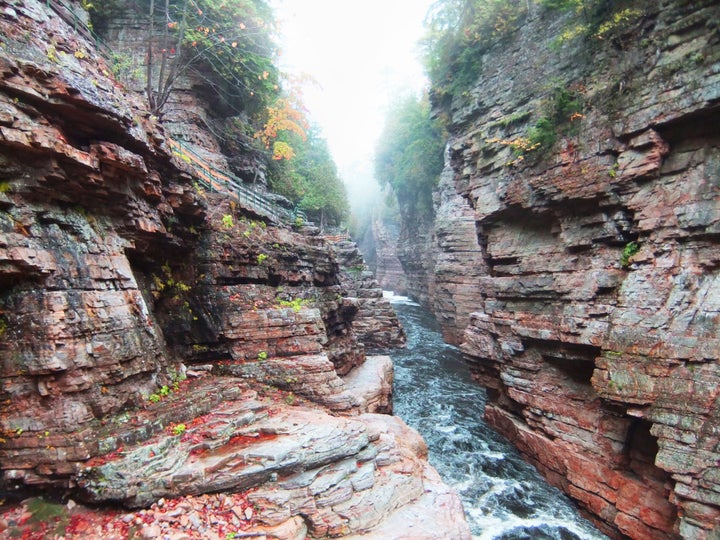 Keeseville, New York is a thoroughly unremarkable Adirondack town that, thanks to the geologic properties of Potsdam Sandstone, has been attracting tourist for a little over 140 years. The sandstone in question has been eroded by the tireless efforts of the Ausable River -- the name comes from the compression of Au Sable, not the river's ausibility -- into the form of roughly two mile long chasm at the end of which Rainbow Falls roars like an exclamation point.
Motorists on Route 9 are alerted to the pleasures of Ausable Chasm by large billboards that get larger still as they approach. Then, quite suddenly, the falls loom up and the air grows heavy, cold and damp.
There are pictures in the guest center showing how little the guest center has changed over the past century. It essentially hasn't. There's no reason it would, as the attraction itself is a scar in the smooth hills that run along the shores of Lake Champlain. At the front desk they sell tickets that entitle visitors to enter the network of trails that runs along the rim and through the chasm; on the other side of the bridge an old man in a faded baseball hat dutifully checks that hikers have purchased those tickets. This system hasn't changed much either.
But change is the essence of what people come here to witness. Geologic change might be a rather slow process, but it is flux nonetheless and nature lovers are forever flocking towards it. That Ausable Chasm was once known as the "Grand Canyon of the East" is interesting not only because those two things are extremely different, but because they are also extremely similar. They are both compelling holes in the ground.
Ausable Chasm is so because its walls are steep, close together and topped by pine trees that seem to dare each other to get closer to the edge.There is the palpable sense that the chasm is getting deeper and that stone is being scooped away under the fingernails of the river, which makes a pleasant library shush as it rushes from Rainbow Falls into a narrow channel and back out into a calmer, wider stretch of river.
The Chasm feels like a relief from the solidness of the northern forest and the monotony of the local landscape. The land here will shift even if Keeseville and the woods stand their ground. The people will keep coming too, because all these decades later it is a little bit different than it was.