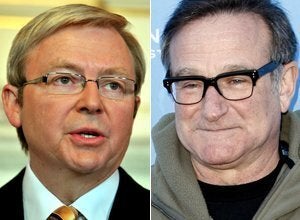 A lot of people find comedian Robin Williams funny, but Australian Prime Minister Kevin Rudd doesn't seem to be one of them.
Rudd lashed out at Williams yesterday after he referred to Australians as 'English rednecks' during an appearance on Letterman this week.
Williams, having recently visited the country, discussed his impressions of life Down Under while on the show.
"Australians are basically English rednecks. You down there, 'how are ya? Good to see you. Hello." he said. "I realized that if Darwin had landed in Australia, he would have gone: 'I'm wrong'."
Letterman's audience ate it up. But Rudd wasn't laughing, and he hit back on Australian radio.
"I think Robin Williams should go and spend a bit of time in Alabama before he frames comments about anyone being particularly redneck," Rudd said.
While Williams seems to have laughed off the attack, the governor of Alabama, Bob Riley, was apparently unamused by the implications of Rudd's remark.
"I'm not sure if Prime Minister Rudd has ever been to Alabama," Riley said in a statement. "If he has, he would know that Alabamians are decent, hard working, creative people."
Williams, who according to the Guardian also mocked Australian Rules Football as "rugby with a thong," apologized to Rudd for any offense he caused. Well, sort of.
"Mr Rudd, I apologize," Williams said. "I would like to modify my terminology and use the term `English good old boys' instead."
Williams also invited Rudd to join him at a strip club in New York.
WATCH Williams on Letterman:
Calling all HuffPost superfans!
Sign up for membership to become a founding member and help shape HuffPost's next chapter