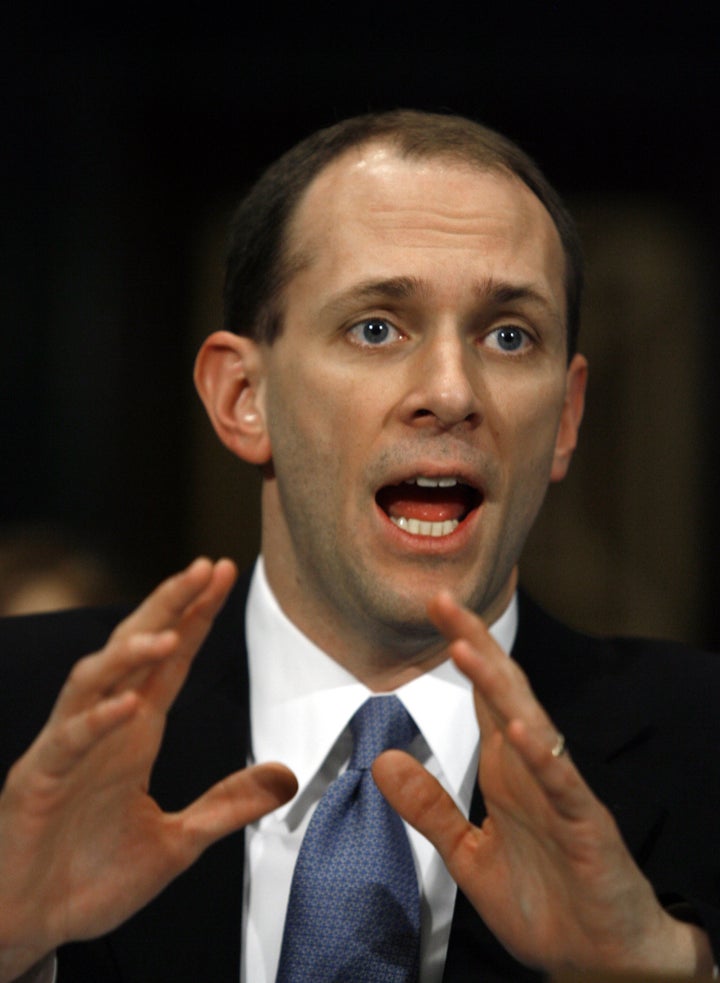 WASHINGTON -- In an interview with The Huffington Post, White House economic adviser Austan Goolsbee cheered a new, stronger-than-expected jobs report, while cautioning that the economy has "a long way to go" for workers with regard to both jobs and job quality.
The U.S. Department of Labor reported this morning that the economy added 244,000 jobs in April, although the unemployment rate ticked up to 9.0 percent from 8.8 percent in March, as more workers returned to the labor force.
Goolsbee, Chairman of President Barack Obama's Council of Economic Advisers, repeatedly emphasized multi-month trends, noting that this month's report is just the latest in a series of reports that have shown strong private-sector job growth.
"It's clearly a trend," Goolsbee said. "We've had in the last 3 months, an average gain of a quarter of a million private-sector jobs a month. That could not be more different than the three-quarters of a million jobs we were losing when the president took office."
While Goolsbee's optimism reflects improving job numbers in recent months, other economists view today's report as troubling, given how far into the recovery the economy is.
"I am very concerned," Heather Boushey, Senior Economist at the Center for American Progress, a liberal think tank with close ties to the Obama administration. "At this point in the economic recovery, we should be seeing reports that we are clearly out of the woods, that this is net good. And we are not."
The private sector secured 268,000 new jobs in April, but state and local governments confirmed another, longer-term trend of laying off public servants amid brutal budget battles. Government payrolls shed 24,000 jobs in April. Goolsbee argued that the government should not be focusing its efforts on creating public-sector jobs.
"State and local government employees have been negative for many months, and given the condition of the states' finances, that's going to continue," Goolsbee told HuffPost. "The magnitudes [of the government job losses] are not overwhelming the private sector [job gains], and we want to transition to a phase where the private sector is leading the job growth. Those tend to be the better, more sustainable jobs that last."
Goolsbee also attempted to ease concerns that deficit wrangling at the federal level will result in further heavy job losses as politicians slash government spending on programs that elevate hiring.
"Much of the discussion with the budget is about the next 10 years, not the next 10 months," Goolsbee said. "Look, if it was hundreds of billions of dollars in the next four months, that would be a different issue."
He emphasized that "we are trying to transition to a smaller role of government and a bigger role of the private sector," before noting, "The president has committed that we need to preserve the education and innovation programs that we need to grow the economy. Growth is the number one priority."
Though news on job growth appeared positive, some economists have expressed concern over other important metrics of job quality included in the report. The number of hours that employees are working did not rise significantly, and wage growth did not keep pace with inflation, a particularly worrying sign amid near-record gas prices.
"That you don't see it in wages, I don't think is surprising yet," Goolsbee said. "Because look, the unemployment rate remains high. We still have a lot of people out of work. We still have a long way to go. I think you would first expect it to go into hiring, I don't think you'd see it in the wages of people who already have a job. Employers are going to hire more people before they start paying more. That it's not going into hours, you don't want to make too much out of one month."
While the overall jobs situation improved, many segments of the economy still remain at near-depression levels. The unemployment rate for African Americans edged up in April to a staggering 16.1 percent. The average duration of unemployment for workers over the age of 55, meanwhile, is now more than a full year, the AARP noted on Friday. Unemployed workers under the age of 55 remain without jobs for an average of 39.5 weeks, but for those over 55, the average is 53.6 weeks.
Goolsbee acknowledged those problems, and indicated they will likely exist for some time, given the severity of the economic downturn.
"That's the hardest feature of this recession," Goolsbee said. "There are clearly differences in unemployment rates for different parts of the population and some groups are higher. But everyone's unemployment rate rose about proportionally. Everybody's unemployment rate basically doubled over the course of this recession. We've got to gear help toward sectors that are hardest hit. But we've also got to be mindful of the fact that the overall job market has been severely damaged by this recession. From December of 2007 we lost more jobs from this recession than from the last three recessions combined. It really was the worst recession we've seen since 1929. It takes a while to come back from that."
Goolsbee also pushed back against claims that the recession is being driven by structural mismatches between employer needs and employee skills. The problem, Goolsbee noted, is not with the American worker, but with the dynamics of the business cycle and a devastating financial crisis.
"I don't know if you'd call it a silver lining, but there is one at least not-overly-damaging aspect to all of this," Goolsbee said. "If you thought things were being primarily driven by structural problems, then you would expect to see the durations rising significantly over time. The long-term unemployed would be becoming a bigger and bigger share of the unemployment rate and the duration of unemployment would be getting longer. And durations are up a little bit, but they're not up as much as you would see if this were being driven by structural problems with the workforce."

Popular in the Community