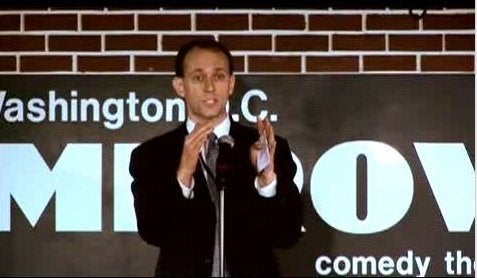 White House economic adviser Austan Goolsbee won first prize in the 16th annual "D.C.'s Funniest Celebrity" contest last night. In his performance he spoke about the Obama administration's goals and recent battles filled with biting, funny asides such as: "I've talked to some of the leading CEOs at banks, and I do think that they learned some important lessons from what just happened...Like spend your bonus quickly."
Goolsbee hit all the usual topics: health care reform, the 2012 election, and naturally, Sarah Palin.
"There's a lot of governors..." Goolsbee mused. "There's obviously Sarah Palin (wingnut) from Alaska, who's the former Governor (quitter) and you just cannot rule out that by 2012 (there may be a warrant for her arrest)...That she will be the nominee."
In closing, Goolsbee cautioned the audience, "Have some sympathy for the unemployed because, when Rahm Emanuel sees my comments from this evening, I am going to be one of them."
Goolsbee beat out Joe "the Plumber" Wurzelbacher, US News and World Report's Anna Mulrine, Americans for Tax Reform's Grover Norquist, TWT's Richard Miniter, WDCA-TV's Count Gore De Vol, Rep. Rick Larsen (D-Wash), Rep. Jackie Speier, Chef Geoff and Examiner's Mark Tapscott for the top prize.
Popular in the Community