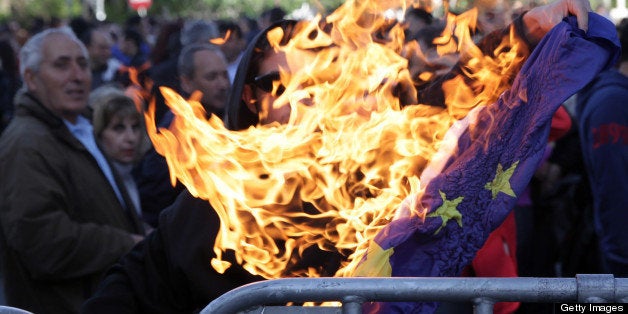 Let's not all go ding-donging just yet, people. The austerity witch is not quite dead.
Supporters of austerity have certainly been knocked back recently, but that has done nothing to shake their belief that government spending is an evil that must be stopped, no matter how many children starve in the process.
"While I think this policy is fundamentally right, I think it has reached its limits," Mr. Barroso said. "A policy to be successful not only has to be properly designed, it has to have the minimum of political and social support."
Separately, Bill Gross, co-founder and Chief Author of Stoned Investment Letters at Pacific Investment Management Co., the world's biggest bond fund, declared his opposition to austerity in the Financial Times.
"The UK and almost all of Europe have erred in terms of believing that austerity, fiscal austerity in the short term, is the way to produce real growth. It is not," Mr Gross told the Financial Times. "You've got to spend money."
Ninety-nine percent of you are probably thinking, "Bill Who?" But just take my word for it, that when the world's most famous bond investor, a species genetically predisposed to worry about debtors getting deeper in debt, says that maybe a little bit more government debt wouldn't be such a bad thing, then that is big-ish news.
These developments follow last week's bombshell news that a paper by Harvard economists Carmen Reinhart and Kenneth Rogoff, a precious touchstone for the pro-austerity crowd, was full of errors. That revelation, in a new paper by Thomas Herndon, a graduate student at the University of Massachusetts, Amherst, was a grave blow to the intellectual underpinnings of austerity.
If only! While we're all high-fiving each other over the death of austerity, the austerity proponents are saying that absolutely nothing has changed.
The pro-austerians at the G-20 meetings in Washington might be scrapping the 90-percent threshold number gifted to them in 2010 by Reinhart-Rogoff, but they are simply reverting to the same arguments they made in 2009 and every year before that, the FT reports.
Meanwhile, the real-world effects of austerity are still with us, causing no end of human misery. The U.S. has spent the past two years in the most dramatic belt-tightening since the end of the Vietnam war, helping keep unemployment high and economic growth sluggish. The absolute lunacy of the fiscal-cliff deal, including a payroll-tax increase and the draconian budget cuts of the sequester, will carve 1.5 percent from U.S. economic growth this year and cost hundreds of thousands of jobs. Despite this pain and the excitement over Reinhart-Rogoff in the Twitterverse, there is no sign of any anti-austerity action in the halls of Congress or the White House.
Germany, Bowles, Simpson, the Washington Post, Peter G. Peterson and all the rest of the world's deficit scolds were scolding long before the Reinhart-Rogoff paper, and will likely keep on scolding after its death. It is going to take more than one bad week to slow them down.
Calling all HuffPost superfans!
Sign up for membership to become a founding member and help shape HuffPost's next chapter
BEFORE YOU GO
PHOTO GALLERY
Countries With A Higher Minimum Wage Than U.S.