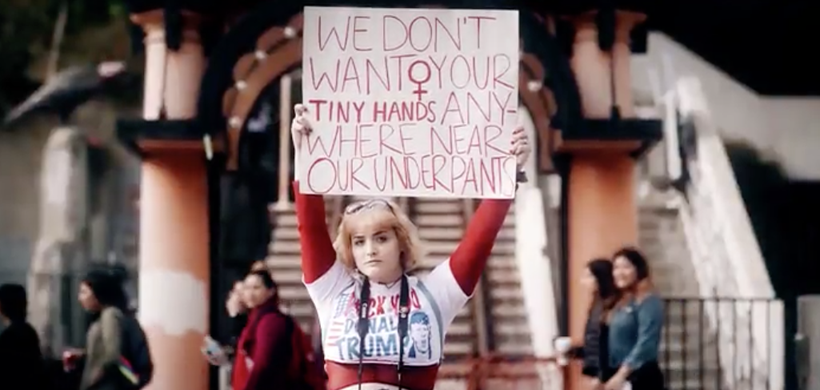 The Austin-based musician Emily Bell demands change. She wants to fuel the empowerment of women in our country. Sadden by the way the recent presidential election turned out along with the resulting hostility of our society now, Emily Bell wants to use her art to make a difference.
Below is a first look at the new video for her song "Girls That Never Die", which features footage from the Washington D.C., New York City, Los Angeles, and Austin Women's Marches, along with an open letter from Emily Bell herself about the song and video and a statement from the director Jessica Miller.
Emily Bell's open letter:
Hi! My name is Emily Bell. I am a rock and roll singer and songwriter from Austin, Texas. I recorded my recently released record, Kali, over a year ago with one goal in mind- empowerment.
Throughout the election I was very active and was excited to be releasing a record so focused on female empowerment into the world at the same time we would have our first female president. Obviously, that turned out to not be the case. So, like millions of other people, I marched the day after the inauguration with my mother. There are no words I have to express the respect and gratitude I have for the women who took charge and organized it. January 2017 will be remembered for when we made our voices heard and united millions of people in continued activism.
One song off my record is called "Girls That Never Die," it's about the power of protest and the fighting spirit of women that has existed throughout time. I partnered with my dear friend and film editor, Jess Miller, and reached out to filmmakers across the states that had taken amazing footage of the Women's March and created a music video for the song. I wanted to juxtapose the Women's March with female protests throughout time. We used stock footage and created a timeline, and we interviewed women at the march and put their words for young women today in the video as well.
I'm thrilled with the way it came out and I wanted you guys to be the first to see it and give you the opportunity to put it out first if you would like. This is not a video for me, it is a video for you and for everyone. Thank you for your work and I hope you enjoy!
"Girls That Never Die" director's statement By Jessica Miller
From the moment Emily Bell first told me she wanted to base her music video "Girls That Never Die" around the Women's March, I knew I had to direct it. As a documentary filmmaker, storyteller, and music lover, the concept struck me on all chords. Emily and I attended both the Austin and DC marches, each filming our own respective experiences, but I also felt it crucial to include footage from as many people as possible. I am thrilled to incorporate the work of 15 talented filmmakers, showcasing the vast diversity of people and their passionate determination and relentless energy. The men and women who march are the heart of this story; affirming that though women have come a long way, we still have much further to go. But together we are a fearless movement. One that, like the women who came before us, we will never give up on, because we are truly, The Girls That Never Die.
Calling all HuffPost superfans!
Sign up for membership to become a founding member and help shape HuffPost's next chapter
This post was published on the now-closed HuffPost Contributor platform. Contributors control their own work and posted freely to our site. If you need to flag this entry as abusive,
send us an email
.