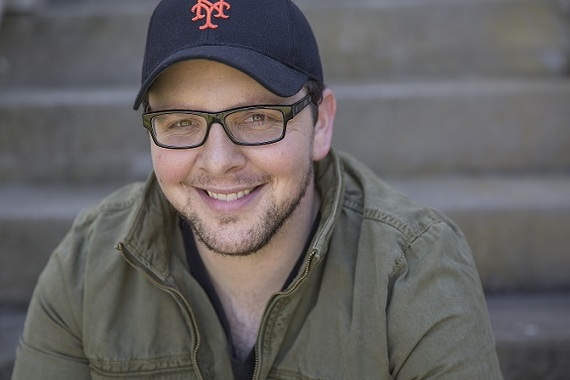 Austin Basis of Beauty and the Beast - #BEAUTYandtheBEAST
Austin's Twitter: @AustinBasis
Austin's Website
See Austin on BiteSize TV!
Photo by Bobby Quillard
Looking at Austin Basis' picture makes me smile, laugh and laugh some more. And while Austin is definitely a light-hearted guy, there's a serious side to him.
I had to split this up into two parts, so please read Part II to find out more about the adventures of Austin!
You play JT Forbes on the CW's Beauty and the Beast. How did you get the role?
I was brought in by Gary Fleder (who directed the pilot) to meet with the executive producers Jennifer Levin & Sherri Cooper-Landsman. The casting directors put me on tape to show CBS and the CW, who I had previously worked for on Life Unexpected. And within a few days they offered me JT, without having to "test" for the role -- which is a grueling process for any actor to go through. It was extremely serendipitous. I got lucky!
You wear glasses in BaTB. Are those prescription glasses or non prescription just for the sake of the character?
They are prescription. Initially when I auditioned- I had a specific idea of who the character was. It was almost like JT's uniform! Every piece of clothing had a purpose based on his circumstance. The glasses I wore were a retro pair I picked up, mainly to use for auditions for period pieces because the Paul Frank's I wear normally were too modern. During the pilot, I tried on many pairs that didn't live up to that pair... So I actually wore my own during the pilot- which aren't prescription. I wore my contact lenses underneath. You'll notice that my eyes look bigger because of it (Kristin kept calling me "Big Eyes"). When the show got picked up, the props department bought a new pair of the same kind & put in my prescription. I've had a few different pairs since (that pair was crushed at the end of Season 2).
Please give us information about you being the ambassador for the Juvenile Diabetes Research Foundation and what it's like as a child and adult having Type 1 Diabetes.
I was diagnosed with Type 1 Diabetes just before my 9th birthday. In fact, this week is the 30th anniversary of my diagnosis. As an ambassador for the Juvenile Diabetes Research Foundation and the American Diabetes Association, I can act as an example for kids (and adults) with Type 1 to look up to and hopefully inspire them to live full, successful lives despite having diabetes. They need to know that nothing will stand in the way of them accomplishing their dreams; that they have the ability to do whatever they want to do with their lives. I also want to raise awareness and money to improve treatments and ultimately find a cure for Type 1 Diabetes. The most important thing I'd like people to know about having Type 1 Diabetes, whether as a child or an adult, is the constant worry and maintenance that are required to even get through your average day. Everything you eat and every activity you do has to be considered and quantified into how much insulin you need. Every time you leave your house, you have to either bring a snack, money, your blood testing supplies, etc. in case your blood sugar drops. As an adult, I have to be hyper-aware when I'm driving places because if I experience a low, then my vision and/or ability to react can be impaired. I also need to constantly check my blood sugar levels when I work, so that I can do my job properly without my performance being adversely affected by diabetes. And constant care is the only way to combat side-effects later in life, whether it be kidney problems, blindness or worse. The good news is that methods of care have improved greatly over the time I've had this disease, and with continued research and financial support -- a cure is well within our reach.
Your first and middle name is Austin Lee and my Pekingese dog's name was Emma Lee. Any relation?
a) Yes. She's my aunt!
b) No. But I love Peking DUCK...!
c) ALL of the above.
Why do you think you're worthy enough to hold a light saber?
Because the force is STRONG with me... And JT gives the franchise TONS of free publicity. Uh, you're welcome J.J.
Share your adventure with us about your time at the Actors Studio Drama School where you received an MFA in Acting.
Yes, my years at the Actors Studio Drama School formed the foundation for my work. Everyone who attends acting school has talent, but to have the discipline to mold that talent into technique is a challenge and the purpose of the training we received. It is Lee Strasberg's interpretation of the Stanislavsky System that is the basis for what we were taught (people refer to it as "The Method" or "Method acting"). I still use what I learned there to inform my work. I learned to relax, open up my instrument and use my imagination from Elizabeth Kemp; I learned how to use my passion and break down scripts from my Shakespeare teacher Doug Moston; I learned to rise up to the character instead of bringing the character down to me from Gene Lasko; I learned to use my full voice and bring enjoyment to the work by Nova Thomas. I later was granted lifetime membership in The Actors Studio, itself. There I studied with Penny Allen, who encouraged me to be myself; moderator Martin Landau, the artistic director, who always demands we "dig deeper"; and, last but not least - Cathleen Leslie, who has taught me the sensory work as Lee Strasberg taught it to her. I work with her on my "BATB" scripts and she's constantly reminding me to use my life and personality, to trust my instincts, and to stick with the work. She is partly to thank for the depth that I've tried to bring to JT Forbes. ALL of my teachers have taught me to stay in class - that an actor's work is never done; there's always something that needs improving & a lesson to be learned.
You're from Brooklyn and I'm from Brooklyn. Who's cooler?
You're definitely cooler than I am. I was never cool. I was always popular, but usually on the lower end of the "cool" spectrum.
Calling all HuffPost superfans!
Sign up for membership to become a founding member and help shape HuffPost's next chapter