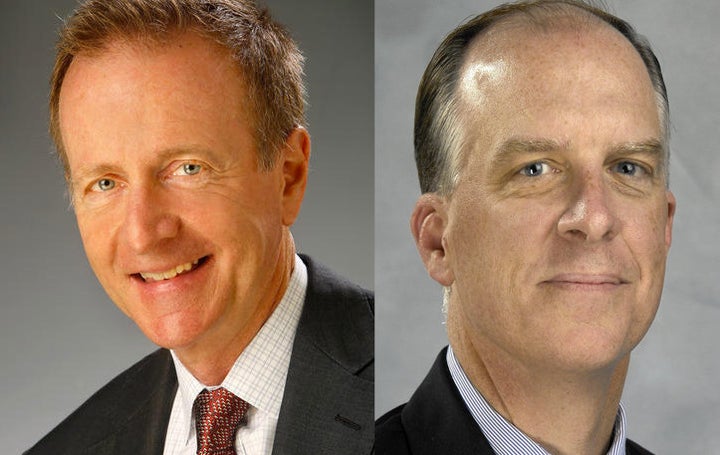 After a mere 13 months as publisher of the Los Angeles Times, former Wall Street banker and Deputy LA Mayor Austin Beutner has been given the boot by Tribune Publishing Co., sources close to the firing confirmed to The Huffington Post. Politico's Ken Doctor first reported the news Tuesday. 
"I am writing to let you know that I am leaving the Los Angeles Times, effective immediately," Beutner wrote. "I am not departing by choice, nor is this some 'mutual agreement' on my part and Tribune Publishing. Tribune Publishing has decided to fire me. I am sorry you will read this on social media, but I no longer have access to my Times email."
The reason for the firing wasn't immediately clear, but various media outlets, including the Chicago Tribune, have cited financial troubles at the paper and Beutner's expensive, high-profile hires from the world of politics and business -- which some suggested were made in contemplation of a run for political office -- as reasons for the decision. Among the hires suspected to be politically motivated were Nicco Mele, an Internet strategist who worked on Howard Dean's 2004 presidential campaign, and Johanna Maska, a former White House aide under President Barack Obama.
During his tenure at the LA Times, Beutner spearheaded several digital initiatives, including the launch of online "verticals" focused on news events such as the California drought and 20 topical newsletters boasting more than 100,000 total subscribers. Beutner also helped orchestrate the purchase of the San Diego Union-Tribune in May, part of a strategy to ease regional distribution and production costs.
The firing also comes amid long-running tensions between the Chicago-based Tribune Co. and the LA Times, which was owned by Times Mirror before Tribune bought it in 2000. The board recently rejected a proposal from billionaire LA investor Eli Broad to buy the paper and put Beutner in charge.

Beutner concluded his Facebook farewell note by saying, "It has been a privilege to serve in this role and work with all of you ... California is where America comes to see its future and the place where that story begins is the Los Angeles Times. I will continue to root for you to succeed."
"Tim's successful track record of strategic acquisitions, revenue diversification and digital transformation are successful models for the industry and for our Company," Griffin added.
Ryan said it is a "privilege" to run the LA Times and San Diego Union-Tribune.
This piece has been updated to include a statement from Austin Beutner and the Tribune Publishing Co.'s announcement on Timothy Ryan's hire.
Calling all HuffPost superfans!
Sign up for membership to become a founding member and help shape HuffPost's next chapter