On Tuesday, Butler nabbed the Golden Globe for Best Actor for his portrayal of Elvis Presley in Baz Luhrmann's "Elvis," beating out Brendan Fraser, Hugh Jackman, Bill Nighy and Jeremy Pope for the award.
In the wake of that victory, TikTok user Kelsie Carlos shared a short video that spliced together interview footage of Butler and Hudgens individually recalling how the Presley role came about.
"Last December, we were driving along and we were listening to Christmas music, and an Elvis Presley Christmas song came on," Hudgens explained in her interview, taken from an appearance on "Live with Kelly and Ryan" in 2019. "He'd just dyed his hair dark ― he's a natural blond ― and I was looking at him and he was singing along, and I was like: 'Babe, you need to play Elvis.'"
"There was an Elvis Christmas song on the radio, and I was with a friend of mine," he recalled. "I was singing along and my friend looked over at me and said, 'You gotta play Elvis.'"
Butler and Hudgens were first romantically linked in 2011 after being spotted together at a birthday party for fellow actor Ashley Tisdale's sister, Jennifer, in Los Angeles.
The pair share similar professional backgrounds. Hudgens shot to fame as one of the stars of Disney's "High School Musical" franchise. One of Butler's earliest roles was a guest appearance alongside Miley Cyrus on "Hannah Montana," which is also produced by Disney.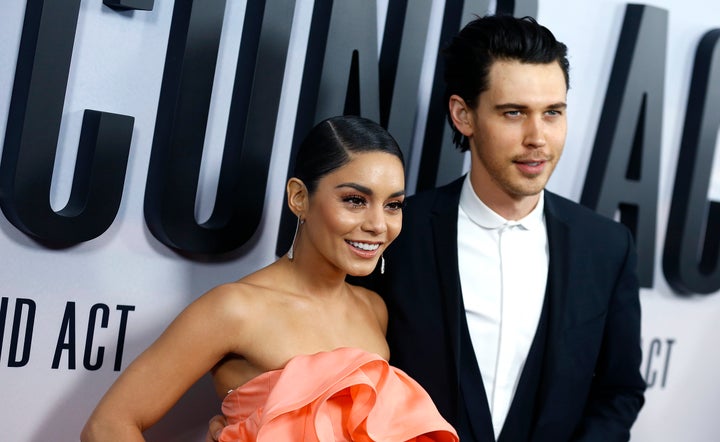 "It's great because Austin was my best friend since way before they got together," Tisdale told People in 2016. "So it's just nice to have your two best friends be in a relationship."
By 2020, however, Butler and Hudgens had reportedly called it quits. Since then, Butler has begun dating model Kaia Gerber, while Hudgens is in a relationship with Major League Baseball veteran Cole Tucker.
Popular in the Community