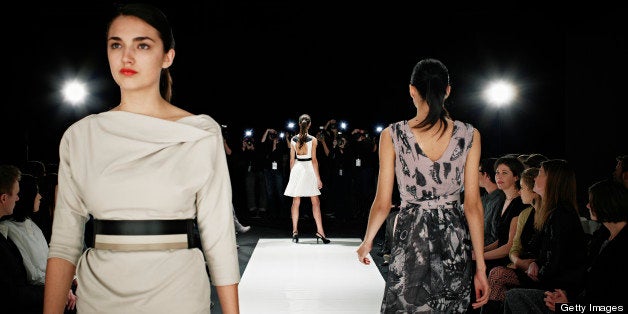 As the world seems to discover more each day, there are many wonderful things about Austin but high fashion is not typically one that comes up in conversation. As such, when Fashion Week came to Austin last week for its fifth year in a row, there was no mass campaign, not a lot of public fanfare and what seemed like luke-warm interest from the general population. Without ever having been to a show, I have to admit I was part of this crowd and skeptical of baring witness to the newest trends in cutting edge styles from my lovely small city in the heart of Texas.
This year, however, I had a chance to check it out first-hand and it turns out, there was something to my suspicion.
"I think from a city perspective... it's a baby... We've always been considered a tastemaker city and for whatever reason fashion lagged behind...music, film, food" said Matt Swinney, Founder of Austin Fashion Week (AFW).
"For me it's about finding that balance and helping the community find that balance (of well-established designer and emerging artist)...Austin's independent spirit is so high and that's what I envision from a Fashion Week perspective," Swinney further explains.
Even though Austin continues to grow with big city ambition, the intention for this event is not to emulate Paris, but rather keep discovery and accessibility front and center; Differentiate itself from the 150 other fashion weeks out there; nurture up-and-coming artists with the support of a few major players, and give them a feasible way to get their work seen by the world.
The production is efficient from a cost perspective by sharing models and hair and make-up, and the room purposefully does not clear in between designers. From the consumer side, the audience can experience multiple shows in a row without having to leave or change seats. "(The audience) gets this unique opportunity of discovery. They may have come to see one specific show but they're still going to sit through the other seven and they're going to find something that resonates with them, we hope," said Swinney.
This year, however, in tandem with Austin gaining steam in other areas, AFW seemed to have turned a corner with a premier sponsorship from the Gilt City -- an on the ground manifestation of the flash sale website known for driving both men and women to distraction with drastically reduced prices on designer goods. As someone who can identify with that mania, it's safe to say the inclusion of the pop-up "warehouse" sale as part of the week cast a wider net and made fashionistas from all over giddy with anticipation.
At the fashion show on Wednesday night, the Gilt City 1,800 square foot pop-up was open for business, shockingly under control and pleasant. Even when the sale was at full tilt and open to the public on Thursday morning, there was no wait outside the courtyard of La Zona Rosa, where I had been in expecting a scene like this. The sale featured a sampling of items targeted for this demographic like Dianne Von Furstenberg swim cover-ups, Trina Turk dresses, D&G tops and Hanky Panky lingerie, which according to the Gilt City team, was honed by their inventory department based on both data from current sales about what might be a hit in this geography and what was available at the warehouse.
As I watched a range of shows go down the runway on Wednesday evening, some were great by any standards, like the collection for Tweens created by Isabella Rose Taylor, a 12-year-old prodigy who will be starting a college curriculum next year and Katharine Michael of Lubbock, Texas, with reworked vintage wedding gowns for gorgeous, non-traditional bridal wear and a look with especially lust-worthy backs. For me, it was also easy to appreciate these sweet stories that might not have been told in other cities.
Observing the spectrum of offerings and its lack of pretension, it occurred me that AFW is probably like a SXSW of yore, focused on emerging artist, with room to breathe, an array of talent and a casual vibe, especially by comparison to other cities. I also thought it was incredibly smart for Gilt to get in at the relatively ground level. With only growth on the horizon, it seems fashion is one of the last stones left unturned in Austin industry where and a sense of supportive, independent small-town spirit permeates the celebration of art, community and creativity that will surely not be small forever.