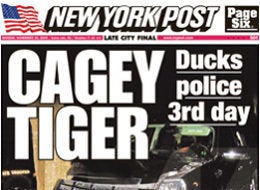 Another former New York Post employee is suing the paper, alleging that he was subject to unfair employment practices and that editors engaged in racially-motivated news coverage.
Austin Fenner, who was fired from the Post on the same day that former editor Sandra Guzman sued the paper over her own dismissal, claims that he was "routinely humiliated," "openly cursed at" and subjected to "Jim Crow"-style segregation while working as a city desk reporter.
Using the same lawyer as Guzman, Fenner alleges that he too was fired from the paper both for being a minority (he is African-American) and for complaining about racist coverage. Fenner, like Guzman, publicly expressed his disappointment with a Post cartoon that depicted the author of the president's stimulus package as a chimpanzee shot dead by befuddled cops.
A spokeswoman for the New York Post, in an email to the Huffington Post, said that the allegations were "totally false and the claims of discrimination completely baseless."
The complaint filed by Fenner doesn't deliver as many jaw-dropping allegations as Guzman's complaint earlier this month. The 27-page document mainly asserts that editors repeatedly yelled profanities at Fenner, made him travel further and more frequently than his "White" colleagues and denied him the same resources that other reporters received to cover events. Such accusations are occasionally levied in other newsrooms, though the Post has a lengthy history of poor race relations in the newsroom.
There are, however, certain charges that do stick out. Fenner alleges that the two defendants -- Michelle Gotthelf, the metropolitan editor of the Post and Fenner's direct superviser as well as Daniel Greenfied, the assignment editor and deputy metropolitan editor at the paper -- banned him from entering the Post's newsroom for a five-month period.
"Specifically," the complaint alleges, "they told Mr. Fenner that he was forbidden from coming into the newsroom anymore unless he got their permission in advance... Mr. Fenner's ban from the newsroom was an act of utter humiliation designed to strip him of his dignity and self-respect as a reporter and as a man and was based on his race and/or color and implemented to punish him for his opposition to Defendants' discriminatory practices. It was also a throwback to the days of Jim Crow segregation."
The complaint also asserts that after the Post published the controversial chimpanzee cartoon, New York's Governor David Paterson approached the paper asking for an interview on the controversial matter.
"[T]hey refused a request by Governor David Paterson, the first Black Governor of the State of New York, to be interviewed about the cartoon," Fenner's complaint alleges. "Specifically, after Governor Paterson made it know that he wanted to be interviewed about the nature of that cartoon and had also agreed to be interviewed about any other subject, the White editors at the Post summarily refused to interview him.... Such a rejection of a sitting Governor is unprecedented and practically unheard of in journalism."
In alleging "discriminatory treatment, harassment and/or unlawful retaliation" at the hands of the paper's editors, Fenner lists Gotthelf, Greenfield, as well as News Corporation and the Post itself as defendants. His lawsuit comes just weeks after Guzman's, in which it was alleged that she and others were routinely subjected to misogynistic behavior, unfair hiring practices at the paper and an unlawful firing.
Both former employees are being represented by Ken Thompson of the firm Thompson, Wigdor & Gilly LLP.
Asked about Fenner's firing several weeks ago, a spokesperson for the New York Post said that the paper had "no comment on Mr. Fenner's employment status."
READ THE FULL COMPLAINT HERE:
Related
Popular in the Community