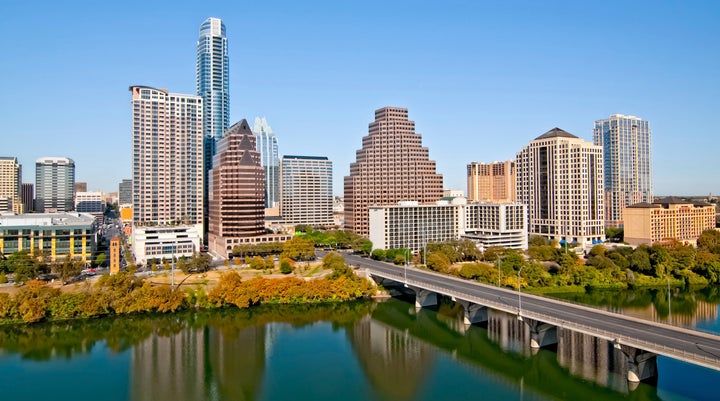 In the early morning hours of the day after Thanksgiving last year, a man headed to the streets of downtown Austin, Texas, and began shooting. He fired more than 100 rounds at several buildings, including the Mexican consulate and Austin Police Department headquarters ― he missed a shot at one detective before aiming at another officer who then fatally shot him.
Unlike the horrific mass shooting in San Bernardino, California, last week, there was no loss of innocent life, and unlike every other major U.S. city, Austin has not had a single mass shooting in years.
Mass Shooting Tracker, which compiles shootings around the country where four or more individuals have been killed or injured in one incident (some criticize the definition as too wide) shows a mass shooting occurring at least once in every other city with a population over 400,000 since they began compiling data in 2013. Austin Police Department spokeswoman Jennifer Herber said no shootings of four or more people have been recorded in the city since at least 2009, the earliest year for which she had data available.
There have been more than 350 mass shootings in the U.S. this year. In San Bernardino last week, suspected shooters Tashfeen Malik and Syed Rizwan Farook attacked a gathering at the social services agency where Farook worked, killing 14 people and injuring others. The tragedy has prompted a nationwide discussion over gun control, while the incident is being investigated as a possible terrorist act.   
Austin is not free from disturbing gun violence, but in three recent active shooter incidents, authorities were able to limit casualties, Police Chief Art Acevedo said. In August, a man brought a rifle into a hotel lobby and killed 60-year-old Conrado Contreras, a stranger. Officers arrived quickly and fatally shot the killer. In 2010, when a University of Texas-Austin student fired a rifle near the school, Acevedo and others responded in several minutes and the 19-year-old fled to the library, where he shot himself. There were no other injuries.  
In the case of the Black Friday shooting last year, Acevedo praised Sgt. Adam Johnson's response to shooter Larry McQuilliams.
McQuilliams "turned the machine gun on one of our sergeants, who took a shot, a one-handed shot while holding two horses, and shot the suspect from 312 feet away in the darkness and killed him," Acevedo said. "In Austin, in Texas where it's a culture of gun ownership, there are several things I think we do very well. Number one, we have a police department that is well trained and well equipped."
Acevedo said ongoing training is key to the department's success, including for active shooter situations, for which law enforcement strategies are changing.  
"More often than not in recent years, people aren't interested in negotiating, people aren't interested in holding hostages, people are only interested in causing as much death and injury as they can," he said.  
Now officers responding to a shooter are trained to engage right away rather than waiting to assess the situation or for more officers to arrive.
"I don't think it's completely taken hold [in law enforcement], but I think it will quickly spread across the country," Acevedo said. "The idea and the reality that the days of just sitting there and assessing and waiting and sending in robots when we have active shooters, you can't do it."
The police department also formed a Counter Assault Strike Team. Its members are spread out around the city and are specially trained to deal with shooters.  
"This can happen anywhere, to any city. It's happened to us here, but we've been fortunate … that we had resources that were just close enough to be able to get there quickly enough to put an end to the active shooter," Acevedo said.
Among those supporters is Acevedo, who said he had been "overwhelmed by sadness" for the victims of the shooting in San Bernardino, where several of his friends work as cops. He describes himself as a "center-right moderate" who feels strongly about Second Amendment rights as well as the need for tighter gun control measures. 
"We worry more about the next election and we worry more about donations from political interests than we do about good public and health policy," he said. "How much blood is it going to take before we start doing something as a nation?"
Acevedo said his department's success limiting gun violence was due to the work of its mental health unit, which partners with outside organizations to monitor and help individuals who may be a danger to themselves or others. He also said it has extensive trainings with university and school district officers so the different departments are on the same page. Acevedo went on to highlight the department's efforts to build relationships of trust with the community (though the police have recently come under fire for their use of force in several incidents).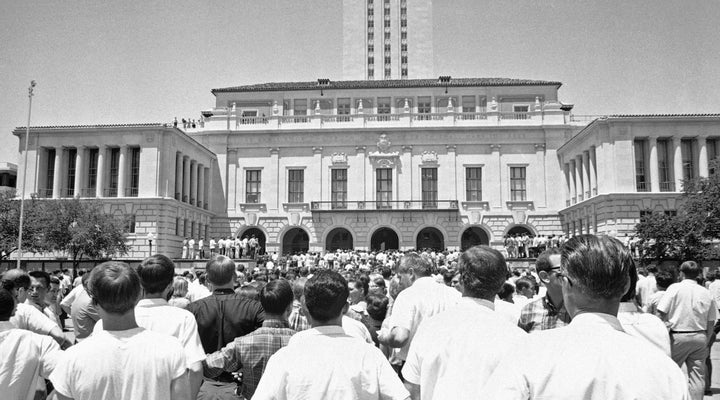 Some students and administrators at UT Austin also objected to allowing more guns on the campus, which experienced one of the earliest mass shootings. In 1966, student and ex-Marine Charles Whitman killed his mother and wife before climbing the UT Tower and killing 14 more people before police officers fatally shot him.
Kate Abbey-Lambertz covers sustainable cities, as well as land use, housing and inequality. Tips? Email: kate.abbey-lambertz@huffingtonpost.com.
Also on HuffPost:
PHOTO GALLERY
San Bernardino Vigils
Calling all HuffPost superfans!
Sign up for membership to become a founding member and help shape HuffPost's next chapter