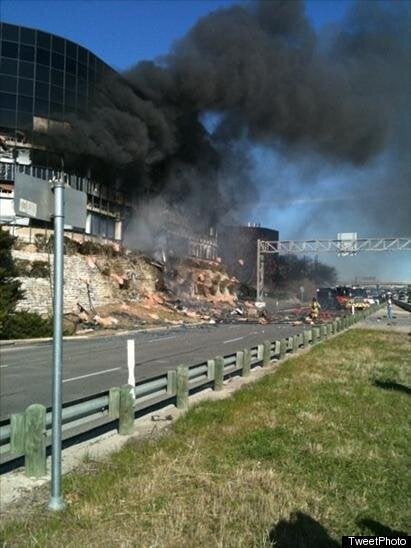 **Read below for the latest updates on the Austin plane crash.**
AUSTIN, Texas - A software engineer furious with the Internal Revenue Service launched a suicide attack on the agency Thursday by crashing his small plane into an office building containing nearly 200 IRS employees, setting off a raging fire that sent workers fleeing for their lives.
At least one person in the building was missing.
A federal law official identified the pilot as Joseph Stack and said investigators were looking at a long anti-government screed and farewell note that he apparently posted on the Web earlier in the day as an explanation for what he was about to do.
In it, the author cited run-ins with the IRS and ranted about the tax agency, government bailouts and corporate America's "thugs and plunderers."
"I have had all I can stand," he wrote in the note, dated Thursday, adding: "I choose not to keep looking over my shoulder at `big brother' while he strips my carcass."
Stack, 53, also apparently set fire to his house about six miles from the crash site before embarking on the suicide flight, said two law enforcement officials, who like other authorities spoke on condition of anonymity because the investigation was still going on.
The pilot took off in a single-engine Piper Cherokee from an airport in Georgetown, about 30 miles from Austin, without filing a flight plan. He flew low over the Austin skyline before plowing into the side the hulking, seven-story, black-glass building just before 10 a.m. with a thunderous explosion that instantly stirred memories of Sept. 11.
Flames shot from the building, windows exploded, a huge pillar of black smoke rose over the city and terrified workers scrambled to safety.
The Pentagon scrambled two F-16 fighter jets from Houston to patrol the skies over the burning building before it became clear that it was the act of a lone pilot, and President Barack Obama was briefed on the crash.
"It felt like a bomb blew off," said Peggy Walker, an IRS revenue officer who was sitting at her desk. "The ceiling caved in and windows blew in. We got up and ran."
Stack was presumed dead. At least one person who worked in the building was unaccounted for and two people were hospitalized, fire officials said. About 190 IRS employees work in the building.
9:40 p.m. EST: MSNBC's Andrea Mitchell posts on Twitter that Facebook fan pages for Joe Stack are being taken down due to "user complaints," according to the social networking site. She adds, "Sounds to me like govt had nothing to do with this."
6:00 p.m. EST: NBC now says that the Austin bomb squad did not find an explosive in the pilot's car at airport, but the investigation continues.
5:40 p.m. EST: The pilot Joe Stack also apparently left a bomb in a car at a local airport and officials are trying to defuse it, NBC is reporting.
4:30 p.m. EST: Embedded Art, the website Stack apparently posted his suicide note to, has been taken offline.
Press Secretary Robert Gibbs said that President Obama was briefed on the Austin plane crash this afternoon. Gibbs said that Homeland Security is investigating all angles but the incident does not appear to be terrorism.
A Federal Aviation Administration spokesman said it was "apparently a criminal act."
CNN reported that the man set his house on fire and crashed the plane intentionally, citing a federal official.
Austin police say a small plane crashed into the seven-story building in the 9400 block of Research Boulevard, per the Austin Statesman.
CBS Radio News tweeted that the FBI has an office nearby the site in the same office park. The building that was hit houses the IRS, according to reports.
Austin police said at least two people were hospitalized and one person was unaccounted for.
The following video of the building on fire was posted to CNN's iReport:
Related
Popular in the Community