Austin Rogers was on the multiple television screens airing "Jeopardy!" Monday night at The Brazen Head in Brooklyn, New York, but he was also on the walls, on the mirrors in the bathrooms, atop a statue and physically standing in the corner of the bar.
"The team at The Brazen Head did that," Rogers said of the printed-out photos of himself that, along with Halloween decorations, haunted patrons every which way they looked. "They're a little on the zealous side."
Rogers has been hosting trivia nights at the bar for around a year and a half, but this was the first time he did so as a national trivia celebrity.
The longtime New Yorker is currently dominating this season of "Jeopardy!" Going into Monday night's episode, Rogers had won nine episodes in a row, winning a total of $332,400.
Rogers' popularity has not just come from his success at answering the questions, but also his comedic approach to the show. He mimes actions in his introductions and clowns for the camera. He has a seemingly endless amount of ridiculous stories — such as falling asleep at a concert for the nu-metal band, Korn, because he hated their music — to tell the show's increasingly bemused host, Alex Trebek.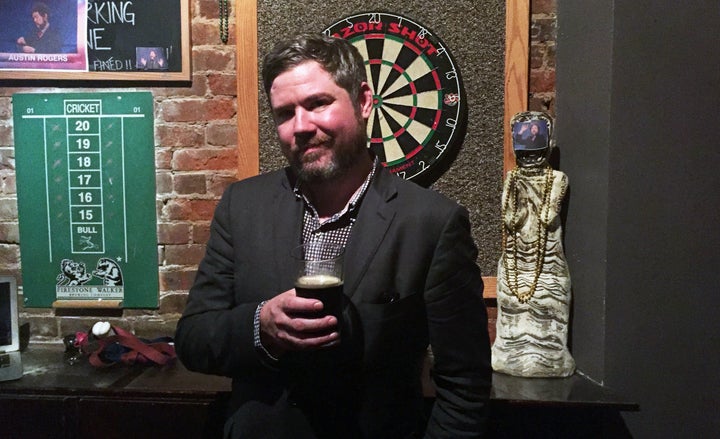 On Monday night, the already-established member on the shortlist of all-time "Jeopardy!" greats showed up ahead of his trivia hosting gig to watch the latest "Jeopardy!" episode with his new fans.
He already knew what happened as he taped these episodes quite some time ago, but the attendees watched the episode as though it were a live sports game. The crowd cheered wildly when the show introduced Rogers, and again when he got the first question right.
I would not have known this had I not written that question three months ago.

Austin Rogers on how nearly a decade of hosting trivia helped on "Jeopardy!"
Occasionally Rogers — the one present in the bar — would yell out jokes to the crowd about his wrong answers. He yelled that Jane Austen's Pride and Prejudice is "a boring book!" when he incorrectly answered a question with Sense and Sensibility.
"I'm the worst bartender ever!" Rogers yelled when he got a question wrong about wine. On the show, he's always introduced as a bartender ― his profession of just the last few years.
The cheering continued throughout, especially for the last question on the board.
"Who is Pussy Galore?" Rogers sheepishly (but correctly) answered, a response to a question about James Bond films. On-screen, the contestant hammed up his bashfulness like a seasoned performer in his now widely recognized blazer, checked shirt and tie.
Rogers' score was so far ahead of his opponents before the last round that the Final Jeopardy! question didn't really affect whether he'd win again. Nevertheless, he was the only contestant to write the correct answer — "What is Gaul?" — and so he extended his streak to 10 episodes.
Of course, there was cheering yet again. 
"Get fucking drunk, I don't care!" Rogers yelled when the show had ended.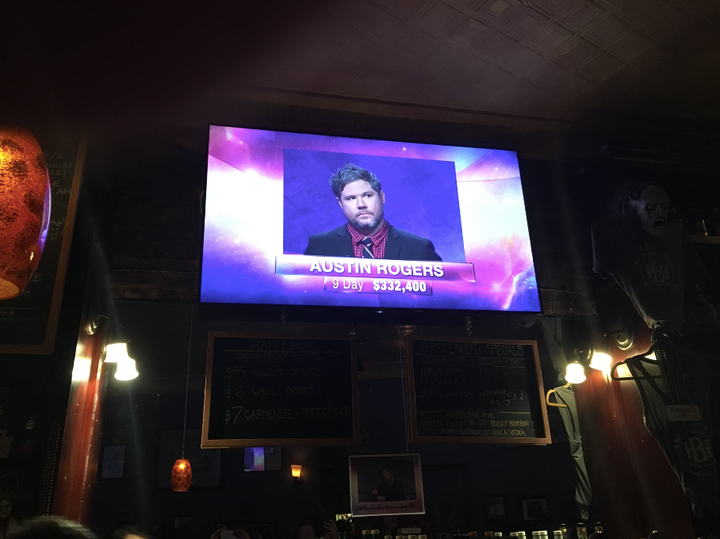 So, what are the secrets to Rogers' "Jeopardy!" success?
Rogers made an appearance on "Good Morning America" last week where he said that after watching so many episodes of "Jeopardy!" he began to see repeat answers, which helps. If the show asks about a famous Iowa painter then the answer is almost definitely Grant Wood, regardless of what else is said in the question.
But watching decades worth of "Jeopardy!" episodes was just a part of the game show contestant's winning regimen.
Rogers has hosted trivia nights, where attendees form teams and answer quiz questions for points, at bars for nine years now.
"I write all my own questions," he told HuffPost. "I research all my own questions. I write my own rounds. I write my own themes and several times, questions I've written ― because I've written tens and tens of thousands of questions, I mean, 60 questions a week over nine years or whatever ― several times questions I've written have come up. And it helped me, literally like, I would not have known this had I not written that question three months ago."
Rogers said that he doesn't have a photographic memory or use a "memory palace" technique. But through putting in his hours and hours of trivia research, he's mastered the ins and outs of how to understand trivia ― from the initial recognition of cornerstone clues (like "famous Iowa painter") to ultimately having years of research experience that has made him familiar with popular answers.
But still, simply being good at answering questions is only just a part of mastering America's most famous quiz show.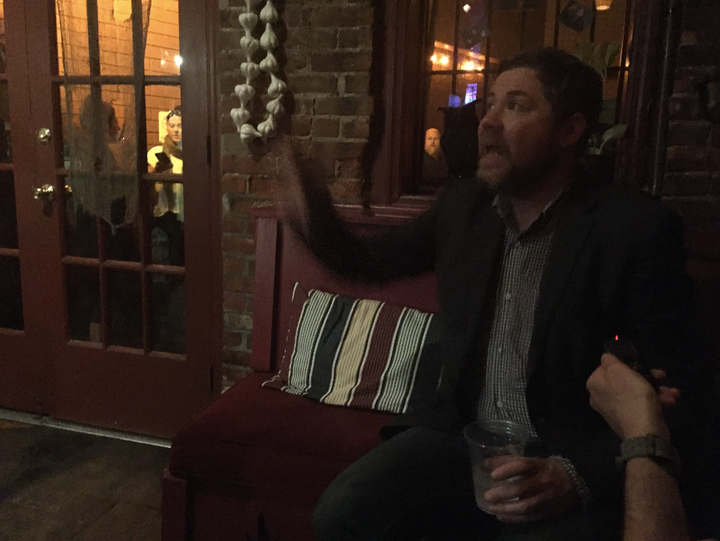 "The way to ring in is almost like music," Rogers said of his technique for being the first to hit his buzzer in the show, which allows him to answer the questions before his opponents.
Rogers explained that when he was watching all those past episodes of "Jeopardy!" he was also studying the cadence of Trebek's delivery. "It's almost like, da-dot, da-dot, da-dot, da—Now!" Rogers said of finding the rhythm of when to buzz. "That was the rhythm that I developed by using a thumb exerciser and watching episodes." 
That's another thing, instead of using a retractable pen to practice the buzzer motion, like "Jeopardy!" recommends to contestants, Rogers used a thumb exerciser. Yes, a thumb exerciser.
Despite his charming, devil-may-care clowning on the show, Rogers put in serious work. As he keeps winning, that casualness seems to be the product of mastery.
Rogers did want to clear one, very specific thing up about his persona on the show.
"I am not from Brooklyn," Rogers said. "I am not a mixologist, and I am not a hipster. I can barely make a cocktail. My bicycle has gears, so I'm not a hipster."
"I am not from Brooklyn and I will never live in Brooklyn," Rogers continued, smiling. "So I want to make that abundantly clear, I can not make you a fancy drink. I can barely open a beer bottle. OK? And I am not a hipster."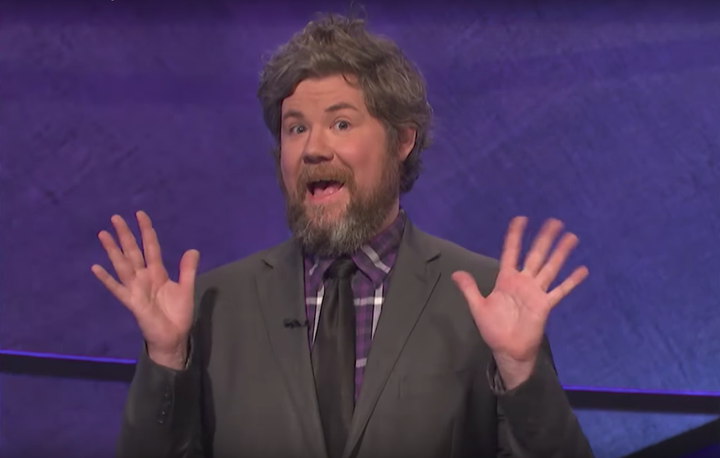 Calling all HuffPost superfans!
Sign up for membership to become a founding member and help shape HuffPost's next chapter
BEFORE YOU GO