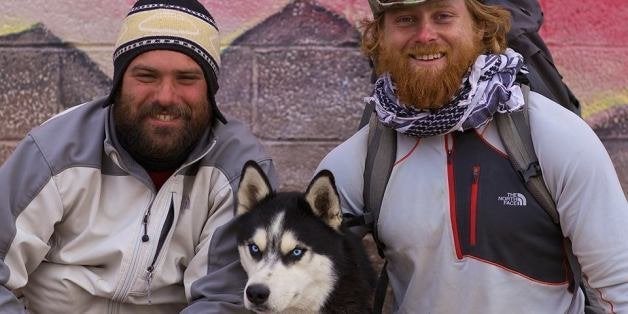 After serving four years in the U.S. Navy, Austin Shirley felt a sudden lack of purpose in his life. Deciding that he needed a change, the 25-year-old set out on a mission that would not only help him grow as a person, but also provide support to countless other veterans who desperately needed to rediscover the hero within.
Growing up in Plano, Texas, Shirley loved everything about the outdoors. He spent his childhood playing along the local creek, participating in sports and riding dirt bikes, among other things. After graduating from high school in 2007, his interest in joining the Navy like so many family members before him outweighed that of college football prospects. He left for Virginia Beach, Virginia, the following year. During his four years of service, he spent part of the time helping with disaster relief after a hurricane in Haiti.
"I figured that was the perfect time," Shirley told The Huffington Post. "It helped me square myself away, and I met a lot of really good people."
However, a year after returning from duty, he found himself sitting in his home in Daytona Beach, Florida, unhappy with the turn his life had taken. He was working as a bartender while taking aeronautical science classes, but his lack of motivation was only leading to poor grades and making the daily grind even more of a struggle. The unhappier he felt, the quicker he fell back into bad habits. As he realized how desperately he needed a change, a plan came to mind.
"I was just sitting in my house and I got the idea to do this hike," said Shirley. "My best friend, John, he and I were in the military together. When he got out, he hiked the whole Appalachian Trail, and he told me all the great things it did for him and what he was able to go out there and deal with. I thought that was what I needed to do, too."
His plan was simple: He wanted to walk 2,500 miles across the United States, starting in Jacksonville, Florida, and ending in San Diego, California. He would make the trek with his Siberian husky Archer, camping out each night together along the way.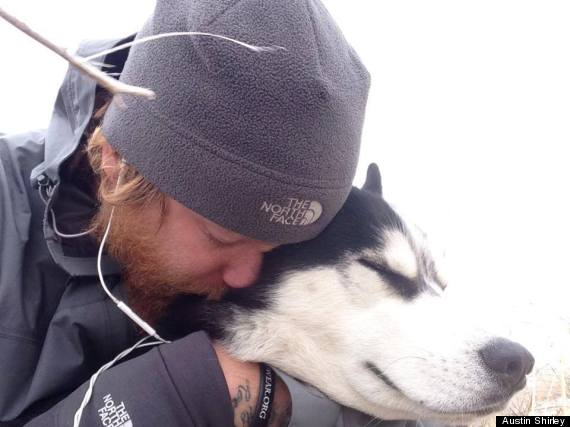 "I just felt like I wasn't going anywhere with my life, and I had to do something about it before I dug myself deeper," he said. "So that's when I decided to sell all my stuff, form this thing, go coast to coast and earn a second chance at life."
After trading in all of his worldly possessions for hiking gear, camping gear and a food budget to support himself and Archer, Shirley was ready to take on the biggest challenge of his life a mere 30 days after having the original idea. While he originally intended to walk across the country only for personal reasons, a Facebook conversation with a close friend two days before he left town inspired Shirley to make the trip about something more. When his friend suggested he turn his hike into a fundraiser and sent him a few links to the websites of nonprofit military support organizations, one in particular stood out to him.
Wounded Wear, the group Shirley ultimately chose to support, is an organization dedicated to acknowledging the sacrifices wounded warriors and their families make by serving to protect our country. In addition to hosting events that inspire wounded veterans to "rediscover the hero within," they provide free clothing with modifications to support injuries sustained by veterans while on duty.
"I sent them an email, and the founder got back to me within 45 minutes," said Shirley. "He told me he loved the idea, and from there I decided it was going to be a fundraiser."
Shirley set out on his hike on October 9 of last year, but he waited until he logged about 300 miles to make his connection with Wounded Wear official -- he wanted to prove to them that he was serious about completing this mission, and raising funds and awareness for their group in the process. He then built his fundraising site, hiking blog and Chasing the Sun 2013 Facebook page from his iPhone as he walked from town to town with Archer trotting along by his side.
"It's been a total life-changing event, going from sleeping inside to sleeping outside every night, only living off what I have in my pack and also taking care of my dog," he said. "I was just attracted to the whole adventure aspect. I figured it would help me become a better person and it has. There's no question that it's been the best experience of my life."
At the same time, he added, it has also been one of the most difficult experiences of his life. For the first two months of the hike, Shirley only had Archer by his side, and he constantly worried about where they would sleep each night. But in Shreveport, Louisiana, Shirley's friend and fellow Navy veteran Bryan Cochran joined the effort.
Digging deep and testing their limits, the trio has pushed through 6-degree winters and blazing hot days in the desert, growing mentally stronger with every step.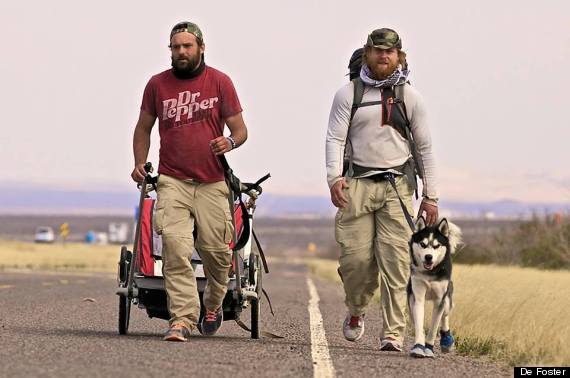 Shirley said the hike has helped him learn more about himself, the kindness of others and the importance of life's little moments than he could have ever anticipated. He has now spent more than eight months walking, humbled by the help so many people have offered him, his friend and his dog along the way.
Shirley, Cochran and Archer are currently in Lost Lake, California, just 200 miles outside of San Diego. They have raised $35,576 of Shirley's $50,000 goal for Wounded Wear with a little less than a month to go. In the end, the cross-country journey will have taken nine and a half months. The hikers plan to hit the city's beautiful beaches on June 25, celebrating the completion of the trip with good food, a few trips to the movies and logging some much-needed sleep indoors.
Related